If you've ever been to Wabasha, MN, you probably know all about the many hills and valleys of this snowy setting. Having never been here before, Wabasha made us feel as though we'd stepped into another country altogether! The cozy town of Wabasha has a small population of less than 3,000 people. Nestled along the Mississippi River with Wisconsin just on the other bank. Wabasha is a charming and beautiful backdrop for an engagement session.
Tristan and I, the Moose to my Mello, drove through the unique topography and wound up on a dirt road leading to the family farm of our bride, Mallory. As we were driving, it began to snow""the first snow of the year, and I kept thinking about how perfect this shoot was going to be!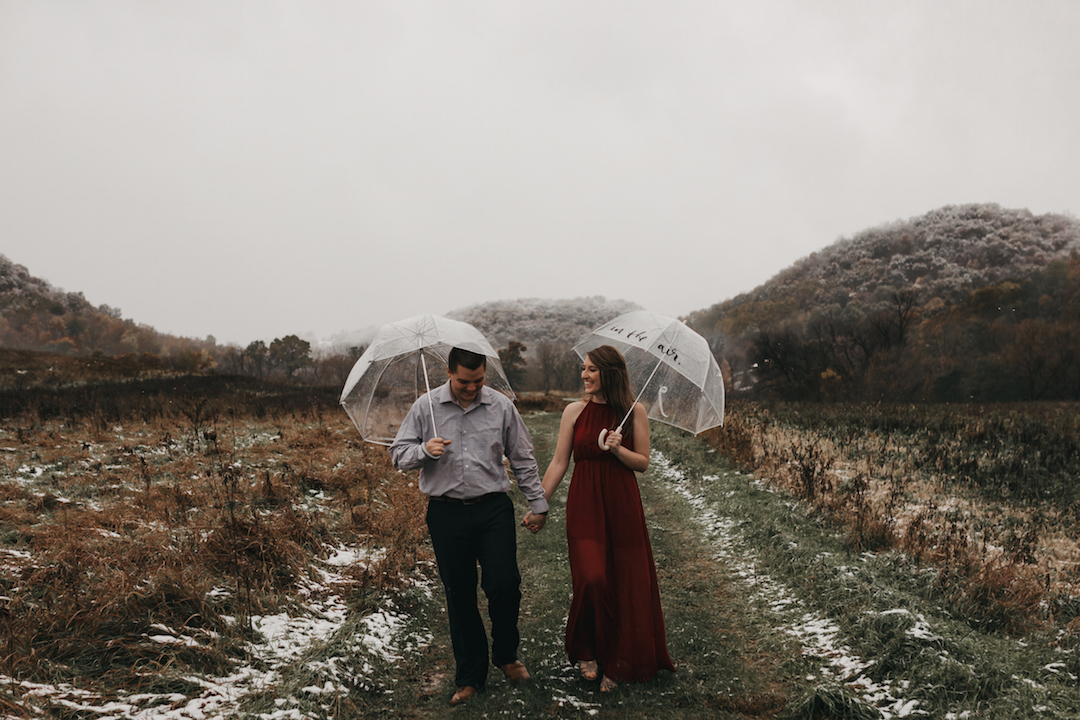 Finally, we arrived at the enchanting location of Joe and Mallory's engagement shoot. The Muerer Farm was established in 1943 and sits on 152 acres. It is nestled in a valley surrounded by bluffs in all directions. According to Mallory, it's "truly one of the most beautiful places in the world." In fact, atop one of the bluffs is a spot referred to as, "the point." If you look out into the distance from that spot, you can see the river valley, the town of Wabasha, and gorgeous bluffs in the distance.
Mallory explained to us how important it was to her and Joe, her fiancé, to have their engagement photos taken in this special place that holds so much meaning to her. Having your photos taken in a personal setting can help to truly capture the essence of a couple including their personality and where they come from. If a couple is unable to have their wedding in such a personal place but wants to somehow incorporate it, an engagement photo shoot may be a great option! Not only can the couple take time to reminisce on their memories within this place, but they can make new ones together. They can capture the feelings of being a newly engaged couple in this beautiful and meaningful destination.
Joe and Mallory met back when they were in high school. Their love story began when they were teenagers, and it took awhile for them to feel the same way about one another. Mallory said, "Joe was admittedly head over heels for [me] from 10th grade on while [I] thought the world of [him]"¦as a friend. [He was] determined to breakout of the friend zone and asked [me] to junior prom and [we] had the best time!" Joe's persistence paid off when their prom night led to a relationship that continued on through college. Although they went to different schools, they were in a long-distance relationship for a year until Joe transferred to the University of Minnesota while Mallory attended the University of St. Thomas. Joe and Mallory's story was truly an inspiring testament to the fact that true love always perseveres despite distance or other challenges.
Mallory describes the day Joe proposed to her with such love and happiness:
On a very cold and sleety day in February 2018, [we] took a walk down to the spot where we had our very first date in 2012 and Joe popped the question! There were tears of joy and pure elation when my sister, Kenna, and best friend, Megan, came out from their hiding places in the woods. It turns out that they had been taking pictures and video of the whole proposal! After the initial proposal celebration, we started our wedding planning and one of the things Joe and I were set on was having our engagement photos on my family's farm in Wabasha.
Fast forward and here we are, October 14th, armed with blankets and a Bluetooth speaker, we set out and explored the beautiful location. Joe and Mallory moved so well together and made each other laugh constantly. We love incorporating music in our sessions""it helps the couple to loosen up, show off their personalities, and have fun! Creating a special engagement shoot playlist is one way to help create a unique and memorable moment for you and your future spouse. You can always listen to the playlist together and be reminded of your engagement shoot""or expand it to use for the wedding!
The bluffs in the distance created the most gorgeous backdrop for dancing in the snow and cuddling up with one another. We headed up the bluff towards Joe's childhood home that sat right between a golf course and a ski hill. We took advantage of being able to capture the big oak trees and winding paths in this area. We had the most fun sneaking onto a chair lift! We popped a bottle of champagne and looked out over the hill and down to the river.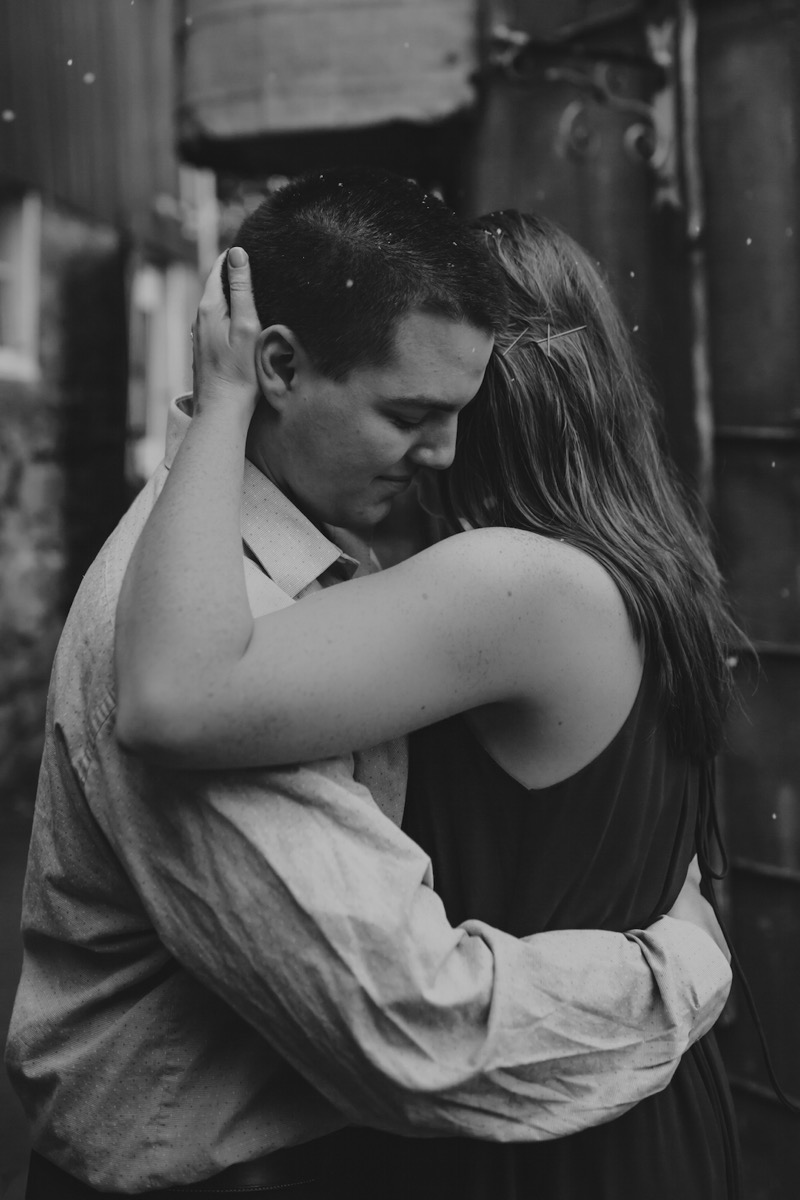 Next, the couple made a quick outfit change into their Minnesota Vikings football jerseys. Mallory and Joe appropriately chose to wear the numbers 97 and 19, which corresponds to the date of their wedding day (September 9, 2019). Incorporating personal details and interests such as local football teams, special outfits, or important dates can really help to make the photos more personal overall. It is so important that couples are able to be themselves and can see their personalities reflected in the photos. These customized jerseys were a creative way for Mallory and Joe to share their passions within the shoot – and it was absolutely adorable!
Then, we snagged some snowy photos of Mallory's gorgeous ring before we wrapped up the magical session. We know how meaningful an engagement ring can be to a couple's story and always enjoy capturing it. From the moment they knew each other were "the one," to picking out the ring and planning out the proposal, this ring symbolizes so much.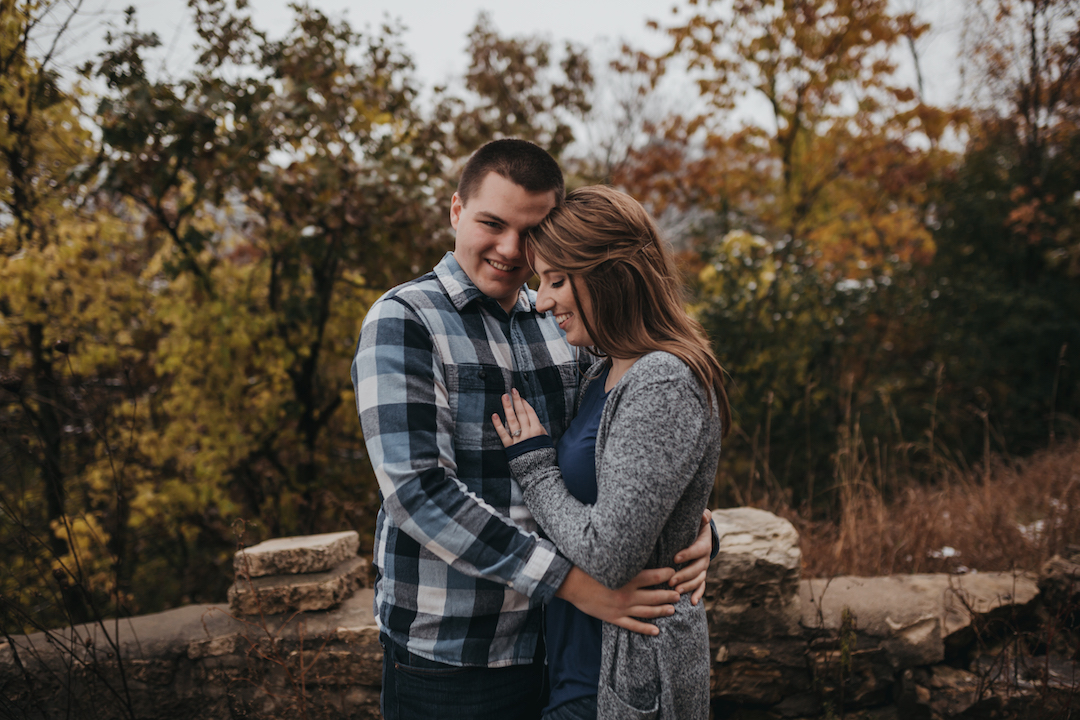 As we drove back down to the farm and waved goodbye, Tristan and I marveled at the beautiful opportunities we get to experience as photographers. Spending time in a place that means so much to a couple makes their photos that much more important. Wabasha, MN served as the perfect backdrop Mallory and Joe's engagement session with us. This couple's fun spirit and love for their hometown farm truly helped us to capture their personality. We know that their photos will be even more beautiful because we were able to get to know them and see them in the place they call home.
Mallory and Joe were wed on September 9, 2019 at the Church of St. Peter in North Saint Paul, MN. After meeting all the way back in high school and being together for six years, Mallory says they are ready for a lifetime more!
Forever Bride Deal: Mention Forever Bride when booking your wedding with us and receive a FREE family or boudoir session! Book any other session and mention Forever Bride and get $50 off!
---
Meet Mello Moose Photography:
As photographers, we love the chase; the getting there. Capturing an artist creating magic out of glass, a couple deciding on forever, loud music in sweaty basements and crowded bars, a family growing from two to three. We want to tell the whole story, not just the ending.
As a duo, we are puppy parents and pizza nerds. We venture towards the mountains and the oceans. We surround ourselves with thoughtful art, good music, and great food– we love discovering new places and getting lost in new records.
Let's grab coffee or some chips and queso, we can't wait to hear your story.
Melanie + Tristan