Let your wedding venue hunt come to an end! Once you see the elegance, beauty, and romance Radisson Blu at Mall of America has to offer, you will never want leave! Plus, you will love to see how much Minnesota is represented in this space.
Upon entering Radisson Blu MOA, you will see a warm fireplace and helpful staff ready to assist. To the left, there is a large carpet that features the topography of the Minnesota Lakes. Straight ahead, you will see a white wall that is "crinkled" just like tissue paper from a shopping bag. If you go up the escalator, you will then find the large ballroom; white and airy with the perfect amount of light for those Instagram worthy photos! While looking around the ballroom you will also find lots of sunshine through the windows, so you will feel as free as can be.

Another benefit to hosting your wedding at the Radisson Blu are the spacious rooms you and your guests can book during the event. The cozy beds will be hard to want to leave, but with wedding excitement on your mind, you won't have any trouble!
If you choose to get breakfast in bed, the honey you receive is made on the hotel's rooftop! The hotel is home to many bees that the University of Minnesota takes care of. Each day the honey is made fresh and the bees are taken care of. Who wouldn't want fresh honey?!
The hotel also offers a delicious onsite restaurant, FireLake Grillhouse & Cocktail Bar, which allows guests to enjoy a drink -or two- in a warm and inviting atmosphere. The restaurant is also filled with reclaimed wood from old barns in Minnesota!
Spa services are also available, their quality and attention to details leaves you feeling like royalty before your big day.
Forget your mother of the groom gift or did your maid of honor lose her earrings? No worries! The Radisson Blu is conveniently connected to the Mall of America to allow optimal shopping.
Speaking of conveniences, it is easily the most convenient location if you plan on having out of town guests. They offer a complimentary shuttle service from Minneapolis–St. Paul International Airport (MSP), located less than five miles from the hotel!
Besides all of the shopping, pampering, and delicious food, you will also be well taken care of. Radisson Blu's staff will go above and beyond to make any event go smoothly and allow any bride to remain at ease with their "can-do" attitude and ability to tame a wild room. From start to finish, your wedding will be a dream come true at Radisson Blu.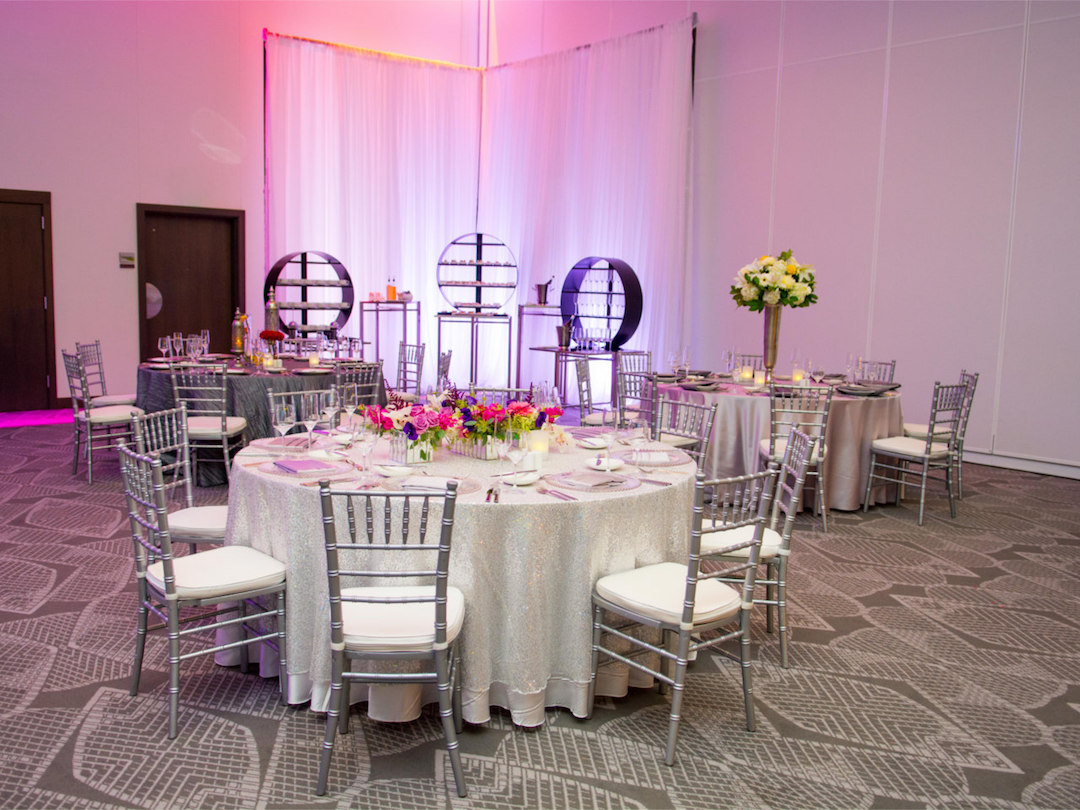 WEDDING AMENITIES:
– Color-changing LED wall lighting*
– Complete setup and teardown of the ballroom
– Complimentary suite for your wedding night*
– Glassware, flatware and white china
– LED votive candles to enhance your decor
– Sleek black dance floor
– Special guestroom rates for wedding guests
– Staging for head table and/or entertainment
– Tables, chairs, and premium table linens and napkins
– Wedding tasting for up to six guests*
*Included with a reception of 100 or more guests
To meet the wonderful staff and see the venue, be sure to check out the Market on Sunday, February 17, 2019 from 12:00-4:00pm!
Mention Forever Bride to receive: With a reception booking of 100 or more guests, the bride and groom will receive a complimentary Suite for the night of their reception! + Two complimentary Guest Rooms one for the bride's parents and one for the groom's on the night of their reception!