In honor of National Proposal Day we put together a step-by-step guide on how to create a memorable proposal for you and your partner. Plus, keep reading to see 10 creative proposal ideas including real proposal stories from brides and wedding professionals to get you inspired.
How to Create a Memorable Proposal: A Step-by-Step Guide
A wedding proposal is a momentous occasion, and it's important to plan it carefully to make it memorable for your partner. Here is a step-by-step guide on how to plan a memorable wedding proposal.
Step 1: Consider your partner's preferences
The first step in planning a wedding proposal is to think about what your partner would enjoy. Does your partner love grand gestures or intimate moments? Do they prefer public or private displays of affection? Knowing your partner's preferences will help you plan a proposal that they will love.
Step 2: Choose a meaningful location
The location of your proposal can make all the difference. Choose a place that is meaningful to your relationship. It could be the spot where you had your first date or a location that you both love. You could also choose a place that has special significance to your partner, such as a favorite restaurant or a scenic viewpoint.
Step 3: Plan the details
Once you have chosen the location, it's time to plan the details. Consider what you want to say, whether you want to involve others, and any additional touches that will make the proposal special. This could include flowers, music, or a special gift.
Step 4: Practice
Practice makes perfect, and this is especially true for a wedding proposal. Rehearse what you want to say and how you want to say it.
Step 5: Capture the moment
You'll want to capture the moment, so plan ahead for photos or video. If you're planning a surprise proposal, consider hiring a photographer to hide and capture the moment. Alternatively, you could ask a friend or family member to take photos or record the proposal.
Step 6: Be flexible
Finally, be flexible. Things may not go exactly as planned, and that's okay. Stay calm and adapt to any unexpected situations that arise. The most important thing is that you're asking the person you love to spend the rest of their life with you.
10 Creative Wedding Proposal Ideas
Scavenger Hunt: Plan a scavenger hunt for your partner, leading them to various places that hold significance in your relationship. At the final location, propose to them.
Beach Proposal: Plan a trip to the beach and write your proposal in the sand or set up a romantic picnic with candles and champagne.
Surprise Party: Plan a surprise party with your partner's closest friends and family. As they walk in, have everyone hold up signs that spell out "Will You Marry Me?"
At Home: Create a cozy atmosphere at home with candles, rose petals, and a home-cooked meal. Propose to your partner in the comfort of your own home.
Adventure Proposal: Plan a hike or a hot air balloon ride and propose at the peak or during the flight.
Flash Mob: Hire a flash mob dance group to perform a romantic routine with your partner's favorite song, leading up to your proposal.
Christmas Proposal: Create a Christmas scavenger hunt, with each clue leading to a different location in the house. At the final location, propose with a Christmas tree and decorations.
Movie Theatre Proposal: Plan a movie date and arrange with the theatre to have your proposal shown on the big screen before the movie starts.
Skywriting: Hire a skywriting company to write your proposal in the sky for all to see.
Photo Album: Create a photo album of your favorite memories together and end it with pictures of the two of you and the words "Will You Marry Me?"
Our Favorite Proposal Stories From Real Brides & Wedding Professionals
Still searching for the perfect way to propose to your special someone? Get inspired by real proposals submitted by brides and wedding professionals.
Costel & Jeanie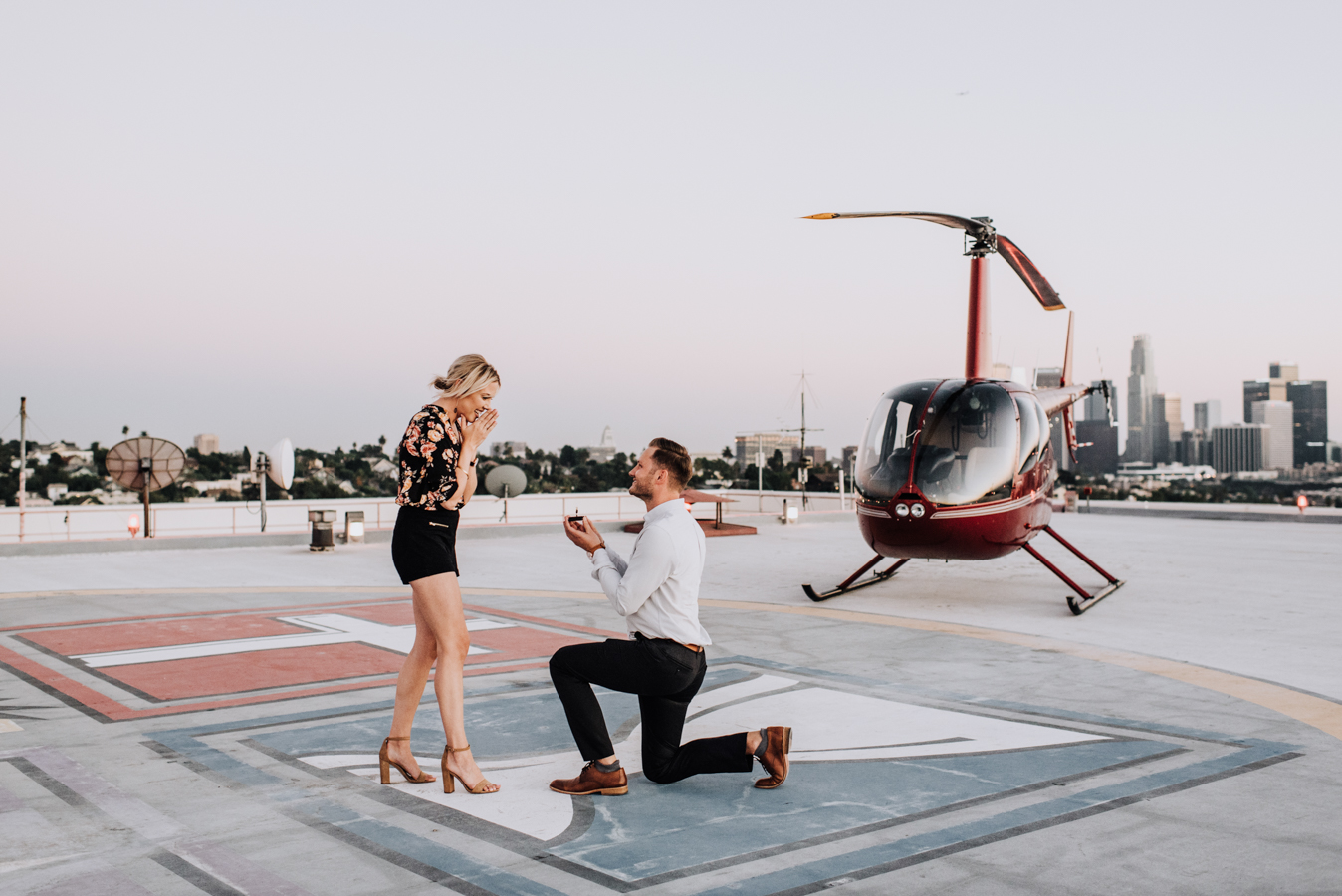 Photography | Lauren Scott (instagram | website)
"It all started when I got a phone call from the groom who was a longtime friend of mine. He said "I'm going to propose to your sister-in-law and I want it to be all out, something big, I'm thinking a helicopter". It couldn't have been a more beautiful day." — Lauren Scott, Wedding Photographer
Katherine & Isaac
Photography | Megan Dacek (instagram | website)
"I told Kathy, who was still posing for her photos, "okay Kathy, can turn around and look at Isaac". Her reaction was one of the most memorable moments none of us will ever forget. The joy that came to both of their faces is a memory to cherish and the white azalea flower is now their special flower." — Megan Dacek, Wedding Photographer
Melany & Daniel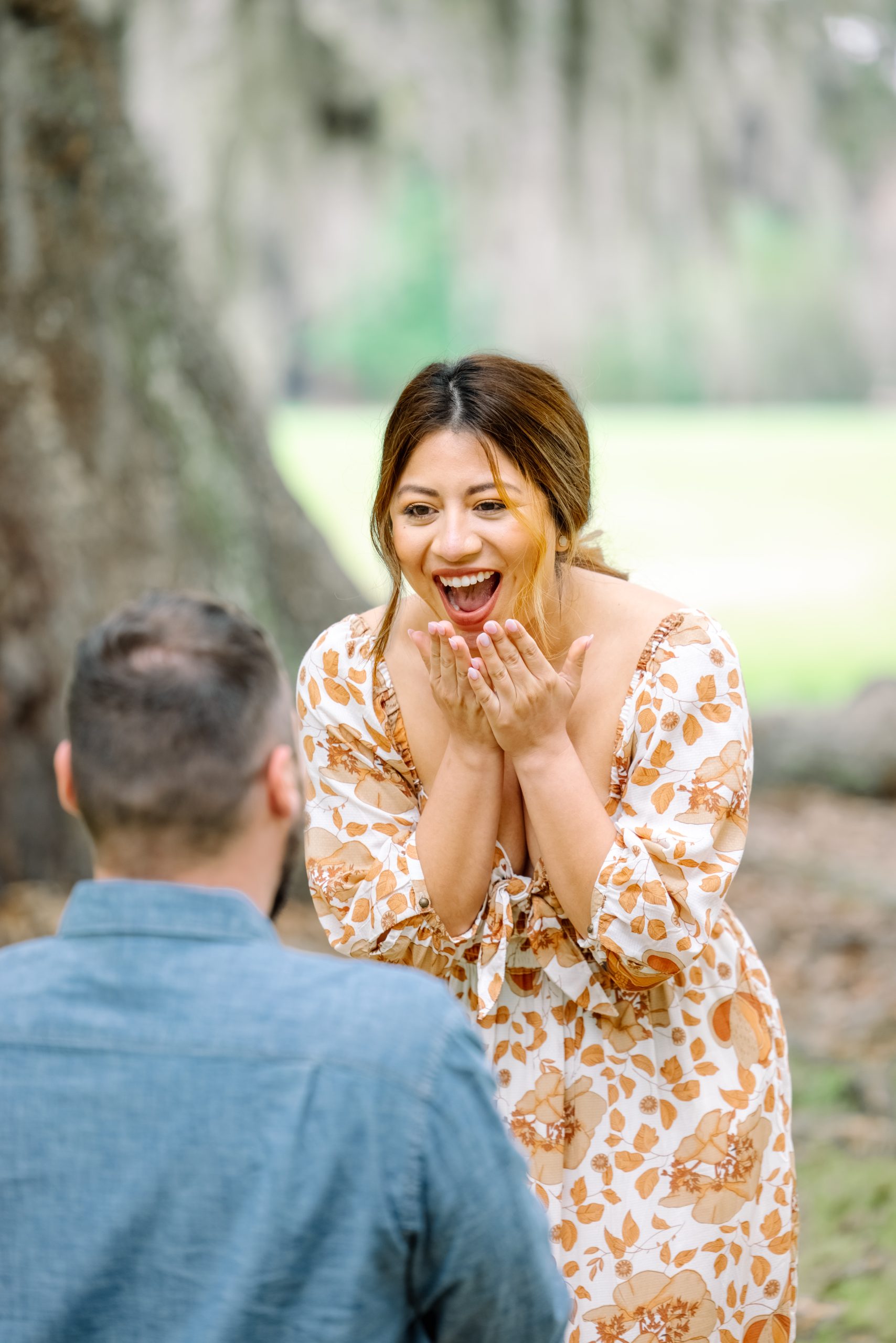 Photography | Charleston Photo Art (instagram | website)
Venue | Magnolia Gardens (instagram | website)
"Daniel had surprised me with tickets to one of my favorite food festivals- the Charleston Wine + Food Festival. I was confused when I didn't see signs of an event and then it hit me… we were there for our proposal. We walked under gorgeous trees where Dennis was secretly waiting to capture this special moment. I'm crying all over again just thinking about it!" — Melany Foster, Bride
Tyler & Troy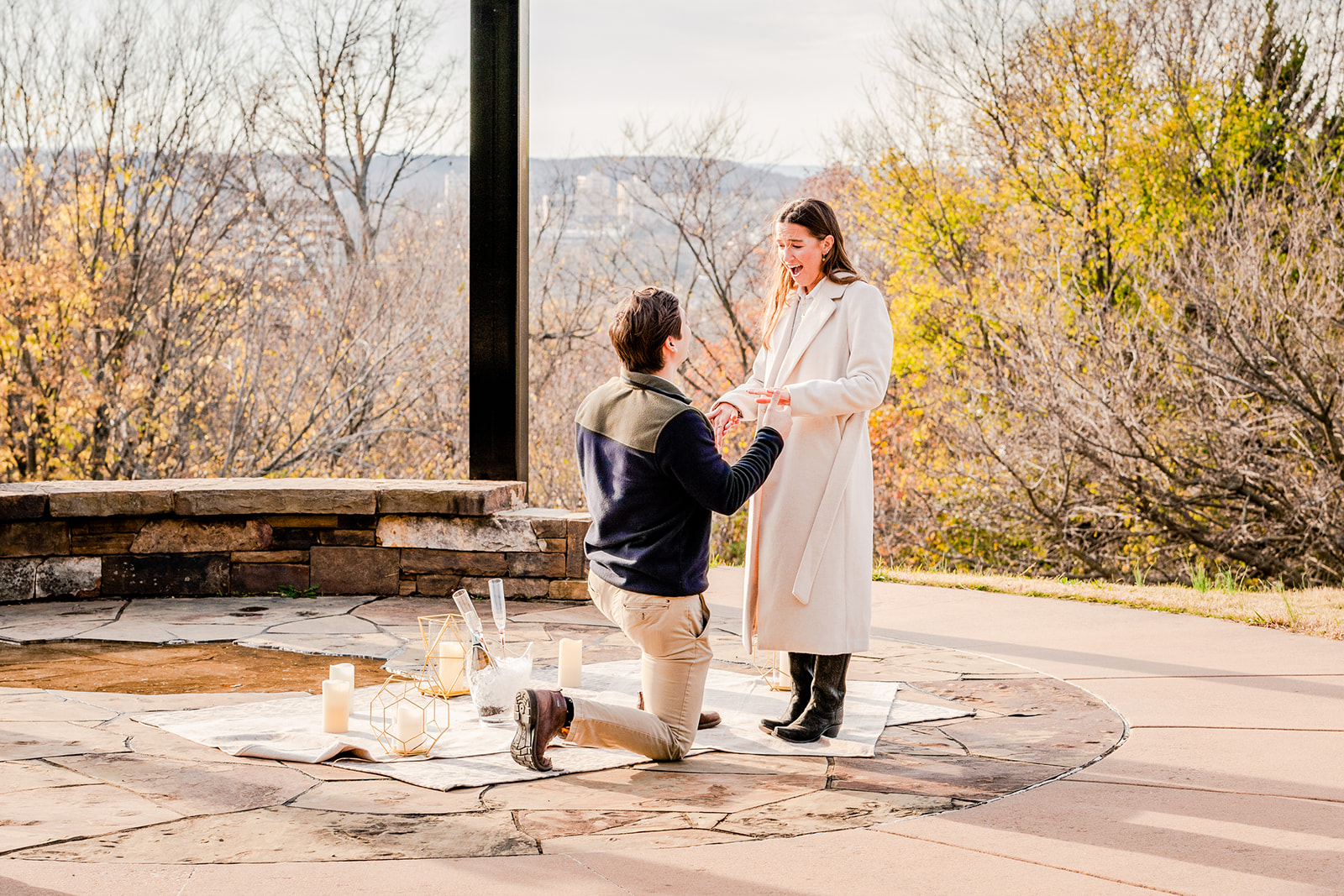 Photography | Kari Bjorn (instagram | website)
"We met while working together at a jewelry store in Baton Rouge. The proposal was so special and surreal. We pulled up to an intimate spot overlooking Troy's hometown. It was beyond perfect. We are both jewelry designers & graduate gemologists so the ring also means a lot to us." — Tyler Hyde, Bride
In conclusion, planning a memorable wedding proposal takes time and effort, but it's worth it to create a special moment for you and your partner. By considering your partner's preferences, choosing a meaningful location, planning the details, practicing, capturing the moment, and being flexible, you'll be well on your way to a successful proposal. Remember, the most important thing is to make it personal and meaningful to your relationship.
Love these wedding proposal ideas? Check out more wedding inspiration from real brides here.