You may have heard about the boho trend on social media while browsing Pinterest. You may have seen living rooms covered in plants and artistic printed rugs or draped blouses paired with retro bell bottoms.
Maybe you thought, "I wish I could rock that, but I'm not sure how" or perhaps you ran to the store to see if you could get yourself some funky shirts.
The boho trend is popping up everywhere – and has been for quite some time! Not only is boho fashion huge in decor and fashion, it's become a hot wedding trend as well.
Whether you're looking for inspiration for a fun, informal wedding or a more romantic, feminine one, the boho style will look amazing. This style is light, flowy, and free-spirited. The essence of boho is chic, effortless, and timeless. You don't have to fit this lifestyle to incorporate boho elements into your wedding. If you're more of a classic bride, you can still step outside your comfort zone while staying true to your roots. It's not a trend you'll regret in a few years!
WHAT'S CONSIDERED BOHO?

"Boho" is short for "bohemian" which refers to a free-spirited lifestyle. The boho style began trending in the 2000s, with influences from the 60s and 70s, and we don't see this trend going anywhere! The boho style is all about artistic self-expression. Even if you don't completely identify with this "hippie" inspired lifestyle, you can still express your unique tastes and incorporate the boho theme into your wedding.
If you're a more classic bride thinking that Coachella-esque style sounds a little intimidating, but want to step out of your comfort zone, don't fret! There is not one specific way to be boho or have a boho wedding. You can go all out with the theme or simply add some whimsical touches to a classic affair like Meg and Ronnier did in their whimsical wedding!
Remember to keep your wedding your own. If you're a super free-spirited bride you'll probably be more drawn to eclectic decor and an overall whimsical wedding day. If you crave a little more structure, you may feel more comfortable incorporating some macrame or large greenery while keeping the general feel of your wedding more classic and traditional. Decide what feels right for you and your fiancé and run with it!
THE DRESS
Boho wedding dresses come in many forms. You can choose a design that incorporates subtle boho elements or opt for a statement dress with tons of bohemian flair. Bell sleeves, separates, statement lace, and flowy skirts are all fun boho dress elements. While we don't recommend adding boho touches to a completely classic satin ballgown, there are tons of ways to take a simple classic gown and pair bohemian details with it, such as a flower crown or statement jewelry.
Some of our favorite boho-inspired bridal gowns include:
Karlotta is the perfect mix of minimalist and boho. The sleek crepe fabric is super sophisticated while the crystal flutter sleeves add a unique boho touch to the dress. This gown is the perfect way to blend classic style with boho flair.
Opal features a timeless sheet lace that flows into free-spirited bell sleeves. This is the perfect boho bridal gown for anyone looking to incorporate timeless elements into a daring design! The V-neck allows for lots of different necklace options and is super flattering.
A classic silhouette gets a modern twist with scalloped statement lace. The Anastasia gown is a sexy option that still provides adequate coverage with lace sleeves. This gown is customizable and can be ordered with or without subtle sparkle! This wedding gown is a great option if you're looking for some structure, but want a unique lace pattern.
Hathor is the epitome of breezy, glam boho! This gown satisfies classic and boho brides alike with its traditional A-line cut and stunning sparkling details. The floral beaded pattern is perfect for a dreamy outdoor ceremony or whimsical indoor affair and will catch any light perfectly. The sweetheart neckline and tulle skirt will make any bride feel like she's walking on air. The coolest part of this gown? It comes in either a traditional ivory or a dusty latte color.
Malin features delicate traditional covered buttons in the back and a sexy deep V in the front. If you're looking to flaunt your curves and aren't drawn to flowy silhouettes, this gown is for you. A delicate embroidered floral pattern is sprinkled with beads to add unique detail to the classic fitted skirt. This gown is definitely breathtaking.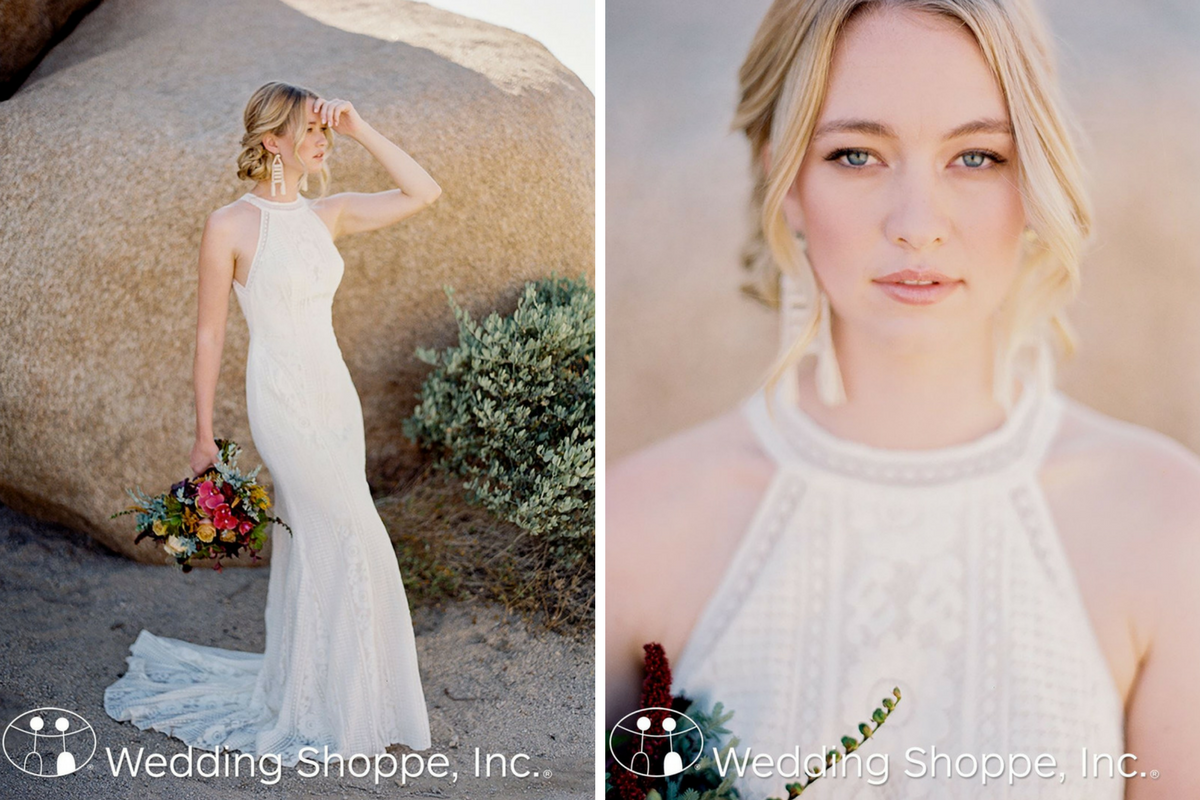 Adele's high neck and keyhole back are perfect for brides looking for a modest option that still shows a little skin. The lace on this gown is soft and sleek, but features cool geometric details. The tassel tie in the back screams boho chic! Get creative when accessorizing this dress.
Ever wish you could wear a wedding gown as comfortable as a t-shirt and as glamorous as Old Hollywood? Leonora fits the bill with its vintage touches and boho statement lace. This dress features a super classic cut with some seriously cool updates like its open back and diagonal paneling. How can one gown be so classic yet so unique?!
THE WEDDING PARTY
Your dress is a big part of your wedding look, but there are tons of ways to add boho touches if you're opting for a more classic wedding gown. Accessories such as a necklace or a headband can add some boho style. The wedding party can rock floral ties and flower crowns. You could even go all out boho and opt for less traditional attire like jumpsuits or two-pieces for the bridesmaids or mismatched formal wear for the groomsmen. Don't be afraid of patterns, either!
Take a look at some of our favorite boho bridesmaid dresses:
Allison has been a fan favorite since day one! This convertible bridesmaid dress can be worn as a strapless sweetheart gown or with delicate draping sleeves. Perfect for mix and match bridesmaids!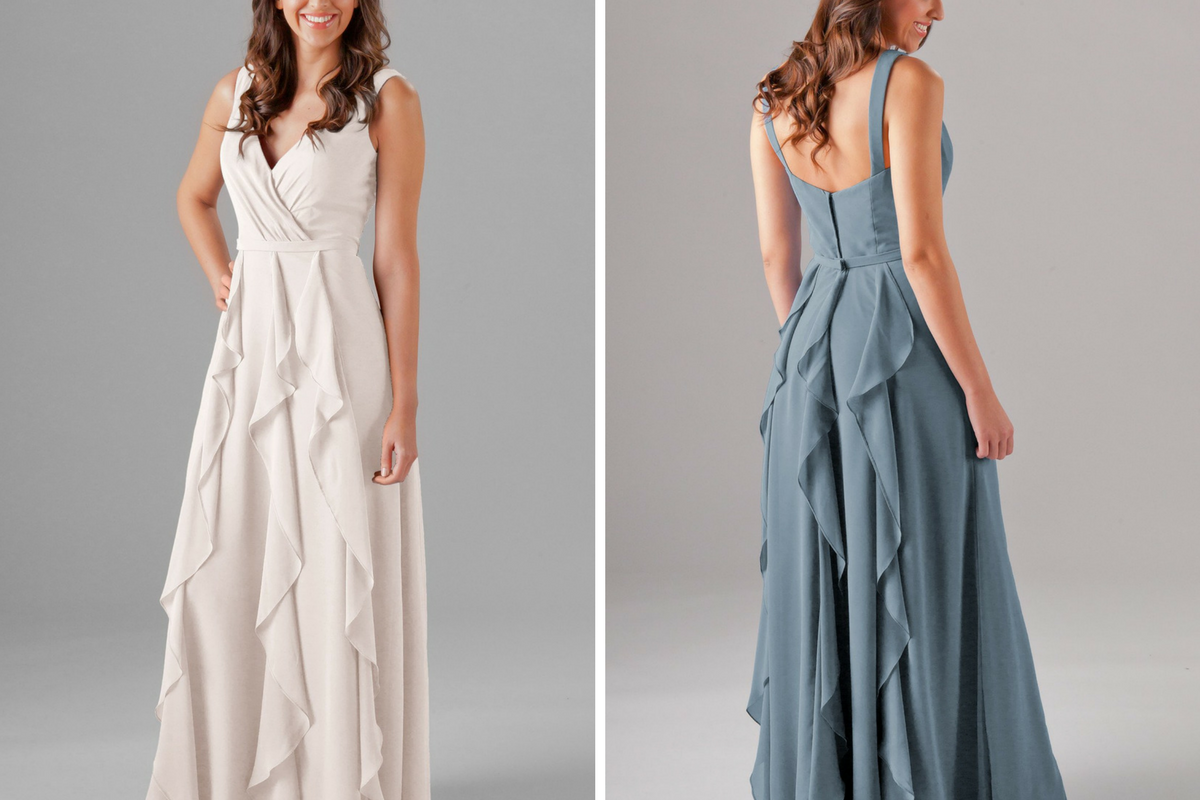 Everly is another great addition to any mix and match bridal party. The classic A-line cut is flattering on all body types – and how fun are those frills?
Isabella is the perfect boho chic gown for any outdoor wedding! The criss-cross spaghetti straps add support and the ruffle top cuts just high enough to show off your natural waist. Oh, and did we mention it has pockets? Perfect for storing lipstick and (let's be real) tissues for the ceremony.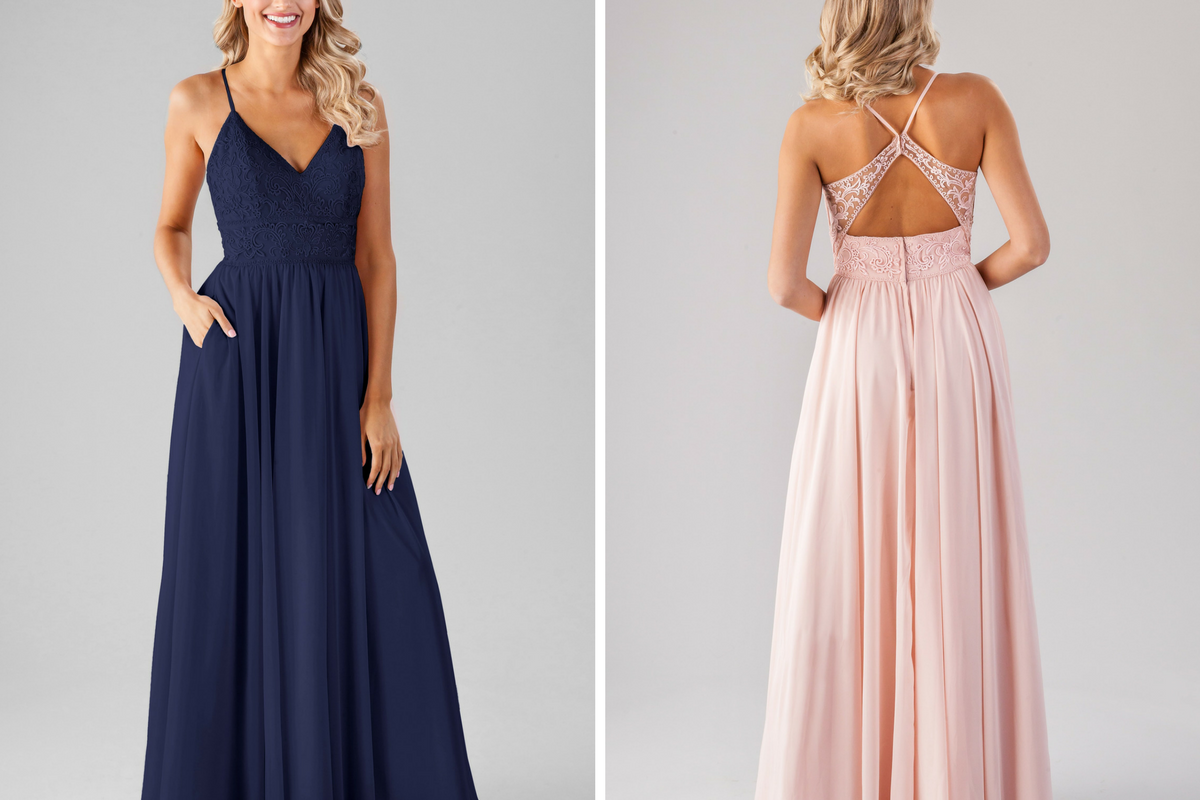 Devin's floral embroidery pattern is perfect for a more formal boho affair. The keyhole back adds even more fun detail! The ethereal lace pattern is too dreamy. This style is perfect for bridesmaids looking to make a statement and step out in a stunning pattern. Devin goes well with other embroidered bridesmaid dresses as well!
Lana is SO flattering on all body types! A V-neck and blouse top look great on all shapes and sizes and the spaghetti straps provide support without adding bulk to the dress. Lana highlights the natural waist and draws the attention up to the face with its neckline. This flowy style is sweet and simple and perfect for anyone who wants a touch of boho without going overboard.
Thea is another gown that's perfect for "˜maids looking for subtle boho details. The off the shoulder neckline is oh so romantic and the ruching creates a perfect hourglass shape. We've seen bridesmaids of every shape and build rock the heck out of this gown – seriously! Thea is always a winner among all boho babes.
THE VENUE
Many different venues can fit the bohemian theme. For outdoor weddings, consider open fields, botanical gardens, national parks, or beaches. For indoor ceremonies, museums, art galleries, and industrial spaces can fit your boho vision. A minimalist venue can be decorated to incorporate boho touches. Check out this styled shoot to see how to mix decor and wedding attire to achieve an effortlessly boho chic look.
View our full list of beautiful venues here (each includes their own deal or discount)!
When considering rentals and decor, keep your vision in mind. Statement furniture, mixed metals, or bistro-style string lights can all be fun boho elements. It's easy to customize your venue no matter what the setting. You just have to be intentional with your decorating. Of course, an extremely traditional venue may not accommodate the boho theme well, but many middle-of-the-road venues are easy to customize to your liking.
THE VENDORS
Choosing the right vendors is one of the most daunting parts of the wedding planning process! Researching and meeting with vendors can be super exhausting and overwhelming. You may reach a point where you are ready to just choose the first option you find, but it's important to analyze all your options in order to find the best fit for you as a couple. Finding vendors that fit your boho style is important because if you're opting for a wedding theme you need to commit – even if you want the theme to be subtle or limited to a few items.
Luckily we did the hard work for you and narrowed it down to only the best local vendors. I would encourage you to browse our list of the best + most trusted vendors (who also each offers a special discount if you're signed up here) and reach out to the vendors who match your style!
One of the most important vendors you will choose is your photographer. It is so important to research various wedding photography styles in order to find one that fits the boho bill. Dark, moody photography is all the rage right now (especially among boho brides), but it's not for everyone. Moody wedding photography is a style of editing that is meant to look like film. The photographer may desaturate warmer tones and adjust exposure in order to create a darker, more monochromatic look. This photography style is perfect for anyone looking for a super on-trend wedding album with cool twist. If you want a more colorful option, look for photojournalistic or classic-style wedding photographers who will be sure to keep your boho theme in mind.
Other vendors must be willing to assist you in incorporating boho trends into your wedding. For example, your caterer should keep in mind that an over-the-top decorated cake may not be what you're looking for and your DJ should consult you about your music taste. These expectations should always apply to vendors, but are especially important when incorporating the boho trend into your wedding.
Click here for our full list of vendors.
THE DECOR & GOODIES
For the ceremony, consider a floral arch, macrame hanging, or eucalyptus garland for our backdrop. Centerpieces could include mismatched vases filled with big, bushy flowers, simple greenery with some succulents, or even something non-floral like a feather bouquet! The sky is the limit when it comes to boho wedding decor. If you're eyeing the gorgeous bohemian feather arch pictured above, you'll definitely want to see more boho goodness in this Boho Dream Wedding with a Donut Wall.
If you're including a photo booth in your reception plans, your backdrop could include a flower wall, mismatched streamers, or a simple wall hanging. Bohemian style is all about creativity! If you're drawing a blank, look to macrame, big statement greenery and flowers, mixed metals, and fun patterns.
Don't forget about paper goods! Save the dates and invitations will set the mood for your wedding and get guests excited for what's to come. Craft stationery or crisp, white cards with light artistic elements are a perfect way to hint at your wedding theme. Place cards and signage for the wedding day can follow the same theme. If you're feeling extra crafty, consider practicing your hand lettering and making the signs yourself! All you need is a fun pen and some practice. Not so good with the DIY projects? Check out these super cute agate place cards.
Wedding favors are a tradition that may couples are either modifying or eliminating altogether. If you are choosing to provide favors for guests, opt for fun boho gifts to add a touch of whimsy to the day. Small potted succulents, raw quartz, or essential oils are all great gift options to show appreciation toward you wedding guests.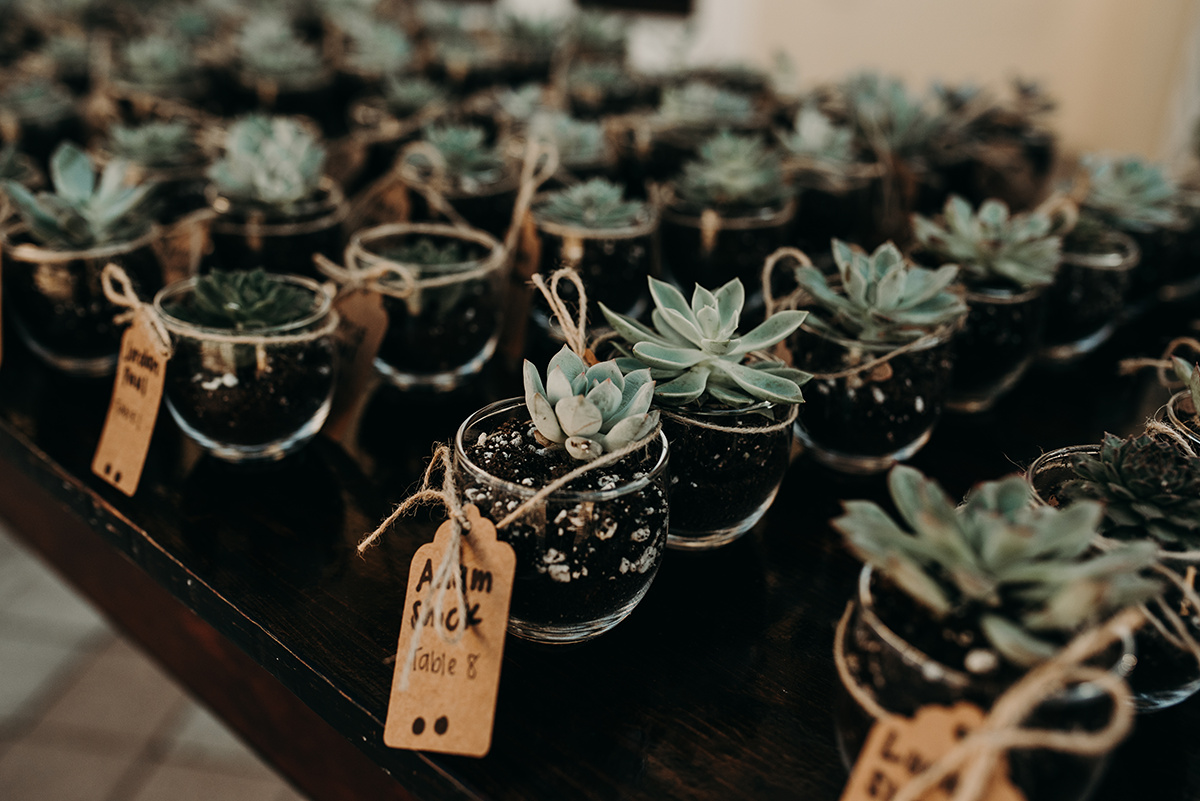 The boho trend is so easy to pull off and can make your wedding day super romantic and memorable.
Whether you're a full out bohemian babe or interested in exploring your creative side, you should definitely consider adding boho elements to your big day!
Feeling inspired? Share your ideas and favorite tips in the comments!
& P.S. If you saw any Wedding Shoppe wedding dresses or Kennedy Blue bridesmaid dresses that you loved in this blog, make sure to use their Forever Bride discount (pssst. they're offering 10% off!). Click here for the code.