From dresses to accessories, gifts, and more, finding everything you need for your wedding can be challenging. To help you through your wedding journey, we've teamed up with our friends at David's Bridal to help us bring you all your bride-to-be must-haves in one place with our Friday Favs! On the first Friday of every month, a member of David's Bridal's team will share some of their favorite items. Today's Friday Favs is all about little white dresses for your pre-wedding events with our David's Bridal's expert Kate S.!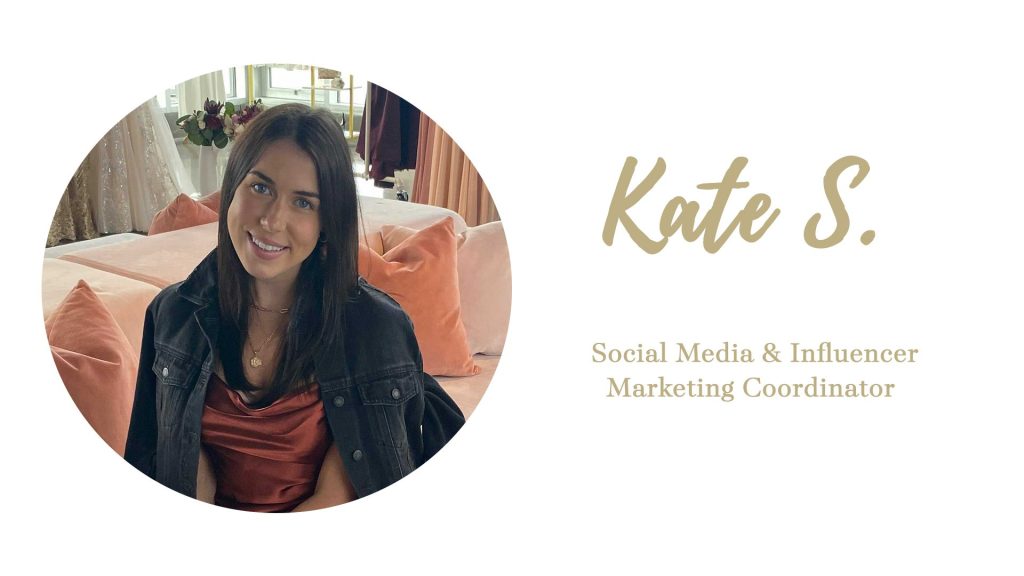 Hello! I'm Kate S., Social Media & Influencer Marketing Coordinator here at David's Bridal. As a member of the DB team, I love helping people bring their wedding visions to life and assisting them on their planning journey! It's such a magical and exciting time. As a bride-to-be myself, one of my favorite parts of being engaged has been planning my pre-wedding events. From the engagement party to the rehearsal dinner, there are so many fun gatherings before saying 'I do".
But, what should the bride wear to these celebratory events? That's where your wedding wardrobe comes in. A wedding wardrobe includes all your outfits and "looks" for the events leading up to your wedding. I see it as the perfect way to express your personality and take full advantage of your "bride-to-be" status! A style you can't go wrong with at any of these pre-wedding parties is a little white dress. From mini to maxi, satin to lace, the options are endless when it comes to picking your LWD. To help get you started, I've rounded up a few of my favorite little white dresses for today's Friday Favs. Keep scrolling to see more!
3D Floral Lace V-Neck Short Dress
Bridal shower coming up? This little white dress is a dream for any bridal soiree plans! Designed with dainty 3D florals & textured lace, this sweet bride-to-be style is guaranteed to look great in photos. I also love that this mini dress can be dressed up or down. It would be super cute with some sneakers or sandals, and would pair great with a denim jacket if you are going the casual route! For an elevated style, pair with some block heels & matching floral earrings. Shop this style here for $249.95!
"I love the textured lace & 3D florals on this dress. It gives such a "wow" moment!"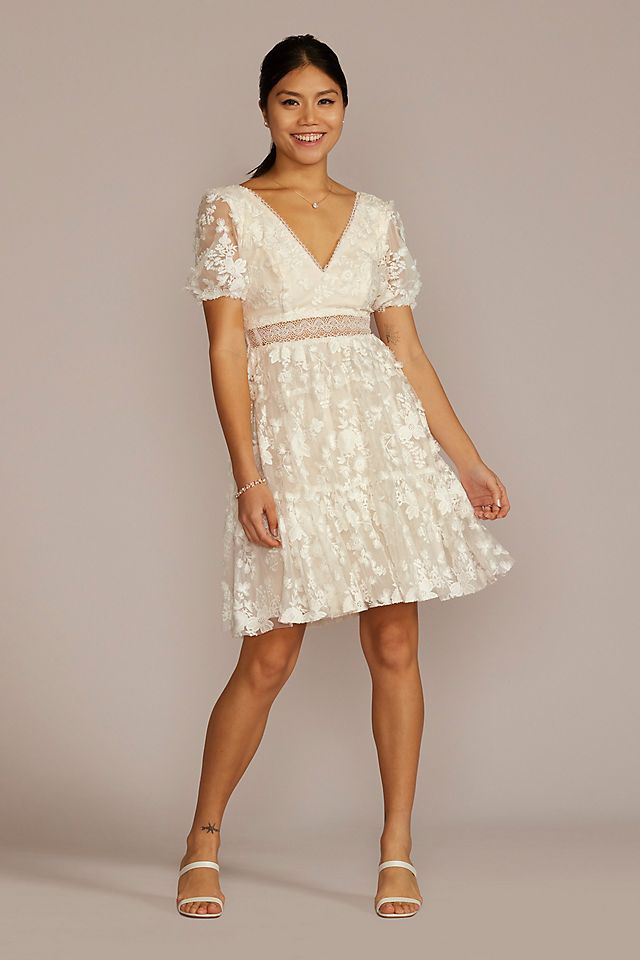 Crochet Lace Overlay Midi Spaghetti Strap Dress
For a refined & romantic rehearsal dinner outfit, look no further than this little white dress. I love the midi-length style, and the textured lace adds a beautiful feminine touch. The overlay material is lace crochet that outlines beautiful blooms and sweet swirls, making it perfect for a spring or summer wedding in my opinion! This dress gives me such a classic vibe, that I would pair it with a timeless necklace/earring set, a simple pair of stilettos, and a sparkly crystal purse. Shop this style here for only $159.95!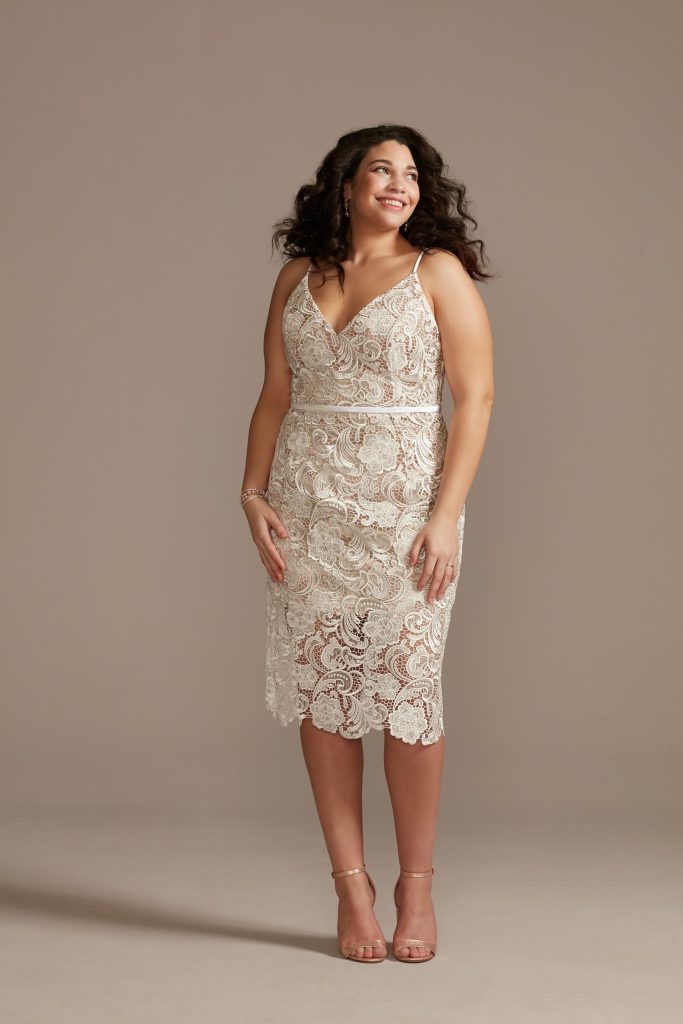 "The lace overlay on this dress is so romantic & feminine!"
Ruffled Charmeuse V-Neck Long Sleeve Mini Dress
This style is perfect for an engagement party because it's classy, tasteful, but the unique ruffled details add a hint of fun! The simple silhouette and satin material make this dress the ideal blank canvas that you can have fun accessorizing and truly make it your own. I would add a beaded clutch and these bow shoes to add some color and pizazz to the look. Shop this style here for only $139.95!
"I am obsessed with the ruffle details on this mini dress. It is classic yet fun!"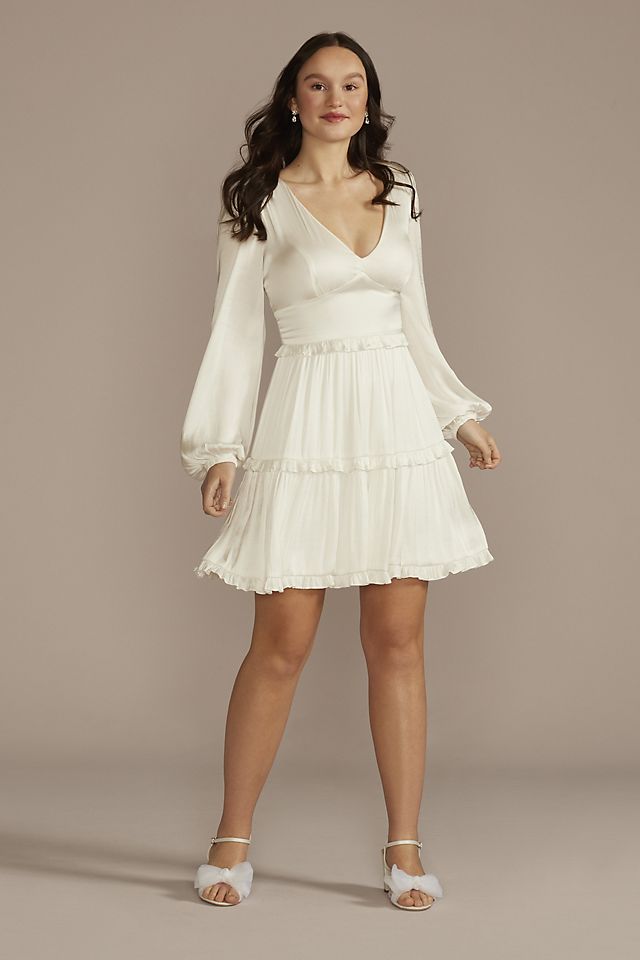 Shop Kate's favorite little white dresses & more online at davidsbridal.com!