Catherine Eckert and Stephen Trojahn are the co-owners of a trendy Minneapolis food truck, Gastrotruck. While Catherine handles the business side of things, Stephen focuses on the cooking, and together the duo are able to provide a fun and unique experience for their customers.
How did you get started working together in this field?
Catherine:We met doing a "Resort Takeover" in South Carolina back in 2006. Stephen got an awesome opportunity to come work in Minnesota in 2007 so we came here and then basically when the economy crashed, his corporate job was eliminated. So we started doing some catering for friends and we were already thinking about restaurants and food trucks and basically just decided to go with the truck. So we pulled the trigger, got our first truck. He built it out and then we had year 1, year 2, year 3 we bought our second truck, year 4, year 5 — we're in year 7 now and we're buying our third truck. So that's how we've sort of evolved.
So what's your dynamic like?
Catherine:We have different strengths, which is really nice. I focus on all of the office stuff — all of the sales, all of the accounting, planning and managing events, running events, and he does"¦
Stephen: I just cook (laughs), she does everything else.
Catherine: (laughs) He's the truck driver, maintenance guy, lawn mower, dishwasher.
Stephen: I'm a really good dishwasher (laughs)
How did you come up with the name Gastrotruck?
Stephen: Well actually it was a trend, again this was seven years ago, that started in New York City with gastropubs. So they were bars with elevated styles of food, which now is commonplace. But we kind of just took that idea and said, "Well, that's what we're trying to do with this truck." It's a food truck, but it's not your "roach coach" traditional-style food truck. We're trying to do an elevated style of food, so we wanted to call it gastrotruck.
So you told me earlier you do 60+ weddings a year. What other type of events do you do?
Catherine: Festivals, Rock the Garden, Eaux Claire Music Festival, a lot of art events, charity events, and we also work with corporations too.
Stephen: We do a lot of corporate catering as well, like office party, employee-appreciation parties, those different types of things. So we do a lot of that during the week. The weekends are mainly weddings and graduation parties and things like that.
What would you say sets you apart from other options in terms of catering for weddings?
Catherine: We are not just a food truck — we also do full-service. So if they come to us it's a one-stop shop where we can do appetizers, we can do bartenders, servers, desserts. I can do full-event setups, you know, rentals — so if they need tables, linens, chairs, that kind of stuff. So opposed to it just being very a-la-carte, which we also do have those services available too, depending on the client's needs, we have that ability to basically be full event-planners as well. So that sort of service, coupled with our price point, we have a very moderate price point, we work in that arena.
Stephen: I think another thing that sets us apart is our flexibility on our menus. We don't have just a set menu. A lot of the things that we do are specialty items. We customize a lot of menus because we do make everything 100% from scratch, we're able to customize, we're able to accommodate a lot of different allergies, sensitivities, nationalities – you know we've done a Kosher Russian wedding, we've done a Vegan Scandinavian wedding, you know just crazy concepts with different areas where people may want to integrate these things into their wedding or their event. We have the flexibility and capability to do that, because of our background in our culinary field and hospitality field. We're pretty much able to adapt and mold to almost any style and any budget as well, within reason.
What would you say is the hardest part and best part of your job?
Stephen: The hardest part about the food truck business is the logistics, because everything that we do is not here in our commercial kitchen. So you're not only running a kitchen, you've also got to deal with older vehicles and all the problems that could potentially happen with that, and then we're also at numerous different locations throughout the tri-state area. So that's probably the most challenging, but we've learned a lot within the last seven years definitely.
But then the best part I think is the instant gratification because you're right there when the customer is ordering and you're right there when they give you feedback. You kind of break down all those barriers you have in a restaurant or corporate environment. You know, there's no wait staff, there's no host stand, there's no bar, you know? There's not all this stuff before you actually get to the food. It's really all about the food and the customer experience. And to hear a customer say, "Oh that's the best sandwich I've ever had!" or "Oh I remember the pork-belly that I had from your truck three years ago!" That's the most amazing thing about our business I think. It's really all just about the food, and that's what it should be about.
Catherine: And it's really nice that we get to go to so many unique places too. So our days are never the same, you know, depending on what's going on. Just working with the different breweries and the different venues and the different clients, it's always changing and it's really fun to be able to do that. The hardest part is the aspect of being able to just sit down and organize. It's a lot of moving pieces, whether it's getting certain info to a certain event, or putting changes in a contract, and it's hard because it's a seasonal business, for the most part, and we're hands-on. So, come a weekend during the summer, we're out at events, and sometimes being able to keep up with all of the inquiries and emails, it just gets to be a little overwhelming sometimes.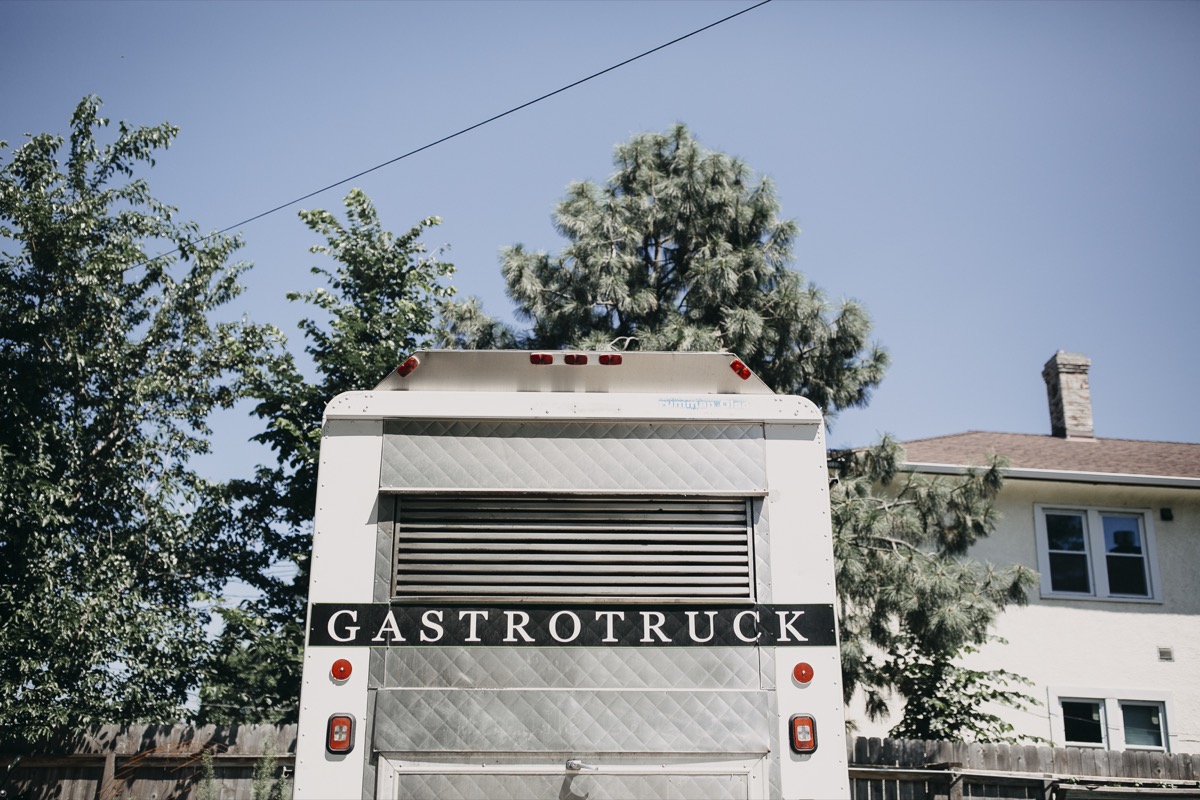 Do you have any favorite experiences from your work?
Stephen: You know, every time I hear at a wedding, "This is the best wedding food I've ever had," and fortunately for us, that happens fairly often, I just think it's the best experience. Because we're always trying to improve. And we're so lucky to be a part of two peoples' most important day of their life, and to be able to make that better for them — I think every weekend is special for us. And I'm not just saying that. I think we're truly lucky to do what we do.
Catherine: Yeah, we really are.
See Gastrotruck's exclusive Forever Bride deal here!