Have you ever considered having a photo booth at your wedding or event? Or what about a photo booth on wheels? Kayla Lindsley and her husband, Justin revamped an old camper on the side of the road into The Gypsy Photo Wagon, creating a unique spin to the classic photo fun!
We met up with the sweet couple at a rodeo and had the chance to learn more about their company.
How did you start The Gypsy Photo Wagon?
Kayla: I've always liked vintage campers and I was like, what can we do with them? I'm a photographer and it kind of just popped into my head like, I wanna start a mobile photo booth on wheels. And then the next week we found this camper on the side of the road.
What type of events do you do?
Kayla: We do all sorts of events. We do weddings, grad parties, birthday parties. We could do bachelor or bachelorette parties, any corporate events. Yeah, any type of event works for us.
What inspires you to do what you do?
Kayla: When people come in here [the camper], they laugh and they smile. And I think that's just the best part about it. Their smiles just keep me going. I just love making people smile and it's just really fun.
In a year, where do you want to be?
Kayla: Maybe possibly another camper"¦ I would love to have a second camper! Maybe like an airstream in the future.
What would you say is the hardest part and the best part?
Kayla: The hardest part was building this. But the hardest part business wise is probably just, ya know, learning when your personal time is compared to business time just because you do everything from home mostly.
But the best part, like I said, is making people smile and hearing them laugh and hearing them just have a good time. I think that's just really awesome.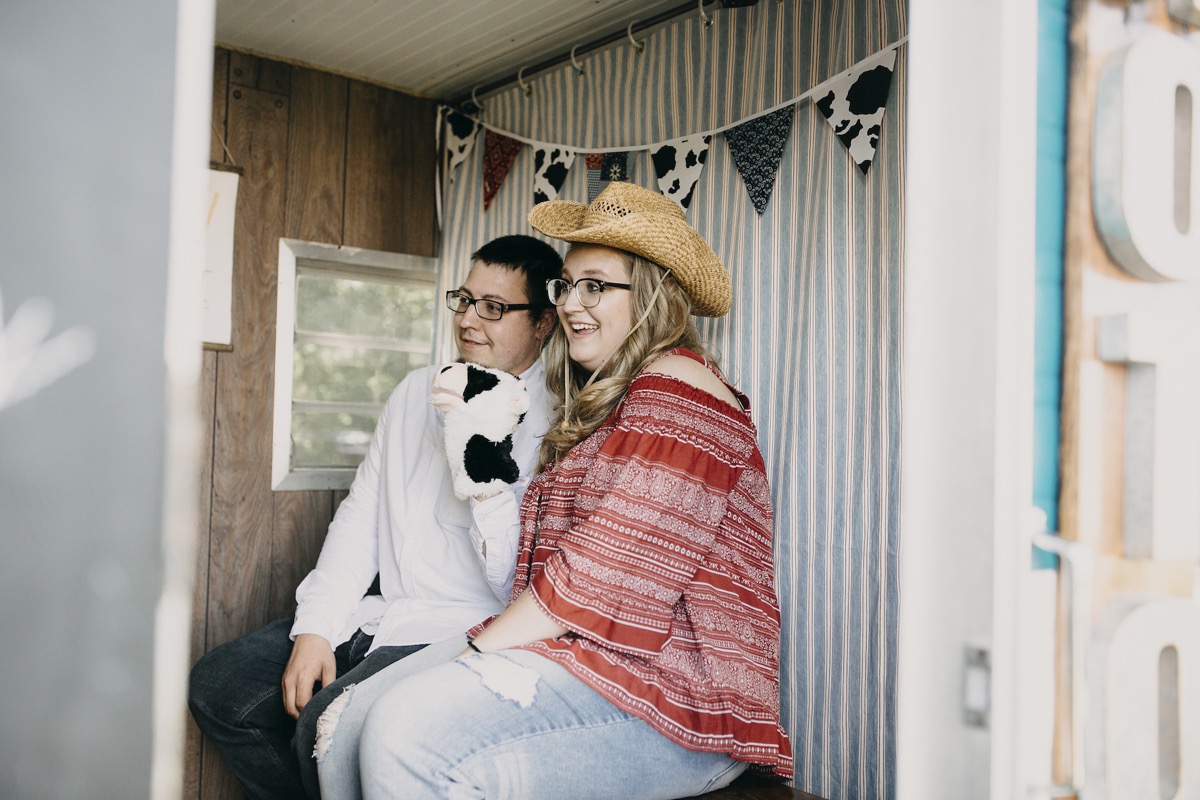 Do you have any favorite memories or a favorite event that you've done?
Well we just kinda started out so we haven't done a whole lot of events. I mean, it was just fun"¦ we'd be out there in the freezing cold weather working on this, so I mean I got to work on it with my husband and my dad. So it was just a lot of fun working on it together and seeing what you can create and everything.
When renovating the camper, what style were you going for?
Since it's called The Gypsy Photo Wagon, we wanted to stay with the gypsy theme. And just kind of like traveling, old features, classic features.
How'd you come up with the name?
Kayla: Um, how did I come up with the name? (laughs) I think it kinda just came to me one day.
*turns to her husband, Justin*
Kayla: Justin, how'd I come up with the name?
Justin: I think it was more or less just the fact that it's constantly gonna be moving, it won't be in one spot for very long.
Kayla: Kinda nomadic"¦
Justin: Nomadic, kinda like just what a gypsy would be.
What's the benefit of having one of these at your event? What makes this unique?
Kayla: I think it would get your guests just talking about it for time to come. It's something that they'll always remember and it's just really fun and really unique and nobody has it.
Interested in having The Gypsy Photo Wagon at your wedding or event? Make sure to take advantage of their exclusive Forever Bride deal HERE.

Hint: You'll receive 10% off if you're signed in as a Forever Bride member!