Every bride deserves to look beautiful and flawless on her wedding day.
And there are many things that you can do to prepare for your big day (like getting in shape and preparing healthy skin).
But once that day arrives, it's fun to call in a professional to enhance your already-beauty! We don't know about you, but getting your makeup professionally done is a pretty big + rare treat. And in our book, you should definitely spoil yourself on the day of your wedding!
To chat all things makeup and bridal beauty, we personally met with the one and only Jillian of Jillian Maria Makeup. We work to give you the best, most talented and trustworthy makeup artists, so it's important for us to get to know our vendors personally!
And friends – we can honestly give Jillian a 10 star (no, 100000 star) rating! Not only is she beautiful, talented, and passionate, but she welcomed us into her stunning home with the CUTEST puppies ever. You'll see pictures of them soon, but first let's dive in to question number one.
P.S. Make sure to read all the way to the bottom for a special Forever Bride makeup discount. 🙂
1. What inspired you to start your own business?
My mom. She, and a lot of the women, in my life have started their own businesses! I think that was always in the back of my head, like "hey I can really be my own boss," and that was something that was really important to me. The makeup part of it came with time after I was in college and I didn't know which way I wanted to go. I was looking at PR and advertising, marketing, and all these other things and I was like, "hmm maybe this isn't what I want to do." So I ended up going to school for makeup! That is where I put both––business and passion––together.
2. What is your mission?
It's important to me to provide professional and quality work and service. But also to really educate the women I'm working with, because a lot of the time women don't know or have the tools to do their own makeup. So it is important to me to educate and help them feel empowered and beautiful and have the confidence and strength to be like, "I can wear makeup and feel great but also cannot wear makeup and feel great!"
3. What are your top three core values?
Passion is a big one. It has always been a big one for me. With starting a business I knew it had to be something I was passionate about.
Then, I would say experience is huge. That is more for my clients. I want to have them leave with a smile on their face feeling good about everything that we've talked about, like their face and their whole look. Also, I work in retail part time at Vineyard Vines, and they focus on "Every day should feel this good!" and they are all about customer service. So I've taken that and that is something I really want to push with my clients. I know when I was younger and went to the makeup counter I didn't always have a great experience and I left feeling awkward and uncomfortable. I don't want that for my brides.
The third one I would say is fun. Because I always like to have a good time and I want to make friends with everybody, because why not?!
4. How committed are you to making a bride's wedding day a day she will never forget?
Very committed. It's very important to me that they feel comfortable and beautiful the entire time and honestly it's not so much that I need them to think I'm so great or whatever. I just want them to enjoy the time.
So if I can less some of their stress by giving them the look that they want and that we've created at their trial, than that is enough for me! I don't want to add stress to them, so as long as their happy and I can tell they are having a good time and everyone is feeling good then I feel good. So it is kind of hand in hand.
5. What can a bride expect when booking with you? What do you want your clients to get out of the Jillian Maria Makeup experience?
I have created a bridal form with my emails. So when a bride first emails me I try to make it as simple as possible, because I know a lot of the time they are not only dealing with me. They are working with the other vendors, venue, etc. It's chaos! I've even experienced some of that after putting together some styled shoots. That was crazy town! So simplicity for me and the easiness of filling out the form, then laying out the steps, and setting up the trial is the way I go.
I really like to keep it simple, straightforward, but still friendly. Because why would you want it to be anything but fun?! Other than that, I want them to feel good and feel like themselves. That is really important to me because I know when I go out I want to feel like myself. I don't want to feel uncomfortable about all the makeup I have on. Everyone has their own type of beauty that they are looking for.
6. Is there anything else you would like to add regarding what sets you apart from other companies?
I would say the relationships that I try to build. For me it is not the one and done. I want to leave feeling like we have a better relationship than that. I want them to feel comfortable with me and if they wanted to reach out to me again or had questions regarding makeup or whatever it is, I would love that! I think that sets me apart from others that are more like, "Here ya go, I did the service, see ya later."
It would honestly make me so happy if someone reached out to me again. Even a question about what lip color would work for them. Just something so simple. Relationships are really important to me so I try to keep them solid.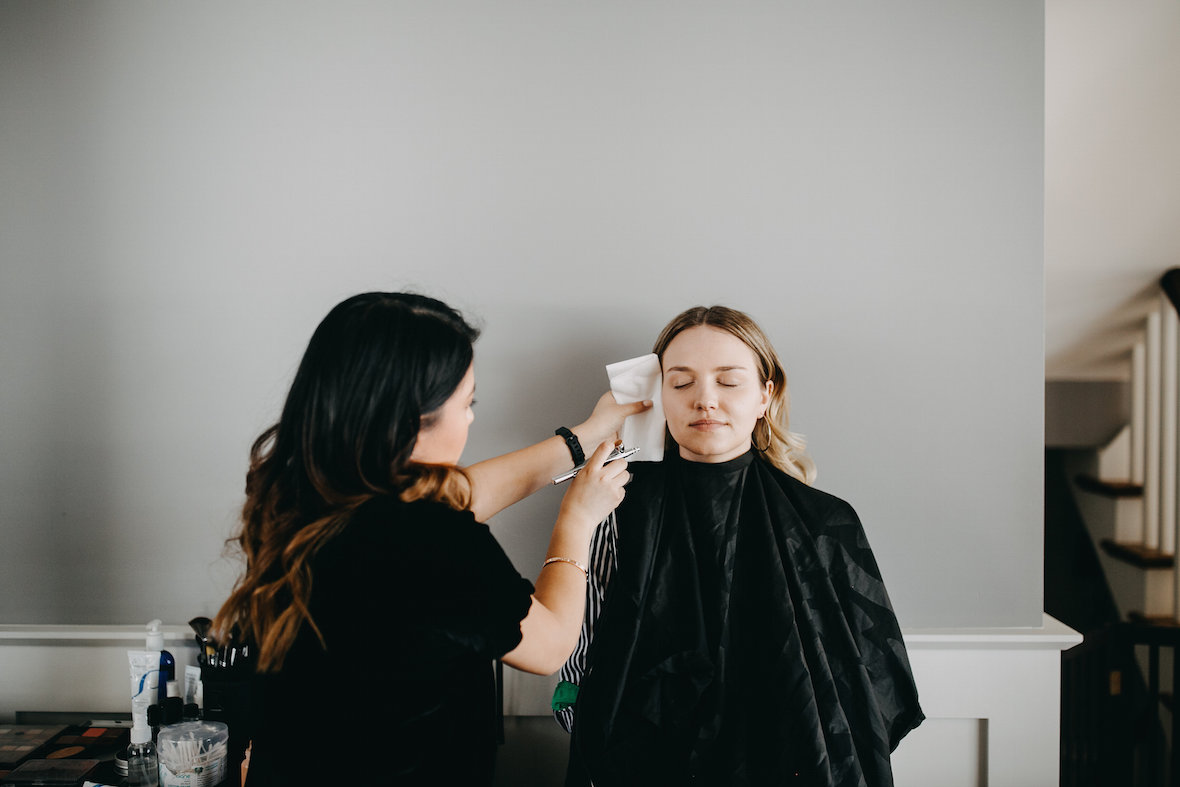 7. From starting your own business to where you are today, what have been some of your biggest challenges and how did you overcome them?
The biggest one for me would be breaking people's idea that this is a hobby for me. In the beginning it was much harder because it still kind of was, and even though I had gone to school for makeup and had that training, people were still seeing it as a phase or something I liked to do. That was hard, especially with the people I know. Not so much other people that I meet because they assume this is my business and this is all that I do. Especially in the bridal industry, everyone is great and they understand. But with friends and other acquaintances, it was hard for them to see it and see me as a professional.
The other part of that is that I am so young still. For how old I am in the industry, I'm really young, but the education that I received and the experiences I have had age me a little bit. Everyone always says I'm 25 and I'm like.. I'm not 25 but it's okay!
8. What are some of your goals for 2018?
Specifically for this year I would like to finish the other educational courses that I'm doing. I went through my first makeup program about a year ago, which was a lot of fun! I love learning about makeup so I don't think I will ever stop trying to educate myself on all the new tricks of the trade and all the new product. I am currently taking online courses through another makeup artistry that goes in depth and talks about theater, bridal, photoshoots, like different kinds of medias that you can go into, which is cool.
I've actually been putting that off I started it about a year ago when I started the other school but I've been busy and I'm 20 and trying to live life. So that's something I really want to get done and get another certificate under my belt.
9. Who is your role model or someone that inspires you?
My mom. So corny and everyone probably says that but seriously without her I would be completely lost. She is amazing. She was a realtor, then a home stager, then started a nonprofit organization for seniors and youth. Our family has actually started another nonprofit organization for foster kids and prospective adoptive parents! I am adopted so that was something really fun for us. So she's all over the place a little bit but she is so inspiring.
My mom always followed her heart and her passion. When she doesnt think, like with the real estates business, she didn't find it fun anymore and she wanted to find a new passion. So without her I would be really lost. She's been a huge help with the whole business side of things and encouraging me to go to school. She's the one that actually found the school I went to.
10. To what do you attribute your success? Skill, hard work, luck, people?
I'd say a combination of all those. But the first thing that I think about is my education. I went to Faces of MN. Faces has given me more tools and knowledge than I could ever dream of! I thought I knew a lot about makeup, more than a lot of people, but when I went to school I was like, "oh my gosh I know nothing!" They truly give you years of experience in a month. They also have such a great support system. I really would credit them and also family and friends for their support. But without the education I would not be where I am today.
11. What are you currently watching on Netflix?
Love this question! This is a me-question. I actually just finished my second time watching New Girl. I love that show! The first time I watched it I cried because I am a cheeseball. But last night my friends made me watch Black Mirror. That's really good but a little intense for me. So I watch a little bit of everything but the more happy New Girl type of thing is more my speed.
12. Do you have a secret talent that no one knows about you?
Professionally people don't know this, but my friends know, and I don't know if it is really a talent but when I was in highschool I was in show choir. I wouldn't say I'm the best singer, but I really like to sing and dance. I don't often tell my clients that because it's kind of dorky, but it was fun and I was in theater too. So I was one of those kids, but it's fine and I'm not weird I promise!
13. If you could give the world, your friends, or your clients, one piece of advice, what would it be?
Don't be afraid to fail. The hardest part for me, before even taking the step to be a makeup artist, was leaving school because I was afraid people would think "she couldn't do it" "she dropped out of college" or whatever. But once I took that step obviously it was liberating and it has been a great adventure so far. So that is definitely the biggest thing for me.
There you have it! That is Jillian in a nutshell. Isn't she wonderful?! Her smile seriously makes your heart melt. Check out more of her work and contact her in her profile, Jillian Maria Makeup! And don't forget to mention Forever Bride for a special deal!
Want to see more of our Forever Bride members? Search Forever Feature at the top of the page to meet Irina, Jill, and more!