Imagine a barn wedding venue with Chip and Joanna Gaines style, and you getPond View Barn! Husband and wife, Randy and Barb, bought the farm decades ago and after a lot of hard work and dedication, they have turned it into a dream wedding venue for brides seeking a rustic chic setting with hanging cafe lights and greenery, massive sliding doors, and several natural backdrops that will have your trusted photographer in heaven!
We sat down with the couple in their gorgeous venue in Pine Island, MN, and went straight to why in the world they would put so much time and energy into fixing up this old barn! Their answers are sure to make you laugh, smile, and shocked (hint: their amenities & flexibility are unreal!).
Read on for all the deets and some major swoon-worthy photos!
What inspired you to start this business?

Randy: 27 years ago we bought this farm and it was really quite dilapidated. We put a lot of work into fixing up the house, the barn, and the sheds. We wanted to keep the barn so we started working on it by putting up a new roof and foundation. Years later, we decided to start doing events here for our church, birthday parties, and such. Barb thought we should do more events. We heard about people using their barns for weddings and that seemed like a good idea.
This is a fun place to entertain people and people like coming out here. So that's what got us started. We did our first wedding to see if we like it, and we actually really enjoyed doing it. It's fun to meet the couples and help them on their new journey!
What is your mission?

Barb: Our mission is to serve the bride and the groom, their family, and to make it the most memorable experience they can have. It's a very important day, we like to keep it fun. Of course, it gets stressful, so we help try to make it not so stressful. If there is stress going on, we try to pinpoint where its coming from and what can we do to help.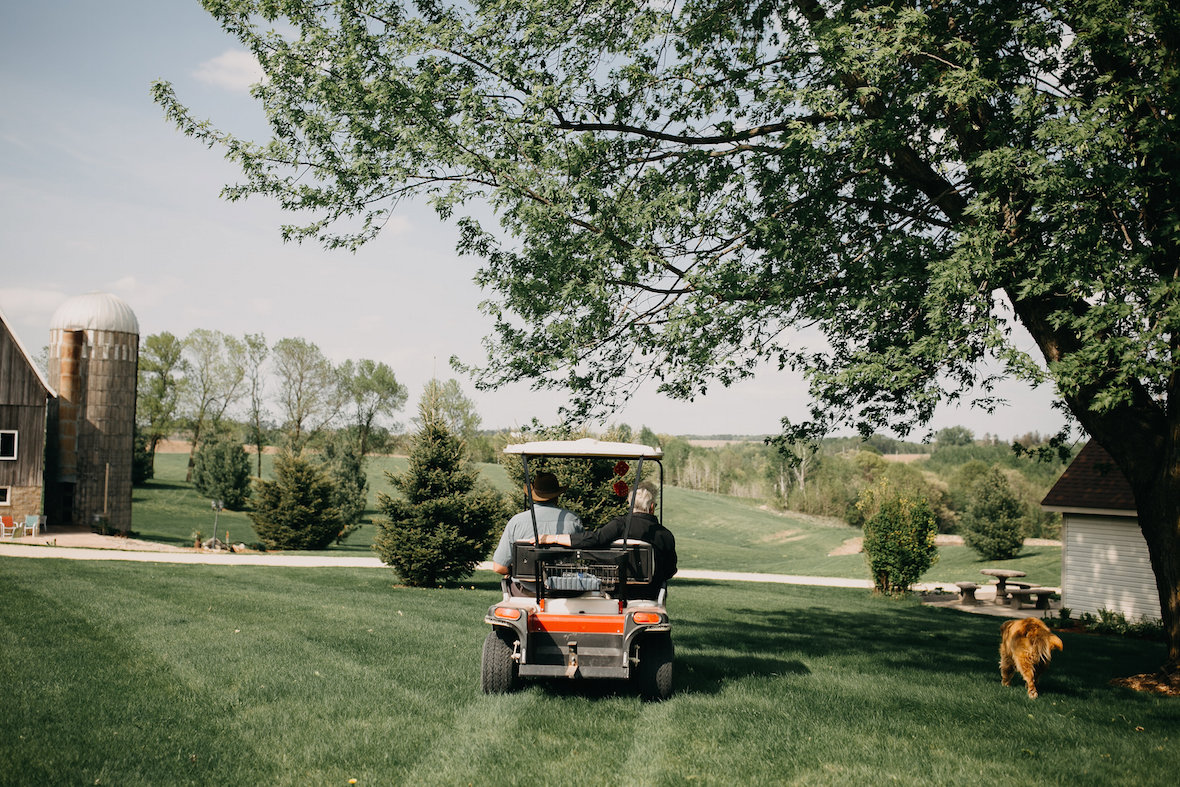 What are your top three core values?

Barb: For us, we keep God in the center of everything we do because it's an opportunity to share the hospitality that we need to have with this venue. Good hearted hospitality, and there are moments where we are able to open up and pray with the people who come in here, and some that don't want to pray and that's okay too. We've learned to be good listeners. Randy has learned from the brides and their mothers that we need to listen to them.
Randy: I learned that real quick!
Barb: We work really well together that way. Once you get that bride and mama in sync and help them, it flows. We try to build them up.
How committed are you to making a bride's wedding day a day she will never forget?

Randy: More of just filling the desires and needs and helping them threw all the phases of planning. We welcome their calls months before. A lot of them come from out of town and don't have a photographer or caterer. We let them pick out their own caterer. We suggest people in this area that can help them that have been here before and done a good job. We try to help them out in any way that they need.
Barb: The brides like to pick their own caterers. It's an avenue that opens up and they're really pleased to have that choice.
Randy: Some weddings just want a food truck and they can do that here. Keep it simple.
What can a bride expect when booking with you? What do you want your customers to get out of the Pondview Barn experience?
Randy: We will try to help them by lowering stress and to help it run as smooth as possible. We are here during the day and a lot of the time, the wedding is going on outside and the caterer or a van shows up, so we help set up to make sure things run smoothly.
Barb: Our goal is that when they leave after this experience, that they would go tell other people and spread the word of how it all went. I told Randy that the hospitality has got to be one of the main things that we go up and beyond about. Like Randy said, brides call and call, and we answer their questions right away. You can tell that they're nervous and we tell them that we can help them with anything.
Randy: We park the cars on the wedding days.
Barb: We even dance too! I love to dance.
Is there anything else you would like to add regarding what sets you apart from other companies?
Randy: Our location. We are out on a dead end road, very private.
Barb: It's very peaceful out here, you don't hear the highway or traffic. People run out to the pond. We have a swing set and we have a tractor to give rides on. It's the little extra things to do.
Randy: If they have kids, we can set up a kid area for them. A lot of them like that. Another thing is that we do let them set up on Friday if the wedding is on Saturday. On Sunday they can come tear down. It gives them have the whole weekend to set up.
Barb: That is probably the number one thing they look at because it's not a short window.
From starting your own business to where you are today, what have been some of your biggest challenges and how did you overcome them?

Randy: To make this hundred year old barn into a commercial venue. You start with an architect and drafts and zoning, and you sit down and talk about it before you start. That was a challenge because you can't structurally tell what this barn is going to hold on a wind scale because it's an old barn. Zoning went well. Through a lot of prayer and positive attitude and perseverance, it could've gone a different direction, but it didn't! We worked so hard through the past three years. All of our vacation time has been in this barn. We are happy to be at the point done with zoning and we're booking weddings. Now onto the fun stuff!
Barb: We were working on it and putting on weddings, that was the hard part. We didn't advertise it either. It was word of mouth. Now we are having fun, for sure.
Are you working on anything new for this coming wedding season or next?

Randy: We will have a new bar area built. We will have a liquor license so we will be able to supply that. We have a server in Wisconsin, she will meet with the customers and decide what they want. The cost will be very good compared to a bar.
Barb: We are really excited about that one. That's going to be huge! That's been one of the hardest things for brides to find and have set up. This bartender is great. We really like her, she goes above and beyond in all she does!
Randy: We are also going to rebuild the firepit. There is always something to do.
Who is your role model or someone that inspires you?

Barb: For me, it was a great friend, Rebecca, she got so excited when we were talking about this venue. She has many gifts and also does our website. When you talk about our venue, she has such a joy in her heart and her face. Every time we have her do something, she would be so excited to do it for us. She inspired me a lot.
Randy: She does all of our art at church and editing. She makes everything look good.
Barb: She has this excitement and joy in her that I see every time and that keeps us going.
To what do you attribute your success?

Randy: It's been a lot of hard work, dedication, and the good Lord helping us make these decisions. A lot of good friends have helped us too! Especially with the remodels and some decor pieces.
Barb: They're excited for us.
How has this experience shaped your marriage?

Randy: We've gotten closer through this thing.
Barb: The WHOLE process of doing this together bring us so much closer. Also, with our couples. We help them so much leading up to the wedding and the day of that we bond with them. And they see how happy we are getting to be part of their journey that it makes them happy.
If you could give the world, your friends, or your clients, one piece of advice, what would it be?

Randy: Be honest, work together, help each other – we all need help. Be there for each other.
Barb: The bottom line, respect one each other, and have unity. No matter the differences.
Randy: We all have our flaws.
Interested in checking out this stunning venue for yourself?
View Pond View Barn's Forever Bride listing and be sure to contact Randy & Barb to set-up a time to take in all that this venue has to offer and book the rustic barn of your wedding dreams!