Today we are featuring a very special and historical venue right here in Minnesota. The St. James Hotel has a rich history in the Red Wing community and spans back 144 years! Nestled along the Mississippi River with a beautiful, victorian style and nine venues within the hotel, it's a complete dream. The hotel itself is photogenic on it's own, not to mention the beautiful town of Red Wing, you definitely won't run out of places to take all of your wedding portraits! The hotel also has suites, three restaurants, a salon, flower shop and a newly renovate patio. We can only imagine how lovely a full wedding weekend would be at the St. James and you'd barely have to leave the building. Besides, with the views and decor I don't think we'd ever leave. We were lucky enough to have Abby Hanson who is the Wedding Sales Manager and Shelly Hanson who is the Banquet Manager show us around the hotel and answer some questions for you all.
Their newly renovated patio! Such a great mix of old and new.
What is your mission?

The St. James Hotel's mission and vision is to provide the finest guest service, genuine memorable experiences, and inspiring a connection to our rich local history through our iconic, boutique hotel.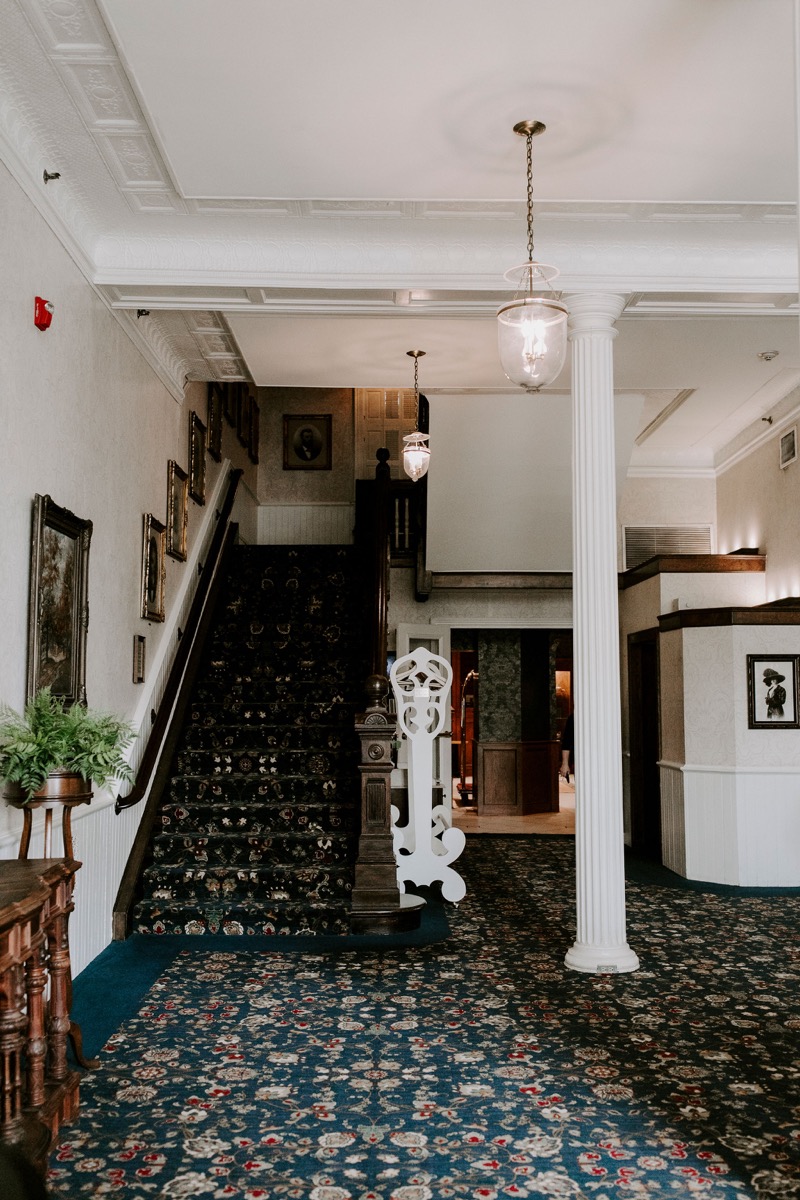 How long has your company been around?

The St. James Hotel was founded and built in 1875, we are 144 years old!
What are the company's top three core values?


We strive to have our top three core values as: A passion for exceeding the expectations of our guests through personalized service, delivering high value for the Red Wing Shoe Company, and nurturing a positive partnership throughout our Community.
The view from their largest venue, The Summit Room.
VENUE DETAILS

The Hamline Suite

Our elegant bridal ready room
To what do you attribute your success/the company's success? (i.e. hardwork, luck, others, etc)

Abby: I believe having a solid relationship with my couples provides so much success. If they can be comfortable with me and trust me with their visions and wants to be executed, this will go far. I love the first initial step with a basic introduction and then months of working together. Being successful is having great communication, being there for them, helping them relax, and putting their wedding visions into reality. I look back on the reviews my couples give, and it makes me so happy the kind words they say about me and the St. James! The fact they can look back on their day and be happy about the process and outcome is a successful feeling!

Shelly: 100% to our team (including everyone from Front Desk & rooms, our in-house floral and salon, engineering, administrative & sales, restaurant, culinary and event staff)! The St. James is a beautiful property with a fascinating history. The combination of this and our knowledgeable, passionate service teams are the reason engaged couples LOVE the hotel.
VENUE DETAILS

The Laurentine Room

Ceremony: 120 guests | Social Hour: 150 guests | Reception: 80 guests

With access to an outdoor balcony overseeing the Mississippi River and historic Red Wing Depot, the
Laurentine Room is located on the first floor of the hotel and offers natural sunlight. An intimately set
fireplace within the room creates a warm ambiance for guests. Create better flow by and utilize the
Hoop skirt Hallway for a cocktail/bar area.
What do you love about weddings? Have you noticed any trends?

Abby: I love seeing the connection between the bride and groom foremost, and then the couple with their family & friends. The trend of "the first look" is my favorite. Sometimes I will hide in the back and just watch both facial expressions! HA First looks with Bride & Father and/or Bride & Groom are so memorable. Its so fun and neat to plan with these couples for months and months and watch how they interact and how they both plan their big day. Then the day arrives and they are almost like new people. Happiest they could be in their new chapter to come!

Shelly: To me, there is nothing more beautiful or exciting than families coming together to celebrate! A fairly recent trend that I really enjoy are the pre-wedding "Meet & Greet/Mingle" events and post-wedding brunches than many couples are hosting for their bridal party and out of town guests. These celebrations are always festive and fun to execute, and generally much more relaxed & informal than "the big event". It's a great way to welcome family and friends that have traveled (frequently from across the country and the world!) and allow the couple some extra time to greet and catch up with their guests!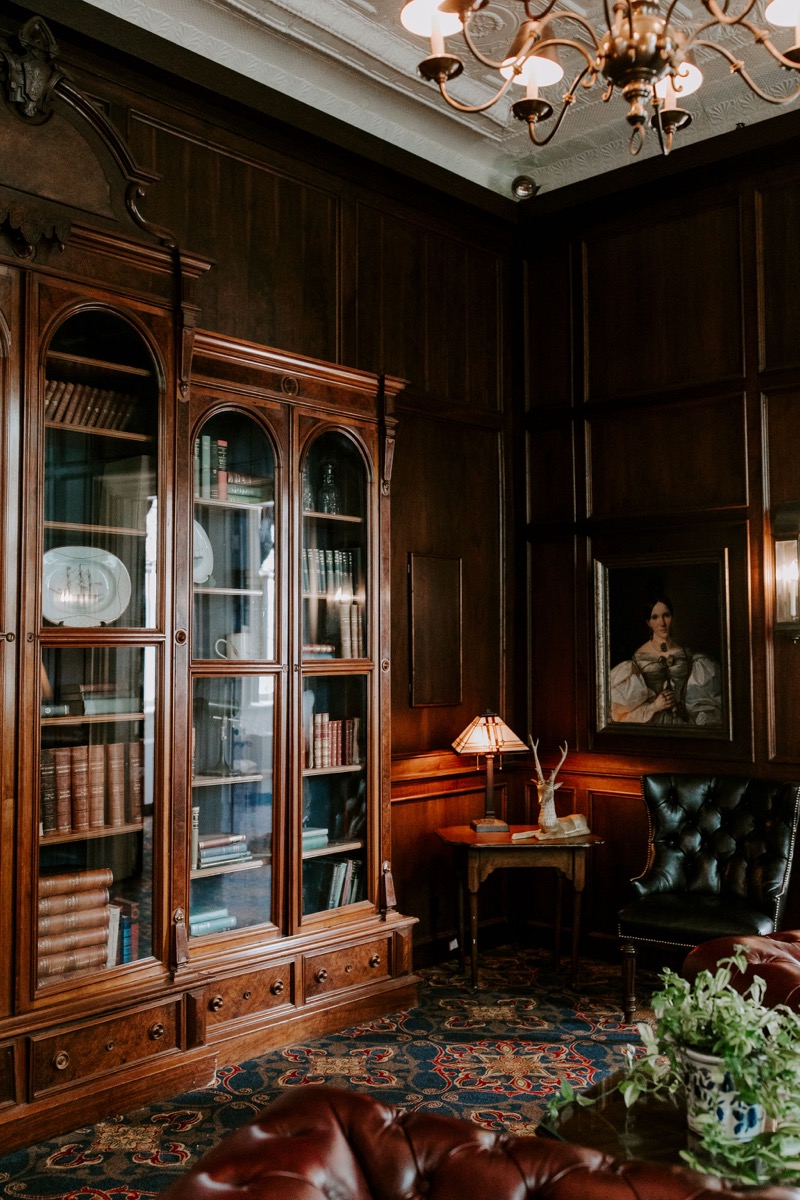 If you could give the world, your friends, or your brides, one piece of advice, what would it be?

Abby: Take time and soak in every moment. The months of planning may be long, but the day itself will be the quickest day of one's life. Enjoy every photo, every smile, every hug, every bite of that delicious food, and every time someone says "Congrats" even if it is the hundredth time. Not just in a Wedding Day but in life. Every chapter goes by so fast, we all need to embrace the moments we have and cherish the moments that we can reminisce on!

Shelly: Make your wedding yours! Everyone (including us…) have BIG opinions on how your big day should go. It's definitely great to have excited family & friends and a knowledgeable event team to help out, but, this is the day you have been dreaming about. Try not to give up too much of your vision to please everyone else. If you're having an amazing time, trust that your guests will too!
How many people can your space fit? What are some of your amenities?

We have 9 different venues within the hotel, within those we use 5 of the venues for our Wedding Spaces that can accommodate between 30-240 guests.

Some amenities for our Venue Rental: Wedding Manager to help detail and plan with. Complementary Tasting to choose dinner menu. Complementary Suite room for the newlyweds. Wedding block for your guests at our Group Block. Rates Complementary venue room for rehearsal dinner OR gift opening. Portable Dance Floor White or Ivory table linens. White, Navy or Ivory napkins. Silverware/Stemware and tableware. Guest book, gift, cake, place card tables Complementary parking AV equipment. Staffed service Set-Up/Tear Down labor.

What can the space be used for?

Ceremony, Social Hour, Reception, Ready Rooms, Corporate Board Meetings, Retreats, Business Functions, Group Meeting Spaces. Anything! You name it!
Is there anything else you would like to add that sets you apart from other companies?

We are 144 years old and have only had three family owners. We have always been the same property- hotel, venues, and restaurant basis. We are not the average wedding venue such as a warehouse, conference room, or outdoor barn style. We are full of history and uniqueness all set along the Mississippi River Bluff Country! Within the St. James we have 67 Victorian-style guestrooms, 3 restaurants, 9 unique venues, 2 salon spas, a boutique and a flower shop! We are a one stop shop for Brides and Grooms who want everything under one roof!
VENUE DETAILS

The Historic Area
Ceremony: 120 guests | Social Hour: 240 guests | Reception: 80 guests

With endless history, the Historic Area is perfect for intimate ceremonies, large social hours & mid – size Receptions. Located on the first floor of the hotel, the Victorian Dining Room, Private Dining Room, Historic Library and Historic Lobby create an unforgettable guest experience.
From starting the business to where the company is today, what have been some of the biggest challenges and how did the company overcome them?

The biggest challenge would be our History, maintaining the relevance because of the historic heritage and maintaining the historic stories past. We want to stay true to our founders and their visions, in today's market and environment this can be challenging. We put lots of hard work and dedication into the property and business and it truly shows. We must adapt the historic building to the modern age, and with Historic Property Rulings this can be difficult for changes to the building and guest services.
VENUE DETAILS

The Summit Room

Ceremony: 240 guests | Reception: 240 guests

With a panoramic view of the Mississippi River, the Summit Room is sure to take your breath away.
Enjoy the floor to ceiling windows, tin bar and unforgettable sunsets on the fifth floor of the hotel.
What are some of your goals for 2019?

We strive to continue to provide exceptional serve to create memorable moments to our guests. We are also in the process of many renovations to adapt the historic parts into modern parts of the hotel.
Lots of changes will be happening in 2019-2020. We just went into renovation one of our Wedding Venues, the Portside Room. The renovations will help those that have wedding sizes of 100-150 guests. The new venue will be a vintage design room bringing accents of the building history into the space such as stone walls, and a mix of wood and concrete flooring. A charming old-world venue for those couples that love a rustic organic feel.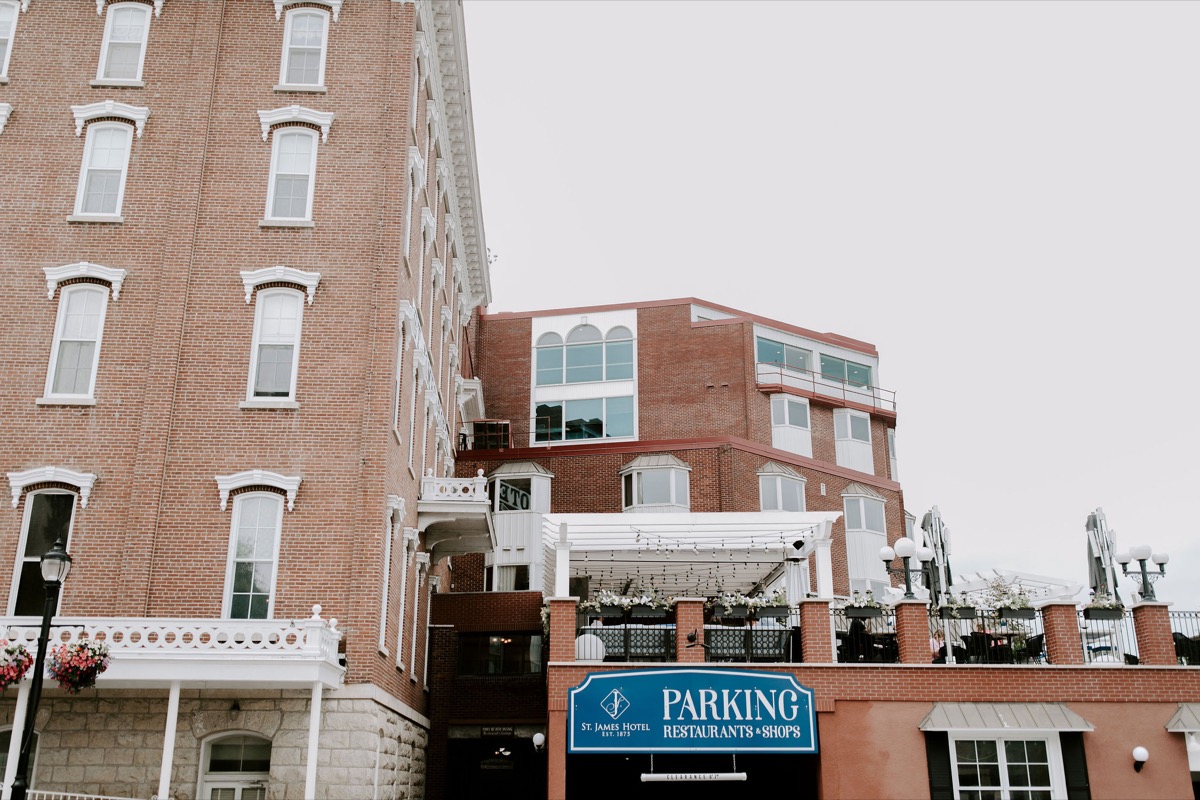 Can we take a second and imagine having brunch with your bridesmaids before getting ready on that patio? A dream! We want to say a huge "Thank You!" to Abby and Shelly for answering all of our questions and giving us an inside look of such a beautiful hotel. Make sure to check out St. James website for continued info on each event space and all the amenities they offer.