Is all of this wedding planning starting to take a toll on the romantic aspectof your relationship? Is your man starting to feel like he's been put on the backburner since the engagement? Or maybe you're already married andwant to go back to those times when you were first falling in love?
Whether you are an adventure seeker, a food lover, or a DIY enthusiast, I've got some great date ideas that aren't just your typical date. And don't worry,they don't always have to be expensive. After all, the main point of going out as a couple is simply to spend quality time together and escape reality for a little while. Theseideas are either free or affordable and will be sure to make memories that you twowill reminisce on forever.
1. Lake Calhoun

Sadly, Minnesota summer is coming to an end *sigh*, but there is still a little bit of time left and we might as well take advantage of that! One favorite activity that we always recommend is rollerblading around Lake Calhoun in Minneapolis. It's such a fun atmosphere and there are always people around either walking their dogs, playing beach volleyball, paddle boarding, canoeing or just reading on a park bench (speaking of reading, we recommend these 5 books to prepare + enhance your marriage). If you're like us, you can spend an entire day and night there! You and your significant other can pack some lunches before you go, have a picnic by the lake (which not to mention has an incredible view of the cities), take a walk, rent bikes and just enjoy each others company. This date can be whatever you two make it-relaxing or filled with multiple fun activities!
2. Ben & Jerry's

Did someone say ice cream?! Now, whether you tag this onto your Calhoun date or not, who doesn't love an ice cream date? Let's be real. Head over to Ben & Jerry's Ice Cream to enjoy a delicious cone, cake, sundae or shake! They have 36 flavors to choose from and have something for everyone. Our mouth is watering just thinking about it.
*BONUS: Click HERE to view their exclusive Forever Bride deal!
3. Taylor's Falls

"Fall" (yes, pun intended) in love with Minnesota and each other this fall by going on an adventure through Taylor's Falls. If you live here in Minnesota, you know that this season is absolutely beautiful with the colorful leaves and crisp air. And we can't forget the sweater weather and pumpkin spice lattes! If you are an outdoorsy couple, we highly suggest this date. You two can hike through the trails and experience views that truly capture Minnesota's beauty.
4. Apple Orchard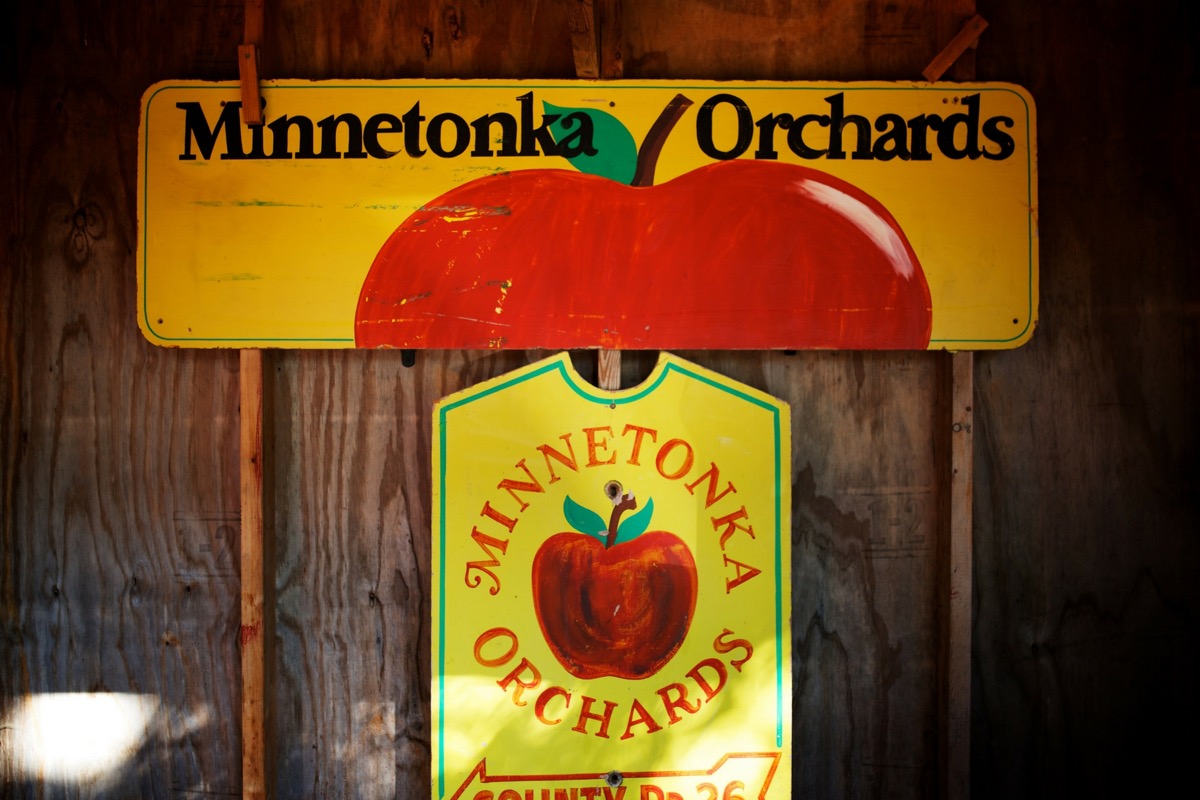 Nothing screams autumn more than apple orchards! This is another fun idea for you two! You could even do a double date or grab a group of friends, too. We highly recommend Minnetonka Orchards!! You two can go through the apple tree trails, pick some of those delicious honey crisp apples, and take an adorable pic just like all the one's you see on Instagram this time of year. Plus, this gives you the perfect chance to snuggle up together and share some hot apple cider! This date can even continue once you get home… homemade apple pie anyone?! YUM.
Best part of this date? This place has a petting zoo! I mean, come on- apples AND animals? We're sold!
If you end up falling in love with this orchard like we know you will, you two can even hold your wedding here! Click HERE for more details + to see their exclusive Forever Bride deal!
P.S. Our first-ever styled shoot was held at an apple orchard. It donned a Boho Chic title and it's still one of our favorites to this day! And you guys, there's even goats!
5. DIY with PIP

Wait, I can make that?! Oh yes you can! Another date idea that you may not hear as often and a type we absolutely love is crafting DIY projects with your significant other. Even if you don't consider yourself handy or artistic, some of our local vendors seem to have a way of turning you into a pro with just one class! Projects in Person, or PIP, is one of them. If you two are in the Hopkins area or ever have a chance to get there, do it. At PIP they do all wood based projects for your home, cabin, man cave, wherever and you get to take home your masterpieces the very same day! You two can create separate projects or work on one together, look at it every day in your new home together and have a memory that will last a lifetime. Learn more here.
Click HERE to see their fall event schedule.
6. DIY with Gathered Goods

Staying on that DIY train but turning to a completely different style, Gathered Goods is a unique option as well. You can create macramés together or make projects for not only a memory to look back on, but you also piece together a project for a woman who is overcoming struggles from some form of victimization. So this one is a double-win: a creative date idea and giving back all in one.
Visit our events page to see all of their upcoming workshops!
*We just ADORE these DIY date ideas because it's so different from the dinner and a movie that we all seem to fall back on. Another bonus? It helps to let your future hubby be involved in some of the wedding décor! Check out this DIY wedding for some inspiration before you head out on a DIY date of your own!*
7. Baseball Game

Summer or fall, if you and your man are sports lovers, go cheer on our very own Minnesota Twin's at Target Field. You can never go wrong because well, tickets can be as low as $6 dollars! Such an affordable date. (Speaking of sports, we are known to occasionally give away Vikings tickets and other goodies on our Instagram, so make sure you're following us!)
8. Bentleyville Tour of Lights

Here at Forever Bride we just love, love, love Christmas! Wintery/Christmas time dates can be so fun and romantic regardless of the weather conditions. Bentleyville in Duluth is a great option for you and your lover. It's America's largest walkthrough tour of insane Christmas lights that will blow your mind. Plus, it's FREE! Ya can't beat that!
9. Rice Park

Another simple, yet romantic date for the winter months is Rice Park in St. Paul. You two can take a stroll with his hand in yours and a hot cocoa in the other through the winter wonderland filled with lights and ice sculptures. Then take it to the ice rink where you can skate all night long in this beautiful setting straight out of a Nicholas Sparks movie!
Since we're on the topic of Rice Park, we just HAVE to share this Wintery Christmas Proposal that magically occurred there.
10. Chanhassen Dinner Theatres

Minnesota winters can be ROUGH, but that is no excuse to hibernate all season! I think one of the best ideas, especially when it's below zero and you want to be inside, is Chanhassen Dinner Theatres. No, it is not just dinner and movie. They have an array of events that you and your man can go to. Not only do they have amazing dinners, but while you enjoy your meal you will be entertained by either a play, musical, concert, comedy act, or wine tasting. How fun?! So whether you two are in the mood for a good laugh or listening to live music, Chanhassen Dinner Theatres has options for every type of couple out there; they do not disappoint!
*FUN FACT: Amy Adams used to act there in the late 90s before her big movie debut. We're serious! How cool is that?!
11. Drive-in Movie

If you two really want to go the old-school route (which hey, we love that too!), try a drive-in movie theatre if the weather is right! Cozy on up in the back of his truck with some comfy clothes, popcorn and blankets for a whole new movie night experience.
Well there you have it, friends! Some awesome date ideas that are different from the usual AND that don't break the bank!
*BONUS: Here's an idea // Write all of these ideas (plus any more you can think of) onto popsicle sticks, put them in a jar and when you two are trying to think of a fun date, close your eyes, pick one and go for it.
Have fun lovebirds!
Comment down below which idea you would love to try out! Any other fun dates you'd like to add?