For brides-to-be, The Forever Bride Market is the event of the year. Held in the Minneapolis-St. Paul area, this wedding fair presents all of the hottest bridal vendors in one place, and provides opportunities to meet and network with other women planning their weddings. You'll enjoy plenty of exciting swag and fun events, and you'll get to enjoy the world-famous Mall of America afterwards! Here's what you need to do to prepare for The Forever Bride Market!
All About The Market
The Forever Bride Market is the premiere bridal expo in the Midwest. Presented by Mintahoe Catering and Events, The Market is held at the Radisson Blu at the Mall of America. The Mall of America is located in Bloomington, Minnesota and is one of the largest malls in the world. It is a 20-minute drive south of downtown Minneapolis and is very close to the Minneapolis-St. Paul International Airport. The mall is also public transit accessible via Minneapolis's Metro Blue light rail line. If you live in the Minneapolis area, this makes shopping for your bridal vendors easy and fun. For those who live outside the Minneapolis-Saint Paul metro area, this can also be a great excuse for a weekend trip! You'll get to explore amazing bridal vendors and network with other brides, and you'll also be able to explore the Mall of America and all that the Minneapolis-Saint Paul area has to offer.
This bridal show is designed to be an expo for the modern bride. Although there are more than 60 businesses to shop with, The Market maintains a local feel with a personal touch. Guests are greeted with plenty of wedding swag, and many of the vendors offer affordable options for their clients. This is one of the only places where you can chat with multiple vendors in person before making a final decision. The vendors are curated to provide the best selection and experience for visitors. The Market goes beyond traditional bridal style and has options for every different type of bride. Whether your taste is bohemian, edgy, minimalist, or something different altogether, you'll be able to find something here that piques your interest! You'll be able to explore booths from a wide range of vendors, including caterers, florists, dressmakers, and so much more. As you shop, you'll be able to test samples at virtually every booth for an immersive experience. You'll start to feel your wedding coming together as you find vendors that really click with your style.
Throughout the expo, you'll be able to relax with a glass of champagne and enjoy fun DIY flower crowns, a bracelet bar, photo booths, and other fun activities. This is a perfect opportunity to bond with your friends and meet other brides as well. You can also go shopping and enjoy a meal at the Mall of America afterwards. General admission ticket holders receive a swag bag and entry from 1:00-4:00 PM. You can also opt to purchase a VIP ticket for an additional fee. Only 50 of these tickets are available, and they are valued at over $200! You'll get a special VIB swag bag with additional goodies from our sponsors, like Love Your Melon, Imagery Winery, RESQWATER, Sugar Factory, etc. VIP tickets allow you to get in early (noon), and you'll enjoy champagne and brunch!
Know where you're going!
Before you head to The Market, it's important to make sure you know exactly where you're going. The Mall of America can be overwhelming at first, so familiarizing yourself with the layout will make the day more enjoyable. The event is held at Radisson Blu, which is on the south side of the mall between LL Bean and Macy's. It is directly across from LegoLand. There is a skywalk that connects the mall and the hotel. Follow the signs to the second floor of the hotel for the event. If you come in through the Macy's, head into the mall and make a right to connect to the Radisson Blu.
There are several places where you can park for this event for FREE. Macy's is arguably the best option as they are close by and offer free parking. You can also pay to park at the Radisson Blu parking garage, or use the valet offered by the hotel. With so many different parking options available at the mall, it helps to know where you're going in advance.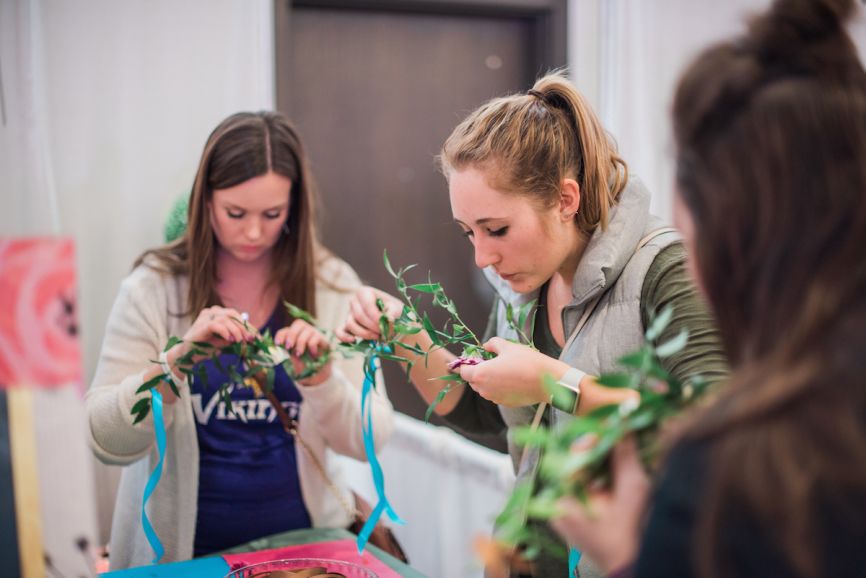 Decide who to go with!
The Market is a great experience on your own, but it's even more fun when you go with people you care about! Before you buy your tickets, you'll need to choose who to go with. You'll want to bring people who are fun and optimistic so you can really make the most out of your day. Making decisions about your wedding is fun, but it can also be stressful, and you don't want to bring anyone who is going to make the entire experience about themselves or put pressure on you about your wedding decisions. We all have that one person in our lives that imposes their own opinions on your wedding – this is the last thing you want when you're making any kind of decision about the big day. For example, if your mom tends to take control of these situations instead of letting you make your own decisions, you may want to bring your laid-back sister instead. If you're going with other brides, make sure they're people who will empower you and offer a positive, supportive relationship instead of becoming competitive about the wedding. If you're feeling stressed about the wedding, or you tend to get competitive, you may want to bring a friend or family member who isn't also engaged. This can help to take some of the pressure off.
You'll also need to decide how many people you want to go with. If you have a group of friends that are all getting married soon, it might be fun to go as a big group so you can hype each other up! However, if you are more introverted, going with just one other person can help you hone in on the wedding items you're most interested in. Either way, having your tribe with you while you're shopping for vendors will make the entire experience more fun and we can guarantee they will have a blast!
Buy your tickets!
Once you've decided who to go with, it's time to buy your tickets to The Forever Bride Market. If you purchase your tickets in advance, you can get them for $5. Tickets at the door are $20, so you can save money by planning ahead of time. If you are interested in VIB tickets, be sure to purchase them as soon as possible, as they sell out quickly. Tickets are available for purchase online here!
Research the vendors!
Get hyped up for The Market by researching the vendors that are going to be there. Read through the list of vendors to see who piques your interest. You'll also want to consider what you still need for your wedding so you can focus on those items first. There are so many unique vendors here – you'll get to learn more about potential venues, sample cakes, food, and flowers, and you'll get to meet professional photographers, DJs, wedding planners, and so many other wedding professionals. Make a list of the vendors that intrigue you the most and develop a game plan for visiting The Market. For a full list of vendors, check out our event page on Facebook or join the pop-up group, The Market VIP Brides!
Pick your outfit!
Next, it's time to pick the perfect outfit for The Market! The Forever Bride Market is a fun event, and you'll want something that's comfy enough to move around in, but still cute and stylish enough to impress. Kelly Morrin Photography will be going around snapping pics of you and your bride tribe! Ultimately, you'll want to wear something that makes you feel confident and beautiful! The perfect outfit is different for everyone – some might feel great in a dress while others love a great pair of jeans. Pssst.. We realize this event is in February, so no worries – we do have a coat check! You'll be taking pictures throughout the event with Insta-worthy displays and photo booths, and you'll want to wear an outfit that you will be happy with when you look back on the pictures. You will be doing a bit of walking, so you'll want to wear shoes that are comfortable – think flats or boots. You can even put supportive insoles in them so you can stay on your feet even longer throughout the day. You might also consider opting for a crossbody bag instead of a clutch. It will give you a place to store your essentials, but you'll have both hands free to shop and sip on some champagne!
Get there early!
To really make the most of the event, you'll want to get there early. The first 50 brides who show up will get a mini VIP swag bag!! Showing up early also means you'll have even more time to explore The Market. However, if you can't make it early, no worries – there will still be plenty of swag for you to enjoy! We are giving away over 1,000 swag bags, and you'll get to enjoy delicious food samples at every turn. If you can't make it to The Market at all, don't worry – we're hosting another one in November! You'll get another chance to experience all of Minnesota's best wedding vendors.
Why attend The Forever Bride Market?
There are so many great reasons to check out Minnesota's leading bridal market. Planning a wedding can be overwhelming, but shopping at The Forever Bride Market makes the process fun and exciting! Many of today's busy brides simply don't have time to meet with all of their varying vendor options individually. The Forever Bride Market gives you an opportunity to check out many different high quality vendors all in one place. This streamlines the planning process and will get you excited about your upcoming wedding instead of feeling stressed.
The Market differs from other bridal conventions in that we offer a curated, upscale experience. Instead of overwhelming visitors with hundreds of vendors, we pre-select the vendors beforehand based on the quality of their products and services. This ensures that if you find your vendor through The Forever Bride Market, they will be someone you can count on. The overall experience is also much more pleasurable than your average convention. Although the experience is a social one, you won't feel overcrowded as you shop. You'll be able to enjoy samples everywhere you turn, and there are plenty of fun activities to get you excited about your upcoming wedding. Not only will you get to sample food, but you'll also be able to shop through clothing and decor samples, and hear performances from DJs and bands that you can book for your event! There's also so much to explore at the Mall of America before and after The Market, so you can really make it a fun day with your girlfriends. We want our brides to feel truly pampered and celebrated!
The Forever Bride Market will be held on November 10th. With that date fast approaching, now is the perfect time to start planning your Market experience! Gather your girlfriends, buy your tickets, and get ready for an incredible day of champagne, crafts, and incredible wedding shopping!