Crunchy leaves, crisp air…and your wedding! Autumn sets the perfect tone for richer bouquets, gowns with sleeves, and vibrant leaf-changing backdrops. To welcome the new season with wide, loving arms we are rounding up our favorite autumn inspirationfrom a handful of fall weddings that will help you plan your perfect wedding day.
If you're still trying to decide which season to get married in, sort through these benefits and hesitations of being wed in each season.
So in no particular order, let's get started.
—
Cozy Fire-Side Wedding with Handmade Details
All of the handmade details of Danny + Chase's wedding really made their day feel extra special. Her mom made the flower girls' dresses and the bride knit the little shawls they wore. Chase designed the seating chart and he and his dad cut the wood slices they used for their donut display.

View wedding here.
—

Untraditional Scandinavian Inspired Styled Shoot
The main goal of this shoot was to capture an untraditional Scandinavian aesthetic with lots of greenery and sprinkles of autumn colors. It truly made for a simple yet elegant and trendy yet traditional, cozy styled shoot that we know you all will love. It's the perfect inspiration for your upcoming fall weddings! (And the floral crown is to die for!)

View styled shoot here.
—

Vintage Camp Wedding in the Woods
The vision for this camp wedding was to take advantage of the cool autumn air that was a vintage-inspired, middle of the woods, dancing under the stars kind of wedding, and the bride and groom pulled it off flawlessly! The contrast between the deep reds in the bouquets and the soft teal bridesmaid dresses create a dreamy fall palette.

View wedding here.
—

Lakeside Destination Fall Wedding
Fall means yellow leaves…so why not include it in your wedding colors? Full of bright colors and obvious love, this beautiful ceremony on the lake shore is followed by a reception at a northern lodge. The yellow tones in the bouquet brings a certain amount of fun and joy into the photos!

View wedding here.
—

Modern Forest + Floral Elopement in Taylor's Falls
Starting with watercolor invitations and whiskey, to thick green pines and colorful leaves, and ending with stunning florals and sweet smiles. Although Minnesota is known for the cold weather, the scenery here at Taylor's Falls makes up for that. So if you are thinking of getting married in the fall, consider that decision made!

View styled shoot here.
—

A Countryside Styled Shoot During Sunset
This shoot is major wedding inspiration and provides all the autumn feels for those planning a fall wedding. Countryside, sunset, and a puppy….need we say more?!

View the styled shoot here.
—

Bohemian Meets Botanical Styled Shoot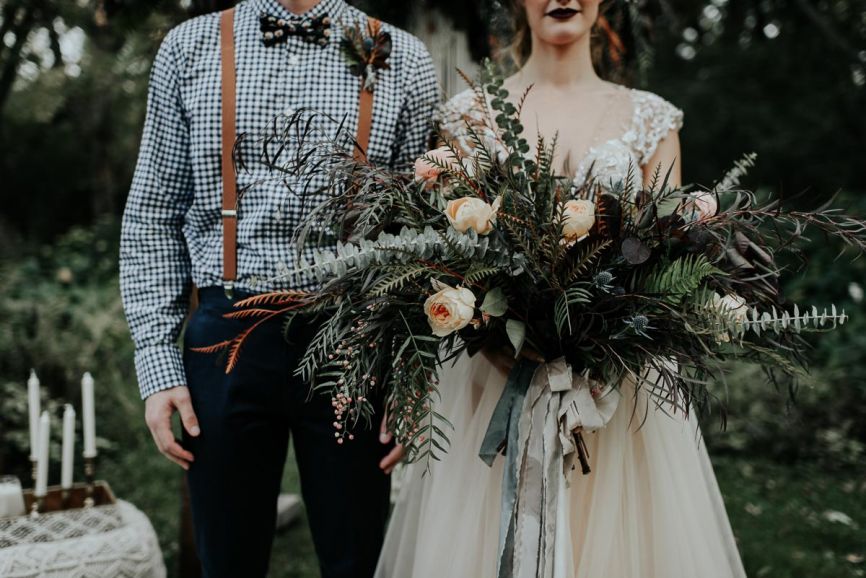 This is a styled shoot to inspire the whimsical and moody tones inside of you. Plus you'll love the earthy florals and bohemian-inspired details that make this styled shoot perfect for starry-eyed free spirits.

View styled shoot here.
—

Country-Chic Farm Wedding + Foot Washing
A stunning September country-chic wedding and foot washing ceremony for this faith filled couple.

View this wedding here.
The sun peaked right above the tree branches, as it's remaining leaves fell from above us and you could hear them dance through the woods as if there was something the celebrate about in this edgy fall styled shoot.

View styled shoot here.
—

Want more wedding inspiration? Sign-up here to get it sent straight to your inbox, plus receive access to deals and discounts from the best local wedding vendors!