Get the story behind the beloved tradition.
There are few wedding traditions more celebrated than "something old, something new, something borrowed, something blue." In fact, we took an informal poll around the office, and found that even brides who opted out of most other wedding traditions still followed this one. But where did this seemingly universal bridal rite of passage come from? It all began with the 19th century English rhyme, "Something old, something new, something borrowed, something blue, and a silver sixpence in her shoe." These five things were said to bring luck to the new couple and protect their future children. Allow us to break it down a bit further:
Something Old
Back in the Victorian era, an old object gifted to the bride was meant to ward off the Evil Eye of past suitors who wished her ill. It also acted as a talisman to guard her unborn children. Spurned lovers and future babies aside, "something old" also typically represents continuity—family through the generations and love that lasts forever.
Ideas for something old
Vintage getaway car
A family heirloom
Vintage fabric sown into your dress
Jewelry
Locket with family pictures
Something New
This one is pretty self-explanatory, but still quite lovely. "Something new" traditionally symbolizes the bride's new married life, a fresh chapter, and optimism for the couple's future.
Ideas for something new:
The dress
Veil
Shoes
Wedding band
Garter
Hair accessory
Perfume
Clutch purse
Undergarments
Customized jacket
Something Borrowed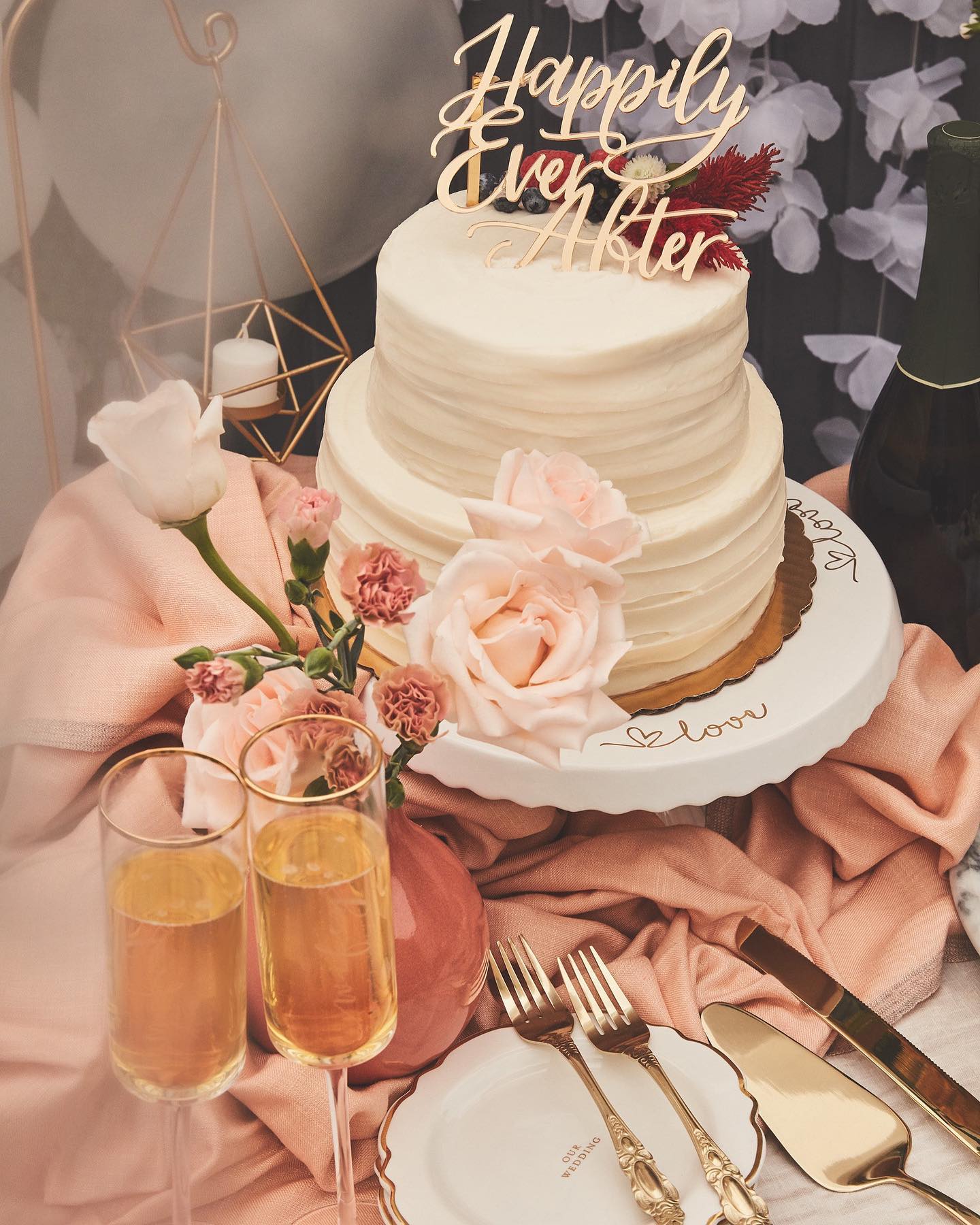 In the old days, borrowing something from another happily married woman ensured that the bride would experience similar luck in her marriage. For extra good fortune, the bride borrowed undergarments from a female friend or family member with an abundance of strapping, healthy children. These days, it's not uncommon for a woman to pass down a garter as a way to honor this custom. See below for some more up to date ideas of something borrowed!
Ideas for something borrowed
Jewelry
Veil
Cake topper
Wedding dress
Champagne flutes
Hair accessory
Ring pillow
Handkerchief
Cake knife
Garter
Something Blue
Ooh, here comes the Evil Eye again. "Something blue" was yet another way to ward off that ubiquitous malicious gaze, as the color supposedly confused and befuddled The Eye. This hue also traditionally represents love and fidelity.
Ideas for something blue
Blue shoes
Blue bouquet ribbon
Blue jewelry
Blue cake stand
Blue purse
Blue ring box or ring pillow
Blue heart patch sown into dress
How about that sixpence, though?
Although not as common as in the past, many brides still wear a sixpence on their wedding day. A British coin from 1551-1980, the sixpence represents prosperity for the new couple. The sixpence was commonly placed in the bride's shoe by her father just before she walked down the aisle—his way of wishing her good luck and wealth in the years to come. Brides today often substitute a sixpence for a penny from the year they were born or the year they met their love.
We love when brides put their own spin on the traditional rhyme incorporating "something old, something new, something borrowed, something blue" in unique, sentimental, and sometimes unexpected ways.
How are you "rewriting" wedding traditions? Get inspired by these real weddings!