Are you planning a Thanksgiving wedding? Congratulations! Fall is a beautiful time of year to host a celebration of love. The air is crisp, the colors are beautiful, and the holiday season is just around the corner. There's no better time to say "I do!"
Planning a wedding at any time of year is a lot of work. There's so much design and strategy that goes into a throwing a wedding! Do you need some great Thanksgiving wedding ideas? You're in luck, because we've gathered some of our favorite fall wedding ideas to share with you!
From cakes to favors, here are some of the season's best offerings, plus links to the places you can get them. Read on for great Thanksgiving wedding ideas!
Thanksgiving-Worthy Wedding Colors
You may think of Thanksgiving colors are a pretty standard mix of yellow, orange, and red, but there are literally hundreds of Thanksgiving color combinations you can come up with!
For your Thanksgiving wedding, you have many options. Of course, you can go with nice, warm colors like deep gold and re-orange. Dusty yellow and maroon also make a lovely pair.
We love the idea of sunflowers and red blooms against deep yellows and pops of pink!
To soften the brightness of traditional fall colors, choose lighter shades that still reflect autumn leaves. Peach, yellow, and muted shades of pink are beautiful for a November wedding.
If you want to herald in the holiday season, focus on reddish hues. We love shades of wine against clean whites and touches of sage! Speaking of a winter wedding with deep red touches, this wedding ties in holiday cheer (via holly + bold bouquets) with elegant black bridesmaid dresses. In the bland season of snow, it's always fun to dress it up with rich colors and Christmas elegance!
If you like soft, calm colors, go with silvers and grays with elements of orange or pink. These colors elegantly reflect the cool autumn weather. If this is the look you're going for, you can certainly opt for the grays to reflect in the men's attire like in this wedding. The bride uses muted colors with subtle pops of orange.
For a sophisticated New England look, go with navy and scarlet as your leading colors. You can mix in greens and pinks to make a bold statement! Alternatively, put gold and navy together for a lovely color pairing.
Speaking of navy… how cute are those bridesmaid dresses?!
Fall Bouquets
Your bouquets can bring touches of autumn into your Thanksgiving wedding! Choose seasonal blooms with colors that complement your color scheme. This Lakeside Destination Fall Wedding beautifully paired rich navy bridesmaid dresses with unique pops of yellows and oranges! We love how they turned out!
Since we're on the topic of orange: the season's orange flowers include the elegant Asiatic lily, celosia, dahlia, and orange gerbera.
Pretty red shades can be found in chrysanthemums, playful leucadendron, yarrow, and of course, classic red roses.
If you want touches of purples and pinks in your wedding, ask for calla lily, delicate waxflower, statice sinata, and Montecasino aster.
For lovely yellows, choose hypericum, alstromeria, and gorgeous sunflowers.
Fall's white flowers include stephanotis, paper whites, and lilies.
Your wedding florist can help you select the perfect fall flowers and create gorgeous arrangements that will complement your Thanksgiving theme perfectly. Here are the most talented + trusted wedding florists we highly recommend (p.s. they are each offering a special discount for you!)
Fall-Themed Wedding Invites
From adorable to elegant, there are many ways you can bring a bit of Thanksgiving to your wedding invitations, especially with these talented wedding invite vendors! Like the invitations pictured above (taken from this fall elopement styled shoot), it can be as sleek + simple (with a touch of boho) as including a little orange color in the lay down shots.
If you're going for a sophisticated invitation look, select flowing script and designs that incorporate fall flowers, pumpkins and leaves. I recommend Lion & Lamb for creating this look. Plus, they are offering $250 off when you book through Forever Bride!
If you want something fun and cute, reference Thanksgiving in your invites and let your guests know how thankful you are for them.
Planning a rustic Thanksgiving wedding? Take advantage of the wood design trend! It's popular to use invitations with natural-looking designs, so you won't have any trouble finding the perfect invite for you.
Speaking of wood, Love Letters' Forever Bride deal is hand painting your newly married name(s) on your choice of a wood or chalkboard sign. HOW CUTE?! Details here.
Fall Wedding Cakes
Take a bit of a departure from the traditional wedding cake for your Thanksgiving wedding! We're not saying that you should get a cake shaped like a turkey (although you totally can if you want to), but you can definitely add fall touches to your wedding cake and still make it classy.
Add some leaves to your cake! Your cake decorator can add frosting or sugar-paper leaves to your cake that look realistic but taste delicious.
Touches of fall berries are a lovely nod to the autumn season. Have edible branches or clusters added to your wedding cake for a minimalist touch.
Why not skip the white and do something different? After all, there's no rule that says a wedding cake has to be white! Cover your cake in Carmel-colored frosting or send a rich drizzle of chocolate down the sides!
If you want to go all out, you can get a cake that looks like a stack of pumpkins! This is a fun and whimsical way to do something totally different than anything you've seen before.
One of our favorite Thanksgiving wedding cake ideas is inspired by quaking aspens. A three-tiered cake that looks like stacked aspen slices is a beautiful addition to any fall wedding! Make it ever better with a carved-heart accent, sugar aspen leaves, or a real aspen slice cake stand.
To make your fall + Thanksgiving wedding dreams come true, peruse our cakes + desserts category to find the most talented wedding bakers! Plus, take advantage of their incredible Forever Bride deals!
Fall Wedding Favors
You can have a lot of fun selecting your fall wedding favors! Our favorite wedding favors are the edible kind""this is Thanksgiving after all! The harvest season offers many delicious delights that your guests are sure to love.
Hand your guests mini jars of local preserves. You can dress these up with these cute labels (pssst click here to get 10% off), ribbons, tags, and jar lid covers, if you like. Who doesn't love jams and jellies?
Fall candy is a fun favor, too! Although it's in the spotlight in October, candy corn is still seasonal during November. Hand out cute bags of candy corn with Thanksgiving-inspired tags for a gift that's sure to be enjoyed.
Trail mix and nuts are a healthy alternative to candy favors. If you're concerned about allergies, opt for pumpkin or sunflower seeds. Present them in packages tied with twine, or pour the goodies into small jars. A little creativity can create an especially thoughtful package!
We love the idea of handing out candied apples to your guests. Wrap them in cellophane and tie them with cute tags so that your guests can enjoy them on the trip home!
Of course, your favors don't have to be edible. Candles with nice fall scents (& amazing Forever Bride discounts), customized wooden coasters, or even live flowers can make wonderful gifts for your guests.
Find a full list of favor ideas + discounts here!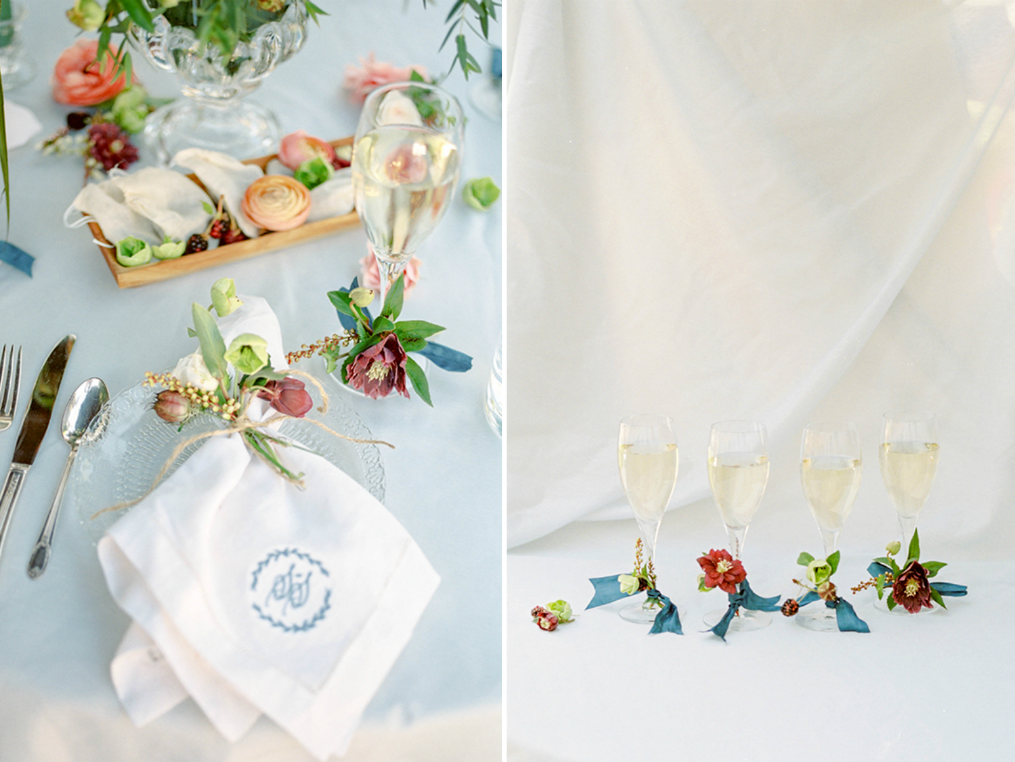 Fall Wedding Décor
This is where the real fun begins! Fall decorating is always delightful. Take advantage of the wonderful colors and icons of the season to create a festive Thanksgiving atmosphere!
One of our favorite fall décor ideas is using pumpkins as vases for your floral centerpieces. Hollow out a pumpkin and place your arrangements inside. For an extra pop of color, paint your pumpkins to match your theme. These are easy to make and turn out to be gorgeous!
Of course, you can use pumpkins of all shapes and sizes for your Thanksgiving wedding. Make them into candleholders, place them in piles on the tables, and set them around your reception venue.
I know we mentioned candles earlier but they really are a must-have decoration for fall weddings. Not only do they look nice and cozy, but they scent the air with classic fall fragrances! Choose colors that complement your color scheme and find creative ways to display them using jars, gourds, wood, and more.
Anything wooden is excellent for fall weddings. Wood is versatile, and it goes with almost anything. You can tree slices as chargers, cake stands, or any number of things! If tree slices aren't your thing, you can order all sorts of wood wedding décor cut into shapes, laser engraved, or left in its natural state.
Here are some Thanksgiving or Fall weddings for even more inspiration + ideas:
1) This Modern Forest + Floral Elopement in Taylors Falls is all things dreamy + elegantly colorful.
The beautiful, earthy tones + thick green pines balance out the colorful orange leaves in the background. It's simple and puts the bride + groom in the spotlight.
2) Along the frosty shores of Lake Superior, this couple was married lakeside among tall pine, cascading waterfalls, and rocky cliffs. The North Shore was always their favorite fall getaway, so they thought why not get married there too?!
This Lakeside Wedding at a Minnesota State Park didn't even try to compete with the natural beauty surrounding them. The bride's bouquet had hues of soft pink and white that complimented the glittering blue water and yellow transforming trees.
3) Now this Edgy + Autumn styled shoot is for the brides who favor whimsy with an edge. Photographed by Ivy Christina (who offers a special Forever Bride deal), this shoot is full of deep burgundy, thick statement necklaces, and the shoot even ends with the bride wearing a black leather jacket! If that's not stylishly edgy, we don't know what is!
Okay, we love it so much so here's a sneak peek of the black jacket (but really, go check it out!):
Your Thanksgiving wedding is bound to be gorgeous! You'll be thankful that you chose the autumn season to tie the knot. Which of these autumn ideas will you use for your wedding?