When you picture your dream wedding, there's a chance you already have a specific season in mind.
Maybe you've always dreamed of a summer wedding on the 4th of July, complete with a barbecue and a fireworks show to end the evening. Or perhaps the idea of a snowy backdrop for your "just married" photos and donning your grandmother's fur coat over your wedding dress makes you swoon.
Many future brides know exactly when they want to get married and are willing to make the length of their engagement accommodate these dreams.
"¨Then there's the rest of us. Those who think each new season is the new most wonderful time of the year. We forget our declaration 3 months ago that the previous season is our all-time favorite as the temperature changes from cold to warm or hot days start becoming cooler. Each season is full of magic and could easily be a dream for your best day ever.
Not being tied to the dream of getting married in a specific month or season allows flexibility when planning your wedding, but it can be overwhelming to try and decide when to begin your happily ever after without that vision in your mind. Each season has clear benefits as well as some reasons to hesitate, and thinking through these positives and downfalls should help you begin to develop a vision for your big day.
CHOOSING A SUMMER WEDDING
June-August
Benefit: Easier for guests to travel
Most of us have friends or family who live out of town that we'd love to have come celebrate with us. If they have school aged children or are in college themselves, summer is a much easier time to break away and travel. Other guests who aren't tied to school schedules might want to plan a summer vacation anyways, perhaps making it possible to combine that with celebrating your new beginning.
Bonus: your guests shouldn't have to worry about a weather event making it difficult to travel.
Hesitation: Heat and bugs
This one is probably one of the more obvious downfalls all year. Summer gets hot, and no one wants to spend hours doing their hair and makeup only to step outside and have sweat and humidity change your appearance from beautiful bride to Bridezilla in the snap of a finger. Also, bugs. Need I say more?
If you're planning a summer wedding, consider choosing a time earlier in the day (brunch reception, anyone?) or wait until later. Speaking of"¦
Benefit: Longer days mean more time to party
The days are longer during summer, making it possible to throw a great outdoor party after the day has cooled down a little bit. Having longer days allows you to consider an outdoor shindig when the sun won't go down until close to 9:00. This gives you plenty of daylight to eat and enjoy yourselves before dancing the evening away under the stars (and perfectly hung string lights).
Hesitation: Peak season
June has long been the most popular month to get married, but that has shifted recently. However, peak wedding season still begins in late spring/early summer, making it very possible that you will have some serious competition. Whether you are competing with other couples in your area to reserve the best venues and vendors or with other weddings your guests may be invited to at the same time, planning your wedding during peak season comes with a chance of not being able to secure all your first choices.
Summer Wedding Inspiration:
Intimate Backyard Boho Wedding
This intimate wedding took place in the bride's parent's backyard and included some bohemian bridal style, a few adorable puppies, and tons of gorgeous flowers!

View here.
—
There's just something about brining it back to your roots! A California couple take on a farm wedding in Wisconsin.

View here.

—
Hand in hand with your man, the wind is gently blowing your wedding gown like a goddess in the sun. Smile widened on your face, you softly look back at your groom in the heat of the golden sunset. You're being whisked away to your destination wedding. This is actually happening, you're getting married. A dream in real life.

View here.

—
Sentimental Backyard + Lakeside Wedding
An intimate backyard wedding on Lake Minnetonka with a special twist – the groom's parents were married in the same spot years ago!

View here.

—
CHOOSING A FALL WEDDING

September–November
Benefit: Fall is cozy.
Out comes the sweaters and boots, the crisp night air smells faintly of bonfires, the apples and pears are fresh and abundant, and the changing leaves"¦don't even get us started. There's something truly magical about the reprieve autumn brings after a long, hot summer. What better time to throw a party with all your favorite people? Bring on the caramel apple bar, fire pit with s'mores, burlap everything, adorable matching bridesmaid cardigans, and gingham groomsmen bow ties.
Hesitation: Unpredictable Weather
Some parts of the country get to enjoy autumn's bounty for three entire months (we're looking at you, New England). Some of us, however, are lucky to get a few weeks or even a day or two (bless you, Texas). For those of us who are lucky to catch a glimpse of autumn one week then are back to summer the next day, it's hard to predict what sort of weather your wedding day will bring. Will the day be chilly enough for matching bridal party cardigans and sweaters, or will your treasured wedding photos feature sweaty BFFs? Depending on where you live, hurricanes might be a concern as well.
When I got married the last weekend of September, I envisioned the trees would be the most gorgeous shade of crimson and rust imaginable and could practically feel the perfect chill in the air as the sun set and full moon rose over the twinkling string lights illuminating our outdoor reception in the country. I even picked my wedding colors based on the cardigan I picked out to wear at the reception.
Yeah, it was like 90 degrees that day. No cardigan or red and orange trees for us. Just mosquitos and sweat. We did have caramel apples though.
Benefit: Holiday Weekends
When I worked for a bank, another reason I loved fall was the multiple holidays off work. Columbus Day and Veteran's Day (when it falls on a weekend) might make it easier for guests who work or are in school to travel to your wedding. If you choose a holiday weekend, you should also consider scheduling on Friday or Sunday, which should lower your costs and might make it easier to secure your dream venue and coveted photographer.
Hesitation: Increasing popularity of autumn weddings
With all the reasons mentioned above, along with the fascination with pumpkin spice and rustic everything, it's no surprise that September and October are quickly becoming the most popular wedding months. Vendors and venues are, of course, catching on and peak season has been solidly extended into autumn. If you decide on a coveted autumn wedding date, start making venue and vendor deposits ASAP.
Fall Wedding Inspiration
Bohemian Meets Botanical Styled Shoot
Earthy florals and bohemian-inspired details make this styled shoot perfect for starry-eyed free spirits.

View here.

—
The sun peeked right above the tree branches, as it's remaining leaves fell from above and you could hear them dance through the woods as if there was something the celebrate about.

View here.
—
Untraditional Scandinavian Inspired Styled Shoot
Major fall bride inspiration in this styled shoot. Along with rustic and city-life vibes all in one.

View here.

—
Lakeside Destination Fall Wedding
A beautiful ceremony on the lake shore, followed by a reception at a northern lodge. This fall wedding is full of bright colors and love!

View here.

—
Cozy Fire-Side Wedding with Handmade Details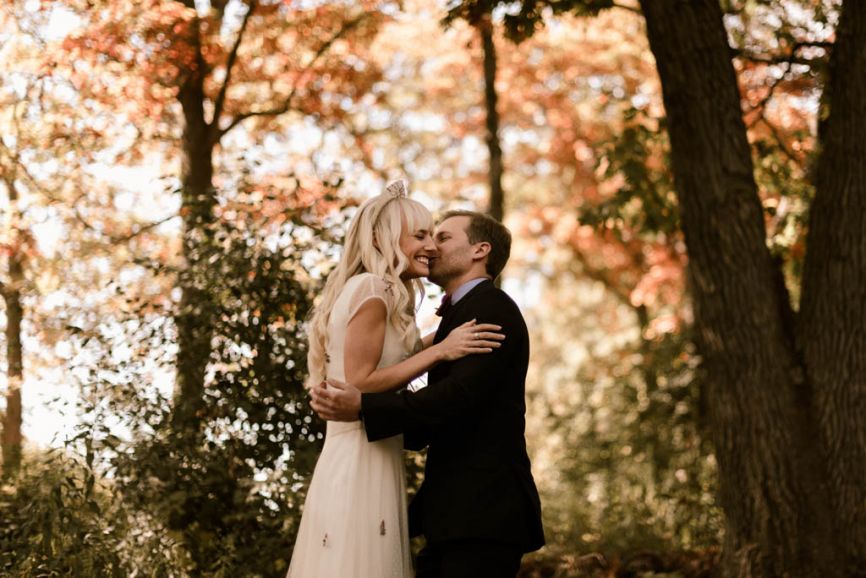 All the handmade details made this wedding extra special. Exchanging their vows in front of a cozy fireplace, this wedding is one for the books!

View here.

—
CHOOSING A WINTER WEDDING

December–February
Benefit: Off-Season deals
Winter is considered "off-season" in the world of weddings. If you love all things cold, snowy, and winter this is great news for you! Venues and vendors are often eager for bookings and therefore might offer some great deals. Especially if you're on a budget, considering an off-season wedding day is a great way to get more for your money.
Hesitation: Risking the Weather
Choosing a winter wedding date means you might have an uninvited guest show up with the ability to derail the best laid plans: Jack Frost. While you might love the idea of a snowy wedding day, it can make it more difficult for your out of town guests to get to you. Where I live, we are more prone to debilitating ice storms than perfect dustings of snow, meaning that no one goes anywhere in town for a couple days. Also, when it's bitter cold, no one wants to stand outside for photos or a dreamy sparkler exit at the end of the reception. No one.
I was once in a wedding where the bride was set on outdoor pictures (in the sleeveless dresses she chose for us) despite the fact it was around 20 degrees with a strong wind. Her photographer had to do some great editing to get rid of red noses. For the love of your bridal party (and photographer), remember that while you and your spouse's love might be keeping you plenty warm, everyone else is freezing.
Benefit: Stunning photos
If you choose a winter wedding, ask everyone you know to cross their fingers and toes for a perfect layer of glittering snow to fall fresh for your big day. There's nothing more gorgeous than a couple radiating love on a snowy day. Add in the deep colors often used for winter weddings, cuddling under a flannel blanket, or your great grandmother's mink stole"¦can you say Winter Wedding Wonderland?
Hesitation: Holiday schedule competition
While winter might be off season for weddings, it is a very busy time of year for people. Work parties, holiday gatherings, and various other events can fill up family calendars quickly. Of course, waiting until after the first of the year can help avoid some of this, but if your heart is set on a December wedding you might have some competition.

—
Winter Wedding Inspiration

—
Boho + Snowy Wedding at The Mill
Set in a lavish venue in Chetek, Wisconsin called The Mill, this styled shoot is all things cozy, romantic, and boho-inspired.

View here.

—
A Romantic + Snowy Styled Shoot
This romantic styled shoot combines snow and florals to create something spectacular and unique!

View here.

—
Urban Winter Warehouse Wedding
A little bit about it

View here.

—
This New Year's Eve wedding was a show stopper. The bride and groom wanted a very classic black and white look with a gorgeous, festive twist.

View here.

—
Winter Elopement with Deep Reds
The couple so naturally melted into one another in attempts to stay warm in the midst of snow and freezing temps. A beautiful elopement to inspire you with deep red bouquets and that it can be fun to step out of your element sometimes.

View here.

—
CHOOSING A SPRING WEDDING

March-May
Benefit: New life
Spring is a season full of new life. What better time to start your new life with the one you love? Spring is a great time of year, symbolically, for a wedding. It's hard not to feel romantic and excited about love as flowers poke through the ground, birds begin singing again, and green leaves spread across trees.
Hesitation: April Showers"¦

Spring is not immune to unpredictable weather. Sometimes it snows in April and other times it's 85 degrees in March. Thunderstorms can pop up suddenly and ruin your plans for an outdoor garden ceremony quicker than about anything else. If you decide on a Spring wedding and have plans for all or part of it to be outdoors, think carefully about having a backup plan in place.
Benefit: "¦Bring May Flowers
Dreaming of a floral-filled wedding? Was your first date at a local garden that is simply stunning when in full bloom? Flower lovers: Spring is for you. All that new life we talked about before magnifies itself as beautiful daffodils, peonies, and roses which create stunning backdrops, centerpieces, bouquets, you name it. Spring is definitely a beautiful time of year to get married.
Hesitation: It's allergy season
Imagine this: you're nearing the end of the ceremony, almost officially married, and right as the minister says "you may now kiss the bri"¦" you let out a series of sneezes. Romantic, right?
Seasonal allergies are no joke and have the ability to ruin your special day. You want to be healthy and feel your best on your wedding day, so if you suffer from bad allergies, consider visiting with your doctor about some options ahead of time.
Spring Wedding Inspiration
A gorgeous spring day plus elegantly bold details equals the perfect spring wedding inspiration.

View here.

—
Colorful Spring Wedding with Greenery
Bold bouquets, natural light, and touches of greenery… This colorful wedding is excellent inspiration for spring brides.

View here.

—
The springtime brought rain to this stone barn wedding and it's beautiful!!

View here.

—
This whimsical styled shoot is a total dream for the bride who loves rustic, french-country style!

View here.

—
Romantic French-Inspired Styled Shoot
A soft and gorgeous French-themed styled shoot that reminds us the importance of taking time for simple, romantic gestures everyday in the freshness of spring.

View here.

—

Ultimately, there are positives and negatives to each season. Determining your wedding day vision, how long you want to be engaged, and maybe a few non-negotiables (whether it's décor, venue, or certain guests and their ability to attend) will help you decide which season is best for starting your new season of life!
But ultimately, it's up to you and we have a feeling it will be beautiful no matter which season you choose…especially with the help from our wedding dream team and their Forever Bride discounts!