Happy New Year brides!!! I am so happy you're here! Today's episode is all about having fun and making memories which is basically what my 2020 is going to be all about, so stay tuned to hear about unique favors and unexpected entertainment!
Okay okay okay, here we are! 2020 what a time to be alive. I'm sure you or someone you know got engaged last weekend so I have something special for you! Tickets to The Market are normally $20 apiece, but I'm offering 80% for Forever Brides! Use the code: FBSHOW – F for Forever B for Bride, FBSHOW. It's a wedding fair revamped. Better vendors, actual decor, activities to keep your group entertained, and snacks and mimosas along the way 🙂
Sunday, February 16th at Radisson Blu MOA presented by our favorite sponsor, Mintahoe Catering & Events. Tickets are available on foreverbride.com/themarket.
Okay, let's get started with today's topic. I have in the studio with me Erik and Kelsey from Twin Cities Caricatures! Thank you guys so much for being here!
First things first, what's your favorite part about your job?
Tune in to hear from Erik & Kelsey!
Second of all, can you share a bit about yourself and how you got into the industry?
Tune in to hear from Erik & Kelsey!
How Twin Cities Caricatures get started?
Tune in to hear from Erik & Kelsey!
You two are rockstars. So I wanted to have you both here to talk about Unique Favors and Unexpected Entertainment because I saw you absolutely CRUSH it at The Forever Bride Market last year in November (check out our Highlight Reel!). Can you tell me what you were doing at your booth?
Tune in to hear from Erik & Kelsey!
What is a caricature?
– exaggerating the things that make you unique and special
– some are just a stylized cartoon version of you
– all our artists have their own unique styles, but they just want to make a fun, silly drawing that makes you smile
Why are we seeing this more and more at weddings? I feel like it used to be a carnival thing back in the 90s.
Caricatures are unique favors AND unexpected entertainment: Double Value
– a personalized gift that guests take home with them
– guests enjoy watching the artists work their magic
Like you guys said, it's a lot more fun and silly for the guests too! Photobooths can be awkward when you try to be silly or you don't know what to do. Whereas with this, you guys do that work! Since caricatures have made this beautiful comeback, what are some new things that have evolved in the industry?
Digital AND traditional options for caricatures
– Traditional
1. markers and paper, hand-drawn feel
2. color or black and white
3. color takes longer, you get fewer drawings
– Digital
1. includes an external monitor for better visibility to guests watching
2. bride and groom can have the digital files as well
3. can easily be customized for your wedding colors and design
4. big wow factor
What else can you add on?
Add-ons for your wedding
– wedding logo printed on paper or added to digital file
– lanyards or drawing protectors
– pre-drawn wedding couple, framed with matte for guests to sign
– grooms dinner, draw the wedding party before the wedding
– caricature thank you cards and/or save-the-dates
– digital collage of guest drawings
CUTE! I love those ideas so much. You two are brilliant. Are there any other final pieces of advice or closing thoughts?
Closing Thoughts
Photo booths have become standard and expected, caricatures are something unique and unexpected. We hear it at every wedding we do, "Oh how fun! I never would have thought to have caricatures at a wedding!"
And where can people find more information and what's the best way to connect with you?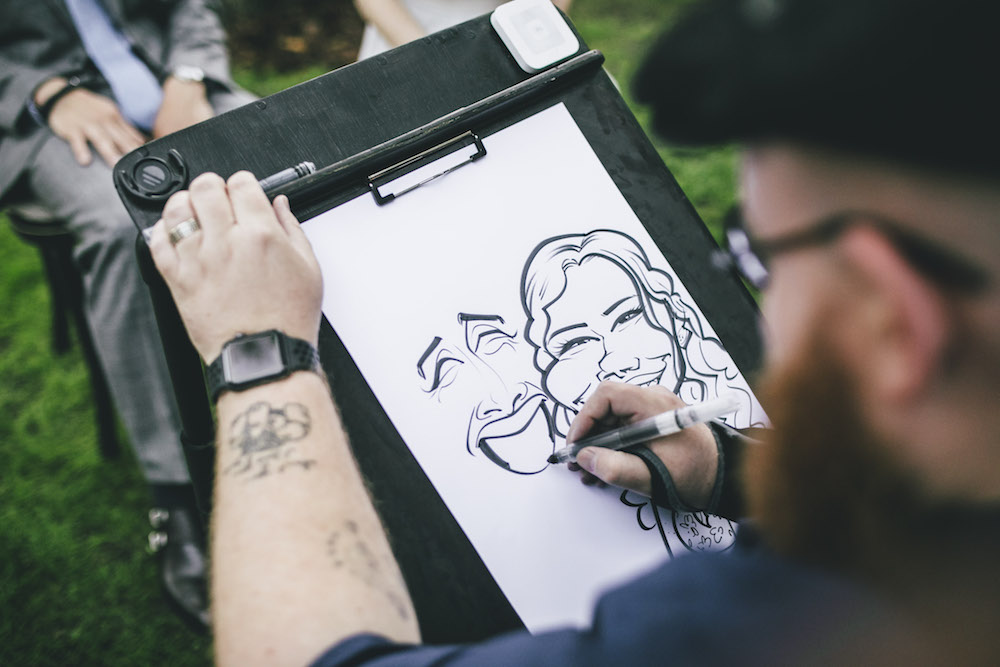 Connect with Twin Cities Caricatures here:
Website: twincitiescaricatures.com
Instagram: @twincitiescaricatures
Facebook: Twin Cities Caricatures
Twitter: @TCCaricatures
Forever Bride Listing: Twin Cities Caricatures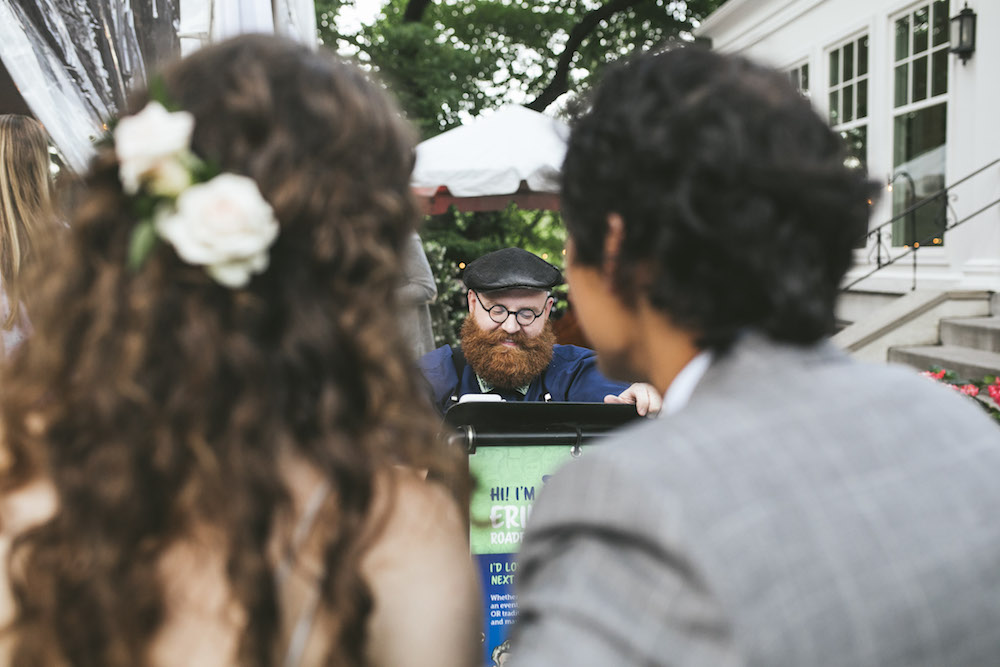 Before we go I want to remind our listeners that when they book you or any other vendor listed on our directory, they have the chance to get a free Forever Bride tank top! Just go to the book a vendor, get a tank top page on our website and submit who you booked, your wedding date, shirt size (we have sized small to double XL) and your mailing address!

I always look forward to sending out the tanks and knowing the Forever Bride family is being well taken care of by our vendors. So go do that and we'll chat soon! Bye brides!
Tune in on iTunes, Spotify, YouTube, and wherever else you stream podcasts! Check out all of our past episodes details here!