Our incredible Forever Bride wedding planner, Brittany of Simply Gypsy Events is sharing a destination wedding she coordinated from this year. A magical California wedding that had a margarita truck, a white horse, + a beautiful outdoor ceremony space. Let's read what Brittany has to say:
During September, autumn rolls in, bringing with it football season and falling in love. Such is true for Ryan & Alexa, who met September 2016 at a football gathering hosted by a mutual friend. Their love quickly blossomed into a romantic and sentimental courtship, strengthened by Alexa's heartfelt love letter to Ryan (which you can read here).
(Her beautiful love letter was what won them a Forever Bride styled shoot, which you can view here––a Garden Bed & Breakfast Styled Shoot.)
Knowing they had a full and beautiful future together, they were engaged April 2017 with a wedding date set for the same year. Alexa is an original California girl and had a dream of an outdoor wedding under the California sun. Living in Ryan's home state, Minnesota, planning their long distance wedding came with some challenges but they were rewarded tenfold.
It's not a secret that wedding planning can come with its trials, but these two successfully did it from 2000 miles away and in less than four months! What was their secret? Close friends and the internet. Alexa and Ryan enlisted their wedding party in a lot of tasks like painting signs and prepping florals. They also took some time to fly out to California to do as much as possible.
These stunning floral robes are from Oh Sugar Studio.
And P.S. they are currently offering a free robe when Forever Brides purchase 6. Click here for details!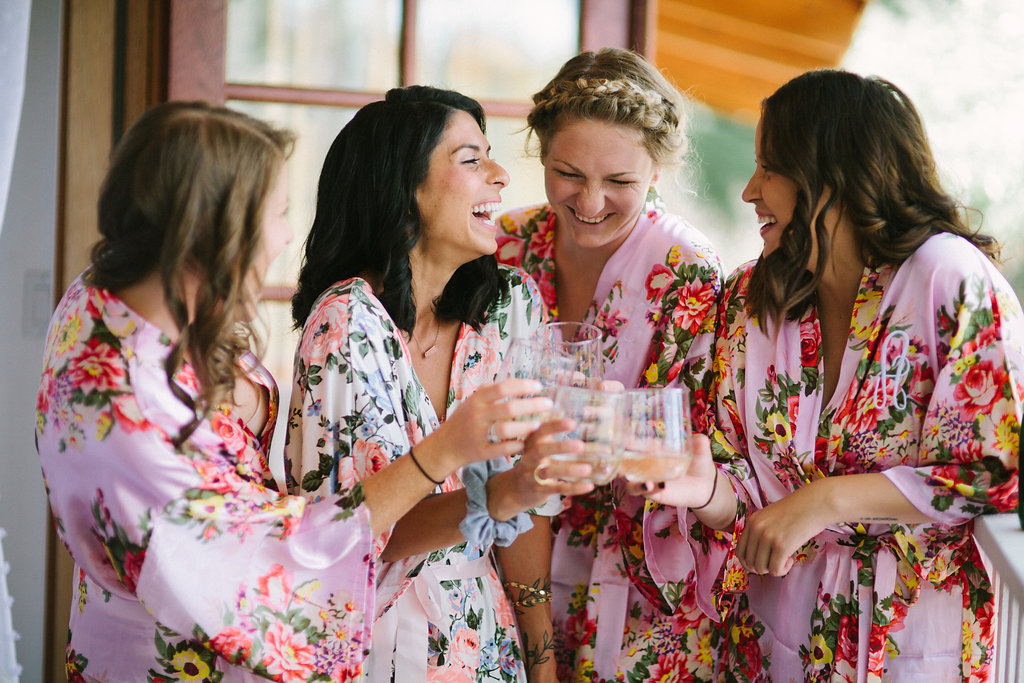 Looking dapper, men!
The couple's favorite part of the day had two parts, and one very special friend.
Part one: A romantic sunrise horseback ride for the couple through the mountain property.
Part two: Led by her father, Alexa rode bareback into her ceremony on Sole, a beautiful white horse from the stables neighboring Sacred Mountain. "I felt like a princess with my wedding dress trailing and my barefeet resting against Sole's fur. I wanted the first time Ryan saw me to be when I walked down the aisle (with no first look), and we both cried the biggest, happiest tears ever."
When searching for a venue, Alexa said they had a couple requirements for their big day: Outdoor location, no restrictions on vendors, and an open set up timeframe. "When we found Sacred Mountain in Julian, California, it was almost too good to be true. It was full of nature, allowed you to bring in whatever you wanted, and came with lodging for the entire weekend." With open dates dwindling, they set their date for August 26th, 2017.
WHAT A DREAM
A margarita truck?! Yes please!!!!!
Having a destination wedding also has its perks, like already being in prime honeymooning locations! The couple followed up their magical wedding day with a mini-moon in Southern California, where they enjoyed wine tasting in the mountains and relaxing days on the beach.
"We toured our venue, had our cake tasting, and met with the venue staff. I am pretty type-A, so I did plan, ideate, and order everything myself. I then had all the wedding party come in a few days before the wedding. As long as you have a good team, anything is possible!"
Planning a long distance wedding is well worth it and totally possible. Take her word for it: "My biggest advice for brides planning a wedding long-distance (or perhaps any wedding), is to be very organized, but to also roll with the punches. Sometimes, you have to simply trudge ahead and remember that you are marrying the person of your dreams, and that all the rest are just details."
Interested in hiring Brittany of Simply Gypsy Events for your destination wedding, too? Click here to get $200 off!
Getting married near home? Simply Gypsy Events also offers regular wedding packages, where they are giving 15% off on your wedding planning package when you mention Forever Bride! Details here.