All of the handmade details of Danny + Chase's wedding really made their day feel extra special. Her mom made the flower girls' dresses and the bride knit the little shawls they wore. Chase designed our seating chart and he and his dad cut the wood slices they used for their donut display.
But the handmade details don't stop there! The groom's mother created the tree branch photo display. And the bride, along with her mother and sister (and a few glasses of wine) made all of the pom pom garlands. Danny notes, "It was fun to have both our families so involved in that aspect."
The bride + groom also wrote most of their wedding ceremony themselves, incorporating a favorite John Lennon quote and a shout out to their dog Jackson.
They exchanged vows in front of a cozy fireplace surrounded by just their closest family and friends. Two of the bride's cousins played a ukulele cover of "Marry You" by Bruno Mars for their walk back down the aisle as husband and wife. "Our goal was a lighthearted but deeply meaningful ceremony and I think we totally achieved that."
Lindsay Miller Photography was there to capture the sweetest day with the sweetest couple. She writes, "It was the most unique and creative wedding I have ever seen and I feel so honored to have been able to be a part of that!
The entire day was a breeze and it felt like we were just hanging out with a couple of friends and family. I say family because Maire and I photographed Danny's younger sister's wedding last year so it was fun running into familiar faces again! Danny, her sister and myself also went to the same schools growing up!"
"As you can tell, family had a huge part in this wedding and in their lives. It seems that every single person had some sort of impact on their wedding day. How special is that."
Every wedding day begins with a beautiful love story. The bride + groom are sharing how they met:
"Chase and my cousin Tommy have been best friends since grade school, but somehow we had never met. I can remember Tommy casually mentioning him a couple times, and Chase had seen my school picture over at my aunt and uncle's and wanted to know more about this "Girl on the Fridge." Eventually the stars aligned. We met our junior year of high school, and after a date over a couple burritos at Chipotle, we were pretty much inseparable.
Lindsay Miller Photography loved capturing the bride's first look with her father!
"Danny and her dad had a first look together as well, and the look on his face when he saw his little girl was"¦emotional to say the least. You can see the bond that they share, and it was an absolutely touching moment between them."
Minnesota weather in October is so unpredictable but it was the most PERFECT weather you could have asked for. The sun was shining in all the right places, the colors of the leaves were in their prime, and the temperate at night fell just low enough to be comfortable sitting next to a bonfire outside.
THE ENGAGEMENT:
"We had been together for nearly a decade by the time we got engaged and I still had no idea it was coming.
Every year we like to celebrate our anniversary by doing something on the water, so when Chase said he wanted to rent a canoe on Lake of the Isles for our ninth I didn't suspect a thing.
The sky looked pretty ominous as we were about to head out that day, but Chase was REALLY insistent on going. I thought it was sweet that the tradition seemed to mean so much to him, and he said that the radar actually looked pretty good, so I agreed to go anyway.
Things headed downhill fast. At the exact moment we pushed away from shore it started to downpour, which led to me scrambling to grab my rain jacket, which led to us running into the side of a concrete bridge, which led to a good amount of heckling from some of our fellow lake goers.
I was on the verge of tears, and Chase felt so bad. We stopped under said bridge, took a deep breath, and decided to keep going. The rain let up and we paddled out to our favorite spot.
Chase gave me this really sweet letter he had written and I was crying all over again. He had me close my eyes, and I was so surprised to open them and find him sitting there holding the prettiest ring that all I could say was, "Are you serious? Are you serious?!"
I did eventually manage to get a "yes" out and we celebrated with a bottle of champagne he had hidden in his backpack and a huge sushi dinner. I still can't believe he pulled that off!
"Their first look was absolutely adorable. They were like two giddy children falling in love for the first time. I may have shed a tear or two behind my camera," Lindsay says.
Lindsay shares, "I found out that Danny's dress twirled SO good [see below], so I had Chase twirl her for some good twirling pictures. He couldn't stop twirling her either! We were all mesmerized by her dress."
Danny says that one of our favorite moments (and some of her all-time favorite photos from the day!) was sneaking out of cocktail hour a little early to head out into the woods behind their venue.
"We lucked out and had the most perfect Fall weather and the sun was just starting to set. The ceremony was such a whirlwind, it was nice to hit pause for a moment and just let it all soak in."
The bride's advice to current brides:

"I think the best advice I can give is stick to your guns. You two are only going to do this once… so do it the way you want to! Throughout the planning process Chase and I kept asking ourselves, 'Is this something we're doing because we think it's awesome? Or is this something we're doing because we feel like we're supposed to?' If the answer to the latter was ever yes, we ditched it. It certainly wasn't always the easiest thing to do, but I can't tell you how happy we were with the end result. Our wedding day was the perfect celebration of what makes us 'us'.
They had a taco bar buffet for dinner catered by Green Mill and even Lindsay of Lindsay Miller Photography said it was SO good.
If you're interested in having them cater your wedding, we highly recommend them! You can view their Forever Bride listing & deal here.
Want to get to know them & their services more? Check out the Forever Feature we did with them here.
The bride writes, "Putting together the music playlist was probably our favorite task. We like a lot of different stuff, and we wanted to make sure we included something for everyone. Lots of Johnny Cash and Beastie Boys, some Miley Cyrus and Spice Girls for good measure. The best though was our last song. After five hours of dancing we were pretty tired, but when "Bohemian Rhapsody" came on everyone that was left convened on the dance floor to belt it out with Freddie Mercury. It was the perfect way to end the night!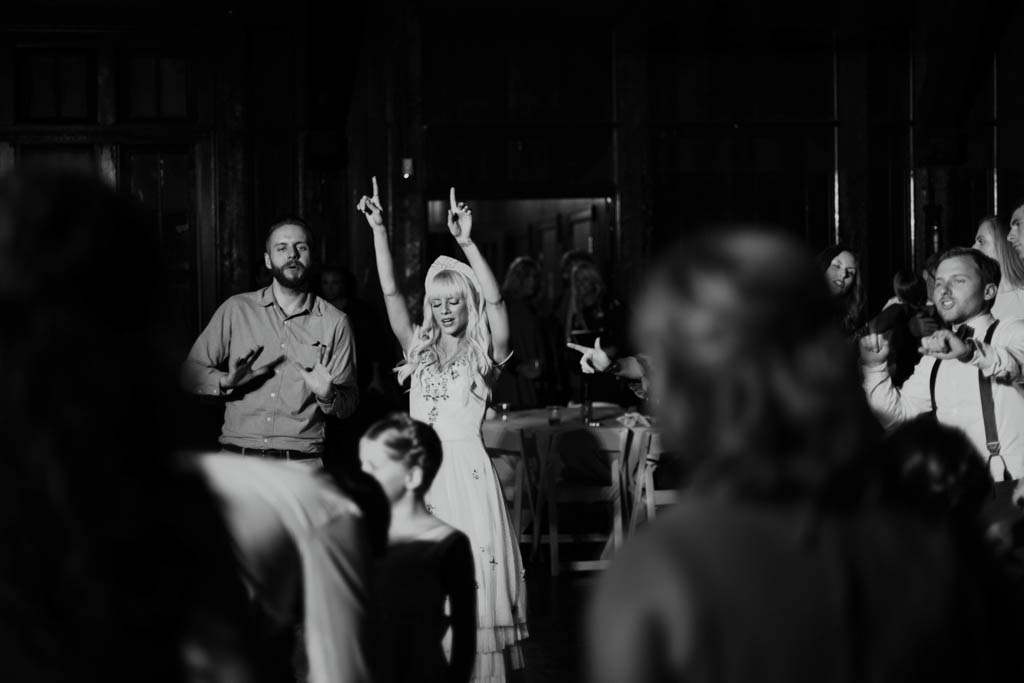 Both of their families are very "dancy" so it was nothing short of an epic dance party.
Let's keep the dance party going and twirl away to some more wedding inspiration! You will love this fun Boho Meets Farm Wedding with a Zebra.