After countless DIY projects and endless Pinterest endeavors in the wee hours of the night, not even rain could ruin such a special day. It was truly a beautiful day in the midst of the orchard.
Mitchel and I are both really creative, so I strived to let our creativity shine throughout all the details. One of the ways we wanted to do so was to incorporate a lot of DIY projects into our wedding. I would always find the ideas and then Mitchel would use his creative mind to construct them. His DIY projects.
I wanted to incorporate the natural red hue from the orchard into my wedding colors. With blush pink, I added dark reds into the bouquet with lots of greenery. My mother, who is known for her green thumb, created all the bouquets and flowers. She's amazing. Having a deep red, marsala bouquet also helped tie in the light bridesmaid dresses and navy groom/groomsmen suits.The dark red suspenders really tied the colors and the rustic venue in all together. My favorite!
My vision was to ultimately create a unique, laid-back atmosphere. My favorite DIY project was our newspaper program. I had my uncle who is a former graphic designer create the newspaper including the story of how Mitchel and I met, our proposal, a timeline of the day, and games for the guests to play such as a crossword puzzle and word find.
Right when we arrived to Aamodt's, the bridesmaids and I all had a champagne toast in our robes outside on the deck. It was a great time to just relax and enjoy each other's company before the crazy day began.
My dad and I have a special "daddy-daughter" bond. So before Mitchel and I had our first look, I wanted to have a special first look with my dad "" the first guy in my life. For some reason, I got most emotional during this part.
When Mitchel and I had our first look, one of the first things we did was say a prayer together. We wanted to stop, slow down, and glorify and thank God. He is the reason we are together and is the center of our relationship.
As guests were arriving, we had apples and apple juice available with a sign (that Mitchel made) saying "I'm glad I picked you."
We wanted to have an outdoor wedding but because of the rain (it ONLY rained during the ceremony but was beautiful before and after) we had our ceremony inside the barn. We ended up loving it even more than if it were outside. Having our ceremony inside the rustic barn created a more romantic, intimate, and cozy feel. It was perfect! My favorite part was the vows, which we wrote ourselves. Mitchel started crying right away and couldn't even get the first word out. It was precious and meant so much to me.
After dancing our hearts out, we ended our wonderful day by having a bubble send-off with champagne-shaped bubbles. Grinning ear to ear, we hugged our guests goodbye before driving off in a vintage convertible. It was quite a magical ending to a beautiful day!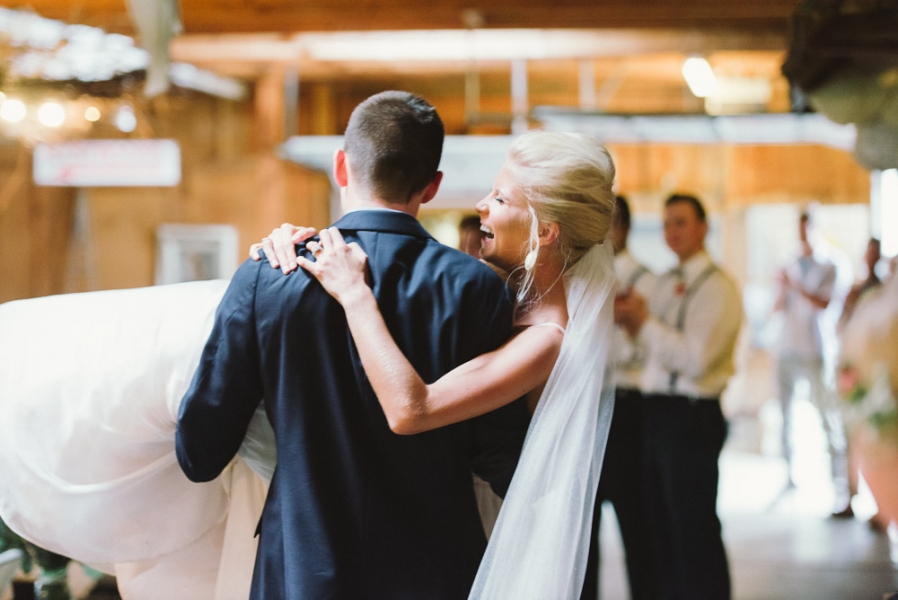 In the beginning of the recession, the groom picked up the bride and carried her down the aisle. HOW CUTE?! They just couldn't hold in their excitement!!