Held at the Lowertown Event Center, located in downtown St. Paul, Dana + Thomas say their I do's in front of their family and friends. It wasn't just a wedding but a celebration of what love means for them. While planning, the couple wanted to make their wedding extra special by adding framed photos of family and friends' weddings and sparklers for the perfect ending.
Dana tells us "Family is very important to us, we are both really close with our families. Thomas has a twin brother (he was the best man) and he is the third 'Thomas' in his family- his grandpa is a Thomas and his dad is also a Thomas. We wanted to get pictures with the three generations of Thomas' because it is a rare thing these days in a family. I also was able to get a three generations picture with my mom and grandma. Thomas and I were so happy to be able to have grandparents present at our wedding. We also wanted to showcase all the great love stories and long lasting marriages by people in our lives. So we honored family and friends with two "generations of love" tables. We framed family and friend's wedding photos and then put their name, wedding date and how long they have been married on a tent card in front of the photo. It was a great example to us of what love truly means."
It may have been freezing outside but their love only warmed the heart. (Was that too cheesy? Good! ;)) Let's see all the sweet details captured byNikki Tran Photographer. We are especially highlighting our vendors, The Wedding Shoppe + Cafe Latte.
Dana's beautiful dress is from The Wedding Shoppe. Here are similar styles to her dress.
The sweetest!
"Treat yo' self!" *Tom and Donna's voice* (Parks and Rec, anyone?!) Looking delicious, Cafe Latte.
Planning a winter wedding? Check out this chic wedding fur to keep you warm.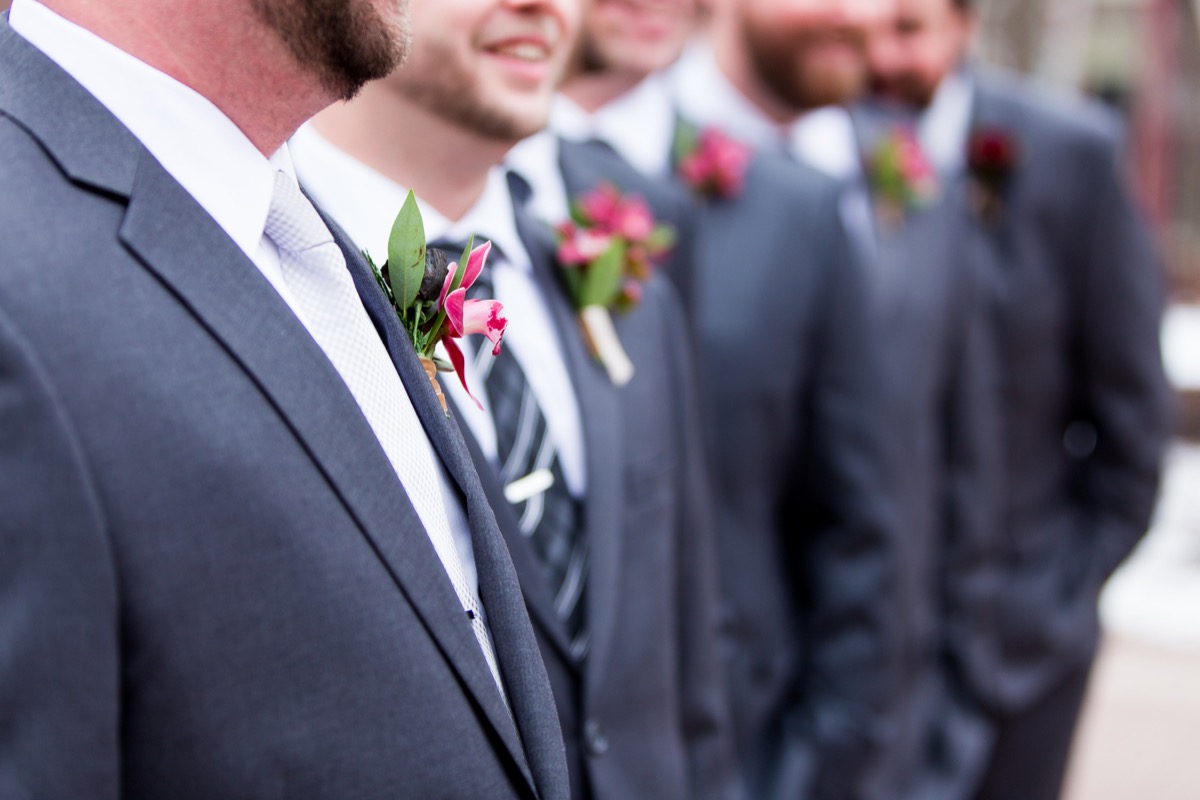 Fleur de Lis provided all the fresh flowers for the day. We're loving the different shades of reds and burgundy with pops of purple and white in these bouquets!
The pops of burgundy perfectly contrasts with the white snow. LOVE.
Grandmas are the sweetest.
The bride shares, "Since getting married in the winter means no golden hour or sunset pictures, we wanted to do something fun in place of that… [like] sparkler pictures!"
Congrats Dana + Thomas!