These are strange and uncertain times for couples planning weddings and I know we're all doing our best to stay safe while trying to look on the bright side. I also understand that it can be especially hard and confusing for those couples with an approaching wedding date. "Should I cancel or reschedule my wedding?" you may be asking yourself. "Will my guests be upset and disappointed?" "I've worked so hard, what if my plans have to change?" These are all valid thoughts and you're not alone. There are so many couples across the globe grappling with these very questions and concerns.
Claire and Ian, from Minneapolis, MN are a couple that had a spring wedding planned in the height of local closures, national concerns, and state mandated limited gatherings. This is their story of hope, overcoming unseen odds, and love winning in the face of a world-wide pandemic. We hope this brings you peace, some great advice, and comfort knowing we really are all in this together.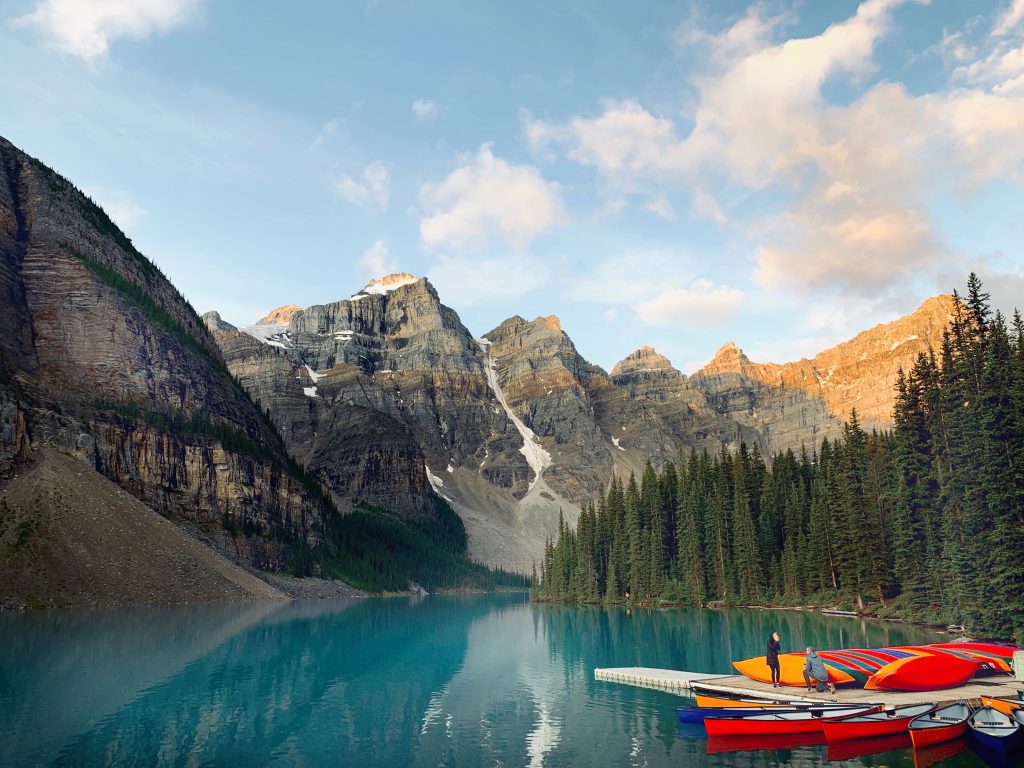 Claire and Ian met through mutual friends and their first date was one for the history books. Ian, a huge Vikings fan, set up the date at a local restaurant which was playing the game but the second Claire walked through the doors, his eyes never left her gaze. Their waitress even commented that this must be love because she's never seen two Vikings fans completely ignore such a good game! Well, she was right and after months dating, the pair planned a trip to Banff Canada that would change both of their lives. Overlooking the mountains with the piercing blue waters of Lake Louise below them, Ian got down on one knee and asked Claire for forever. The beauty of their surroundings fell away, and in that moment it was only Claire and Ian as she said "yes".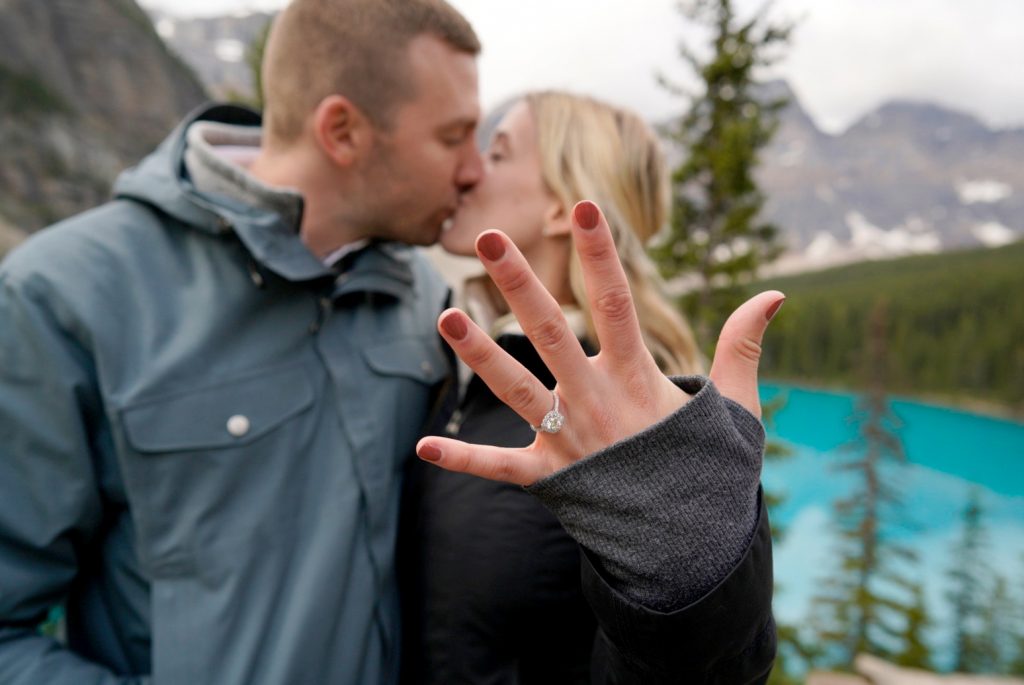 They set their date for Friday, March 20th and started to plan their dream wedding. The first call they made was to Andrew Vick, owner and lead photographer of the Minnesota-based wedding studio, Vick Photography. Ian had met Andrew 10 years prior at his sister's wedding. Andrew was also part of the wedding party and when Ian found out he was a wedding photographer, he told Andrew he would be the first call someday when he found his soulmate. Ian kept that promise and in turn, Andrew helped them line up a number of skilled and experienced vendors to make their day perfect.
Now is the part of the story you've been waiting for… fast forward to March 6, 2020 when the first case of Covid-19 was reported in Minnesota. Up until this day, it had seemed so far away and couples were going on with planning their wedding like normal. Then on March 10, more cases are confirmed and the closures start to begin. Claire and Ian had been watching all of this unfold knowing that their wedding was a mere 10 days away.
Claire recounted the feeling, "it was a lose-lose situation, whatever we chose we would be disappointing someone." She called on her closest friends to gather for coffee over the weekend and they all reassured her everything would be fine and they would all be there to support her. She walked away feeling like nothing needed change and their wedding would go on as planned on Friday, March 20th.
Monday, March 16th, only 5 days from their wedding, Claire and Ian woke up to the news that all schools, bars, gyms, and other non-essential businesses would be closed and all gatherings of over 50 people were prohibited. They knew they had to act, and fast. Once again, the first call was to Andrew to ask for help. Andrew has photographed many destination weddings and gave them the advice he gives most destination couples, "Invite a handful of people who are closest to you to witness your vows, and then throw the party of a lifetime at a later date. Now you get double the anniversaries, double the joy, and double the celebration!" They loved this idea and immediately called their venue, Bavaria Downs, who offered to move their party date to the prime 4th of July weekend. Every call they made to vendors after that fell into place and everyone happily moved their services to the new date. The best advice you will ever hear in planning your wedding is to have a team of experienced professionals on your side, because when life throws you curveballs, not only will they act fast, but they will have a plan in place to make sure your wedding festivities continue on smoothly and as planned, no matter the circumstances.
Now that the part-two party in July was sorted with a new date, they started to notify all their guests. They were terrified that everyone would be disappointed and inconvenienced, but the responses they got in return couldn't have been more supportive and filled with love. Ian said that "everyone was so happy we were taking their safety into account and the messages of love and support were overwhelming and so affirming that we made the right decision." It was also nice to know that "there was no anxiety for guests and no awkward interactions of how to shake hands. Or do we fist-bump? Or elbow bump?" Ian laughed. This new July party was exactly what everyone needed. "Calm heart, calm minds." Claire said, "We want everyone to be able to embrace and celebrate instead of being nervous."
Now they were getting excited about the prospect of having two amazing parties! "We get to have two weddings, how many people get to say that?!" They called Andrew Vick once more to talk about what to do on March 20th, now only 3 days away. He told them to pick a location, choose a few people to be witnesses, and he would show up with his camera to document the occasion.
They chose a beautiful and private spot in a park at Lake of the Isles. This was where they went for a walk on their second date and stopped to talk and admire the Minnesota beauty. Now, this little park would mean so much more.
Claire excitedly dubbed this their "I Do Day."
"You can totally use that," she laughed when she told me. "We want other couples to get excited about the prospect of two dates and two celebrations. I was so heartbroken that the day I dreamed about and had been planning for so long wasn't going to be the same event that I had imagined. After we said our vows on Friday, I knew this was special and that we were so lucky."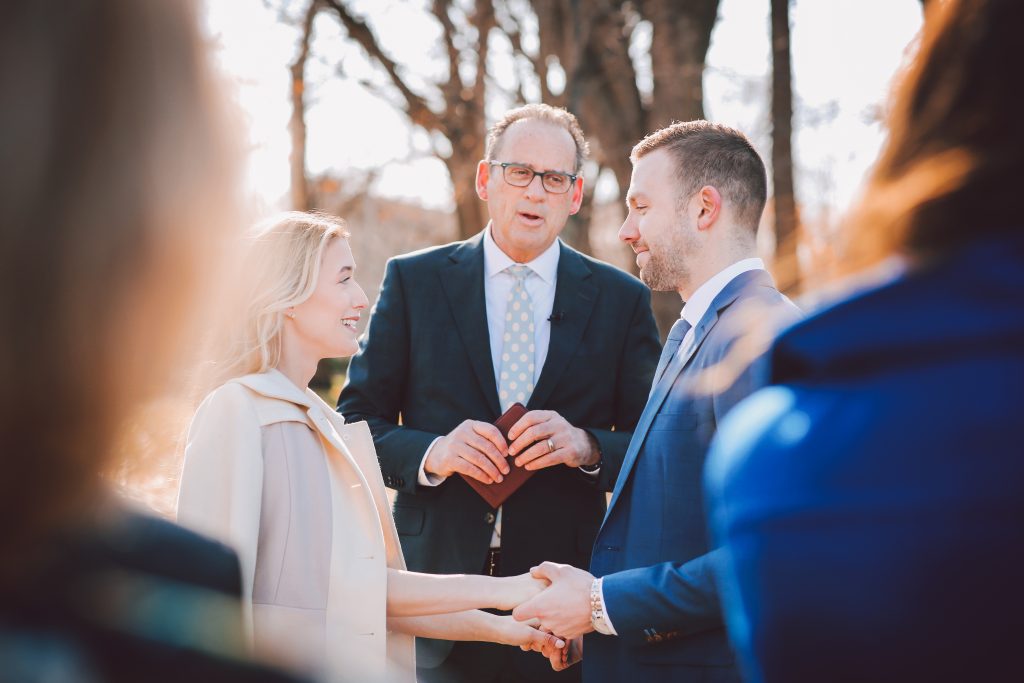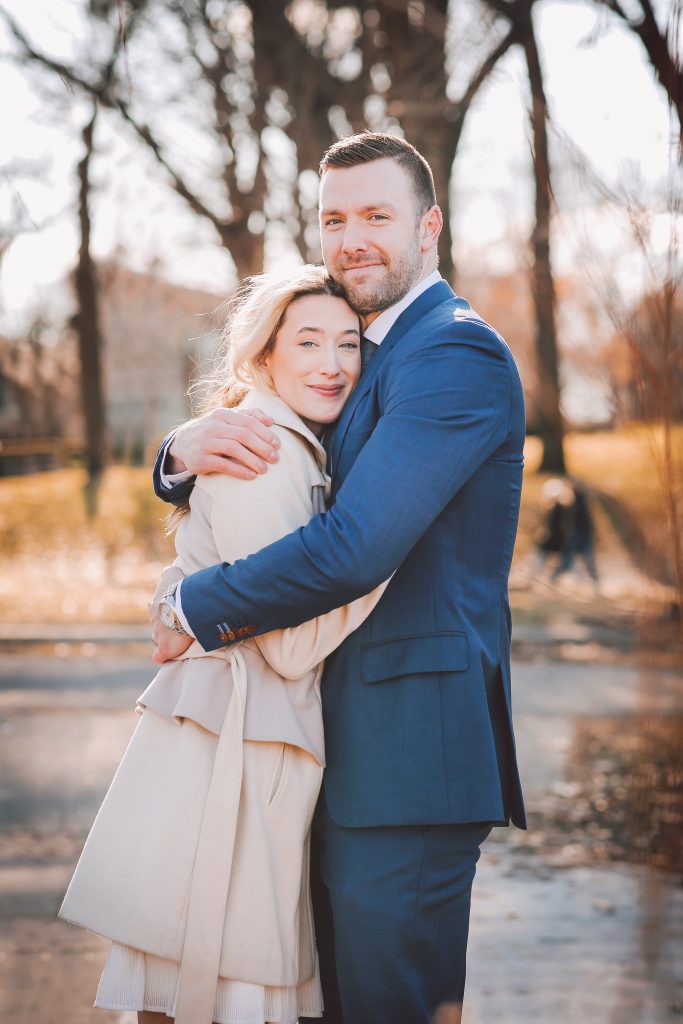 Friday, March 20 2020, their I Do Day, Claire wore a beautiful white dress and jacket, but chose to save her wedding dress for their July celebration "so there would still be so much to be excited for". Ian donned a suit and their friend picked up a beautiful eucalyptus floral bouquet from Trader Joes, the only store open and selling flowers, and the pair made their way to Lake of the Aisles where they met Andrew, their parents, and a few close friends. Standing next to the frozen Minnesota lake, they said their vows and everyone cried happy tears while still remaining 6 feet apart. Everyone made their way back to Ian's parents house where they threw an impromptu pizza party and the couple danced to their song, Nat King Cole's "The Very Thought of You." There wasn't a dry eye in the house.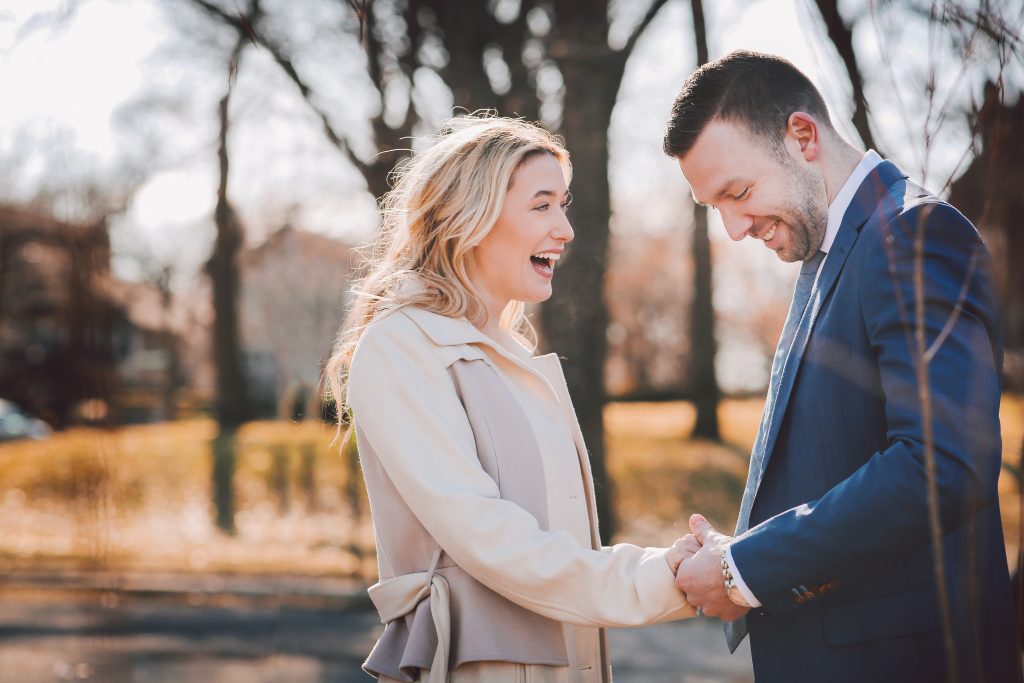 "Life throws you these curveballs and sometimes they make these things even more special" Claire said, reminiscing about last Friday. They even decided to keep their wedding programs and guest book with their March 20th date to hand out at their new July celebration. "It is our wedding date and I think guests will understand and know why we kept it that way. In some way it makes it more special." Ian said happily.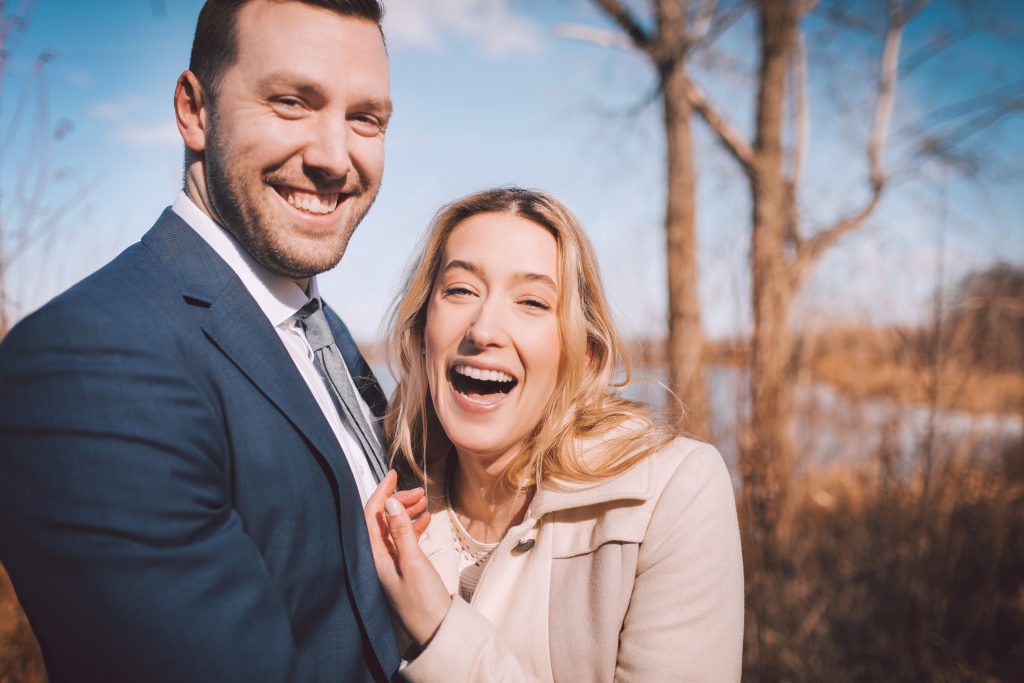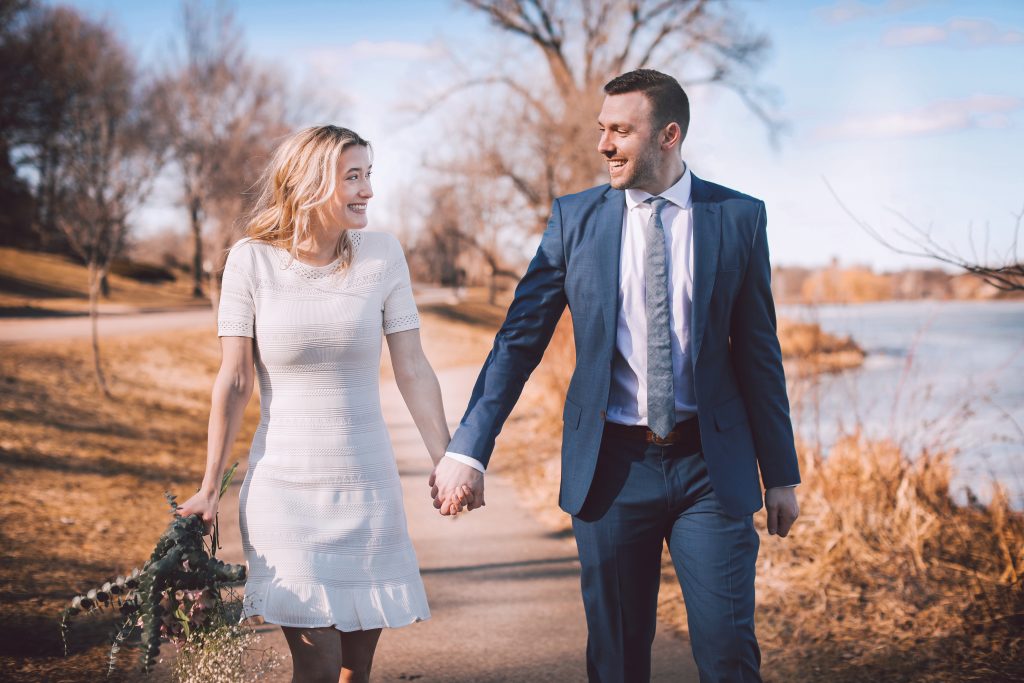 So our advice to you is to embrace this curveball and come up with creative ways to make it special and memorable instead of scary and disappointing. If it's safe and you're able, celebrate your own "I Do Day" and move your big celebration to a new future date. Don't forget to hire experienced vendors that have your best interest in mind, it really does pay off not only in the tough times, but you could come away with some lifelong friends and incredible experiences. Keep your vendors in the loop and talk to them about your concerns, they may have amazing ideas and solutions of their own (thank you Andrew Vick!) And above all else, remember that you're not alone. Your vendors are here to support you, your guests are here to love you, and your partner is by your side. We will get through this, stronger, and more loving than before.