On a warm and breezy day in a small town in Minnesota, Taylor and Cameron stood before their family and friends at Scenic Escape Barn and became husband and wife. The celebration kicked off early in the morning as Taylor and her bridesmaids sipped mimosas and started hair and makeup. It was a morning filled with excitement and peace for the ladies while the couple's wedding planner, Amber Terese Weddings & Events, made sure everything came together perfectly for this very special day.
The time flew by and before Taylor knew it, it was time for her first look! Taylor slipped into her gorgeous gown from a&bé bridal shop and her Matron of Honor, former Amber Terese Weddings & Events Bride – Lindsey, put her veil in place (a special "˜something borrowed' that Lindsey wore for her own wedding *aww*). When Cameron saw Taylor well"¦the photos speak for themselves. These two have a style all their own and it lent itself beautifully to the boho vibe of the wedding.
The couple also got tattoos to commemorate the special occasion an X and an O. A sweet little detail and a fun pre-wedding excursion! We are still obsessing over the color palette that Taylor chose for this day. The bridesmaids all looked simply gorgeous in variations of terra cotta tones and the different styles of all the girls' gowns added visual interest to the bridal party style. The boys wore patterned ties paired with simple trousers and shoes. Perfect bridal party attire for a rustic outdoor setting and a more modern vibe.
For Taylor and Cameron's florals Amber Terese Wedding & Events used Juliet garden roses, terra cotta roses, blush spray roses, mustard and pink dahlias, silver leaf eucalyptus, and baby eucalyptus, hand tied with long flowy raw edge ribbon. The bouquets were the perfect addition to the boho style of this wedding. Taylor and Cameron said their vows under the beautiful arbor at Scenic Escape Barn which was adorned with florals and a macrame banner. The Bride's grandfather performed the ceremony. The couple decided to have a "long island iced tea" ceremony. It was the drink they first shared when they started dating and added the perfect personal touch, but the best was "Reverend Ron" as he preferred to be called, telling the groom "you may now kiss my granddaughter" when the ceremony had finished.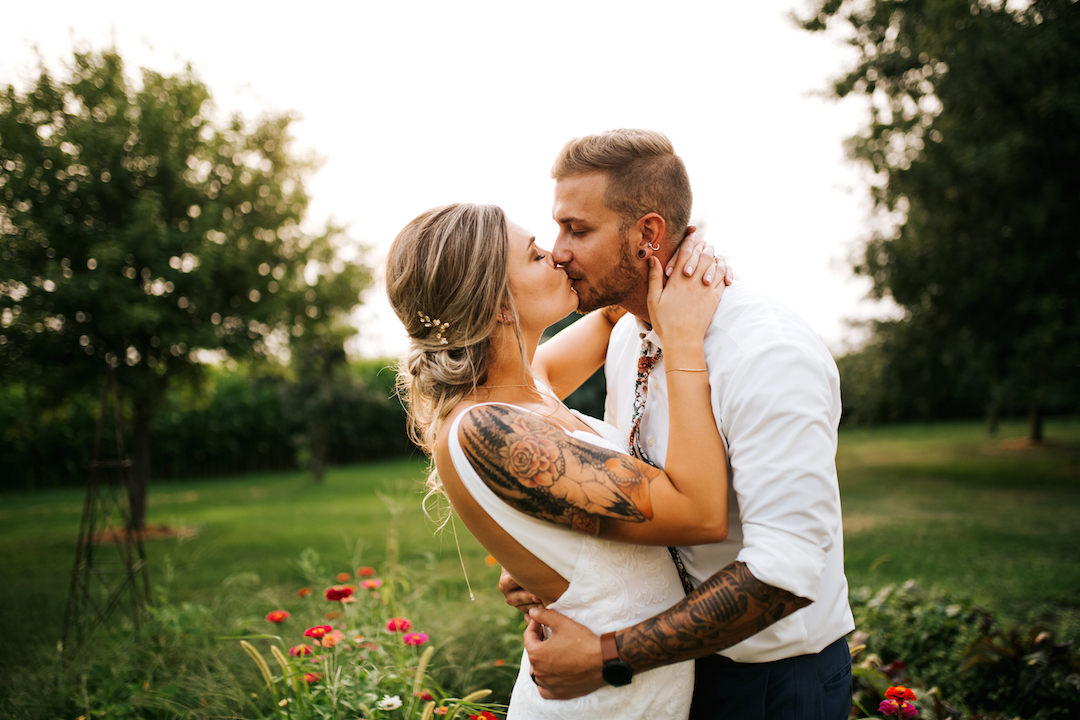 After the ceremony guests feasted on delicious fare from Chef Craig's Catering and danced the night away on the large back deck at Scenic Escape Barn while also enjoying a bonfire and yard games. With help from their planner, Taylor and Cameron were able to make the day unique, personal, and well organized.
Special thanks to Amber Terese Weddings & Events for making this couple's day absolutely perfect and unforgettable! Check out the full list of vendors below.
Up next: What Wedding Season Should You Choose to Get Married in? & 10 Ways to Have a Budget Savvy Wedding