"Josh proposed last year in March. We had been dating for 7 years- since senior year of high school! We had made it through college and were just starting to work full time. When we moved to Eden Prairie together, which was close to our jobs, the thought of marriage was only beginning to enter our minds.
On Christmas Day of 2012, my mom was diagnosed with Colon cancer and the cancer had spread rapidly to her liver and other organs. It was a devastating time. It was a time in our lives where we realized what was important. So Josh decided it was time to put a ring on it!! One night when my mom was home in her bed that we placed out in our living room, Josh got down on one knee and proposed to me, telling my mom he would take care of me the rest of my life. It was the most special night ever because I got to share the experience with my mom. She passed away 2 weeks later. I wanted to share this part of my story because it is a big reason why I started my business. My mom wouldn't have been able to go to the store with me to find my wedding dress. I wanted to create a day where everyone can be a part of the shopping experience, even if they are stuck at home, no matter the circumstances.|
To keep my mind and my life going after my mom's death, I dove into planning. I checked out all the different planning books and websites- there was so much to choose from! It's fun when you can start checking things off the list and everything starts falling into place. I enjoyed the planning process very much! Josh and I chose The Depot Minneapolis in downtown Minneapolis for our wedding day venue. I am so happy we ended up having the wedding here! Because we were so close to the wedding date, we had to go with a Friday night at 5:30 p.m. The entire night was at the Depot, ceremony and reception. This venue has a lot of history and the ballroom is spectacular. The hotel is also attached so your guests don't need to go far! The ballroom was so beautiful that we didn't need to do much for decorating. For the tables we brought table cloths that went with the theme, placed cakes as centerpieces and gold votives to give a romantic feel. It was a very simple arrangement but made a great impression.
All the little details: For the girls I got matching robes to get ready in. It was so fun for pictures and they also made a great gift. They were simple to change out of and didn't ruin hair or makeup. I also bought matching belts for the dresses- two different styles. My wonderful Personal Attendant also got matchy with us by wearing one of the belts. For the shoes, we chose sparkly gold shoes, all different styles. In memory of my Mom, our flowers had little charms with my Mom's picture, and I also wore her veil. And because I LOVE dresses so much, I wore two for the big day!
What they say is true- the day goes by so fast! Enjoy every minute and try not to get overwhelmed. Planning can be so much fun and to see it all come together is magical!"
Love the pops of bright pink!
So sweet.
A white rose in memory of the bride's mother. Too sweet.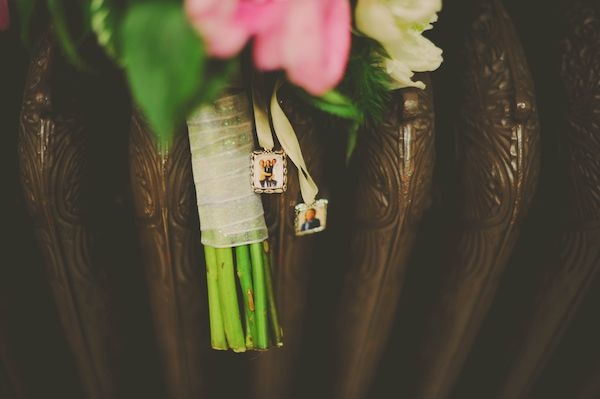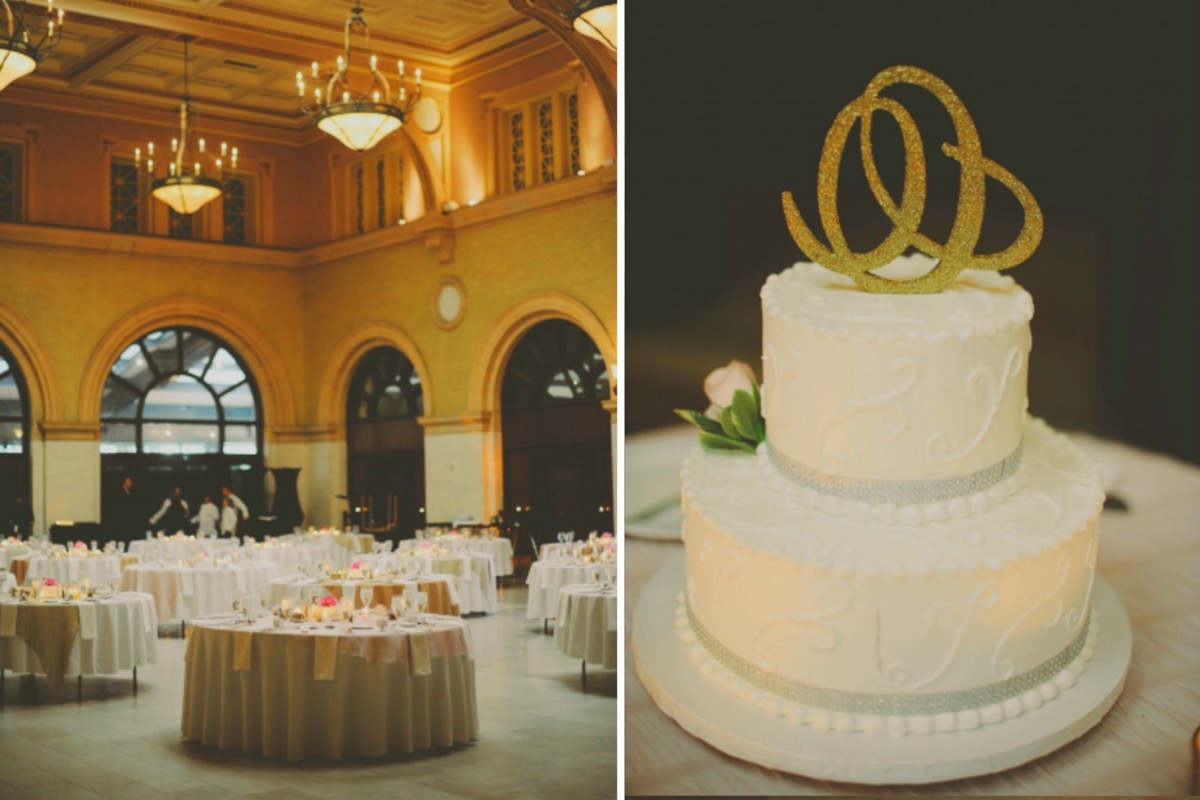 That ring!!!!!!