There is a common misconception that a barn, farm or rustic wedding venue requires similar décor. But for your wedding, there are no rules. This style shoot embodies the idea that you can highly contrast your venue and décor and achieve heart-stopping, jaw-dropping, stunning results.
Golden Oak Farm is a complete wedding retreat in Webster, Minn. The white barn with a wrap-around deck is what wedding dreams are made of. The family who owns the farm lived there for many years, until moving into town and renovating the home into a wedding destination. When you arrive on-site, you still feel like you're coming home.
Alyssa and Collin, the lovely bride and groom, are married and their newlywed chemistry radiated through the lens. Even when the team was baking in the sun, the couple wanted to stay and make it a real wedding! And it can be yours. Remember to make your own rules because the results will be one-of-a-kind.
Happy scrolling! (And remember to mention Forever Bride to these vendors for an exclusive deal!)
Piece of Cake Minnesota Weddings handled the shoot's planning, eager to create something different with all the vendors involved!
"Our team wanted to contrast the naturally beautiful, woodsy venue with blush and gray tones, metallic lines and soft florals," said Erica, owner of the awesome wedding planning company.
For $50 off your wedding planning package, check out Piece of Cake Minnesota Weddings' Forever Bride listing!
And can we talk about this gorgeous gown? Custom wedding dress designer, Mara of Mara Marie Bridal always brings the most beautiful vision to life!
Check out their listing here for an exclusive Forever Bride deal!
The cool gray-blue and pale blush tones look stunning together, don't they?! Ivory Isle Designs crafted the perfectly, aesthetically-pleasing invitation suite.
And lucky you––they are offering up to 20% off!
RING GOALS! All thanks to our incredible vendor, The Jeweler Ryan (who, by the way, is our sponsor of the November 2018 Forever Bride Market)!
Brides––find out how you can get $100 off your wedding band here!
How precious are the flower girl and ring bearer?!
Contrasting the naturally beautiful, woodsy venue, the soft florals by Wisteria Design Studio played up the blush + gray tones of the styled shoot, providing an elegant touch.
*Wisteria Design Studio is offering a complimentary toss bouquet OR groom's boutonniere if you mention Forever Bride! More details here.
The bride's hair is beautifully elegant with the added pieces of baby's breath, tying together her look with the many florals in the shoot.
Is it really a barn wedding without an old, wooden swing? So nostalgic!
The property itself is gorgeous, meaning you don't need to bring truckloads of décor to make it special. But the right décor can make it your own. Enter the velvet and delicate accents provided by the talented, Amy's Cherished Events. Contact them here for their latest Forever Bride deal!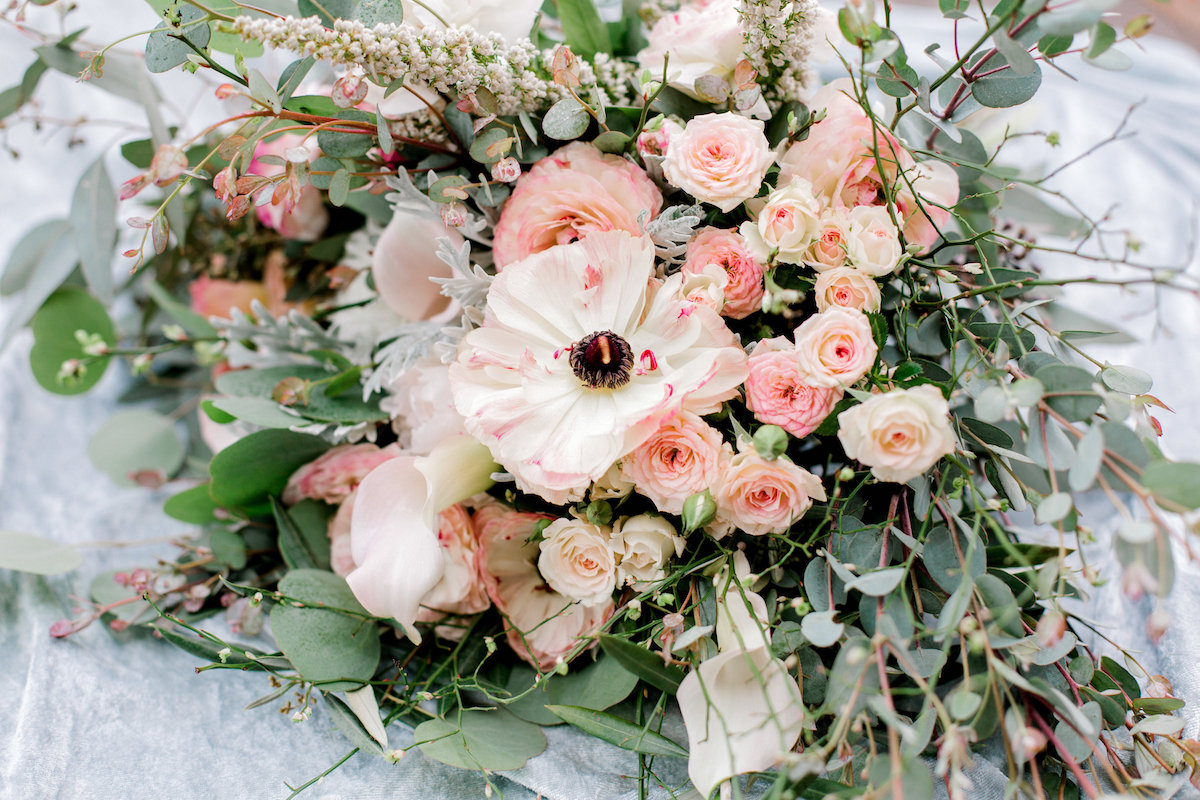 And of course, a styled shoot is never complete without a delicious looking + tasting cake! Jo Garisson Cakes used hand sketched drafts and hand tailored flavors to make the shoot that much sweeter!
And guess what?! Book your wedding cake with Jo Garrison Cakes and get a box of free breakfast pastries for your bridal party the morning of you wedding. Find out more details here!
Feeling inspired? Reach out to the vendors involved to lock them in for your big day!