Raise your hand if you've ever felt completely lost on Pinterest! When you open it up, you're bombarded with image after image, rabbit hole after rabbit hole, leaving you with nothing but inspiration and high expectations. We've all tried to bake the cupcakes that look like flowers, but instead they look like something a 4 year old made. What about that perfect dress you have saved? Have you ever tried finding where it is, but you end up on some really weird website? That is the worst! This is why we offer Styled Shoots. To give you tangible and affordable inspiration. Not just cute stuff, butreal pieces for your wedding. We gathered OUR FAVORITE VENDORS, to show off the best of their abilities and bring together a beautiful wedding for you to incorporate pieces from for your own! All the credits are listed at the bottom for you to easily access. Are you ready to see what I'm talking about? Let's go.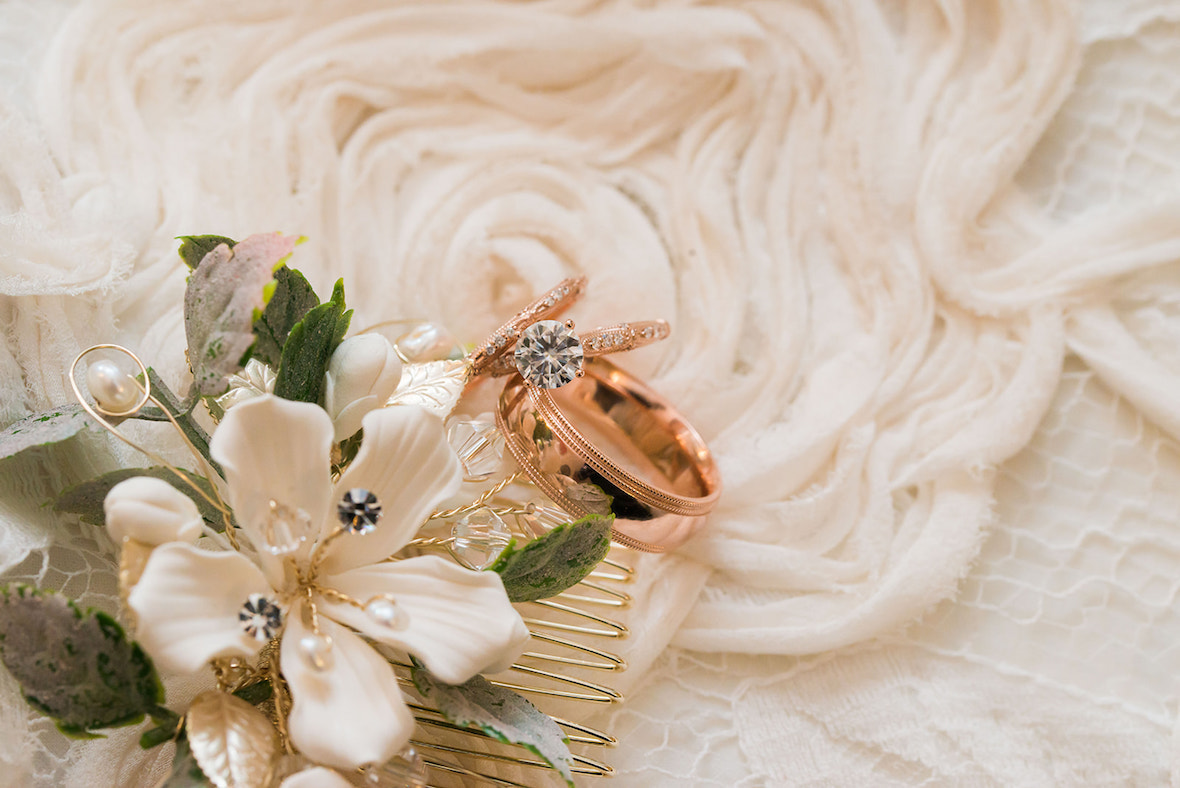 While the brides (yes, we had two), were getting ready, Amy of A.R.T Photography, got some beautiful detail shots.
Glam Squad: Nikki from CoraBella Studio on hair and Betsey and Trent from Luminous Beauty on makeup!
Mention Forever Bride at CoraBella Studio to receive $10 off at any service!
Mention Forever Bride when you book your wedding with Luminous Beauty and receive a complimentary skin analysis and precise wedding skin prep guide with their Master Esthetician. You will also receive $50 off a private makeup lesson when added to your wedding package.
Are you as obsessed with the rose gold rings as we are?! They are from The Jeweler Ryan!
Mention Forever Bride to receive $100 off her wedding band when you also buy his.
How about those place settings? Brought to you by the wonderful decor company, Vintage Soirees!
20% off teacups & saucers if you mention Forever Bride!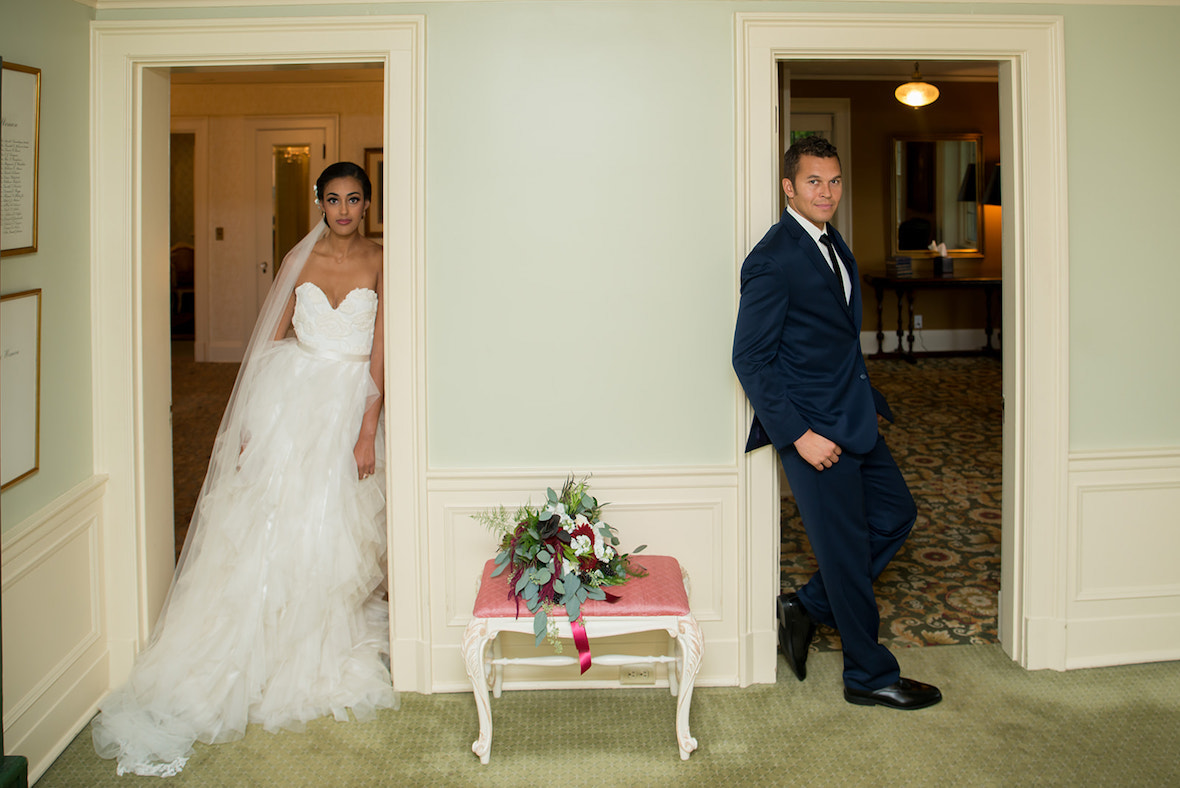 To really know if you want to work with someone, you need to connect with them. So read what the planner of this shoot, Lindsey Lozama of Simple Elegance, had to say when asked about her heart behind this shoot.
What was the inspiration behind the shoot? What kind of bride would this be great for?
My inspiration for the Styled Shoot was, dark, moody, chic, but yet bright… I love the idea of having dark colors that can play well with most any venue and provide contrast. I love contrast! Finding Vintage Soirees for the beautiful dishes was such a perfect contrast to the dark and moody linens and candles. Plus, the St. Paul College Club is so historic and bright, it was a perfect place for unexpected moodiness.
Honestly, it could be for any bride! The mood is darker so maybe a bride that is having a late summer, fall or winter wedding but really any bride or groom can apply the concept of contrasting venue with concept or having an uber romantic dress with a dark and urban cake. There are so many directions you can go!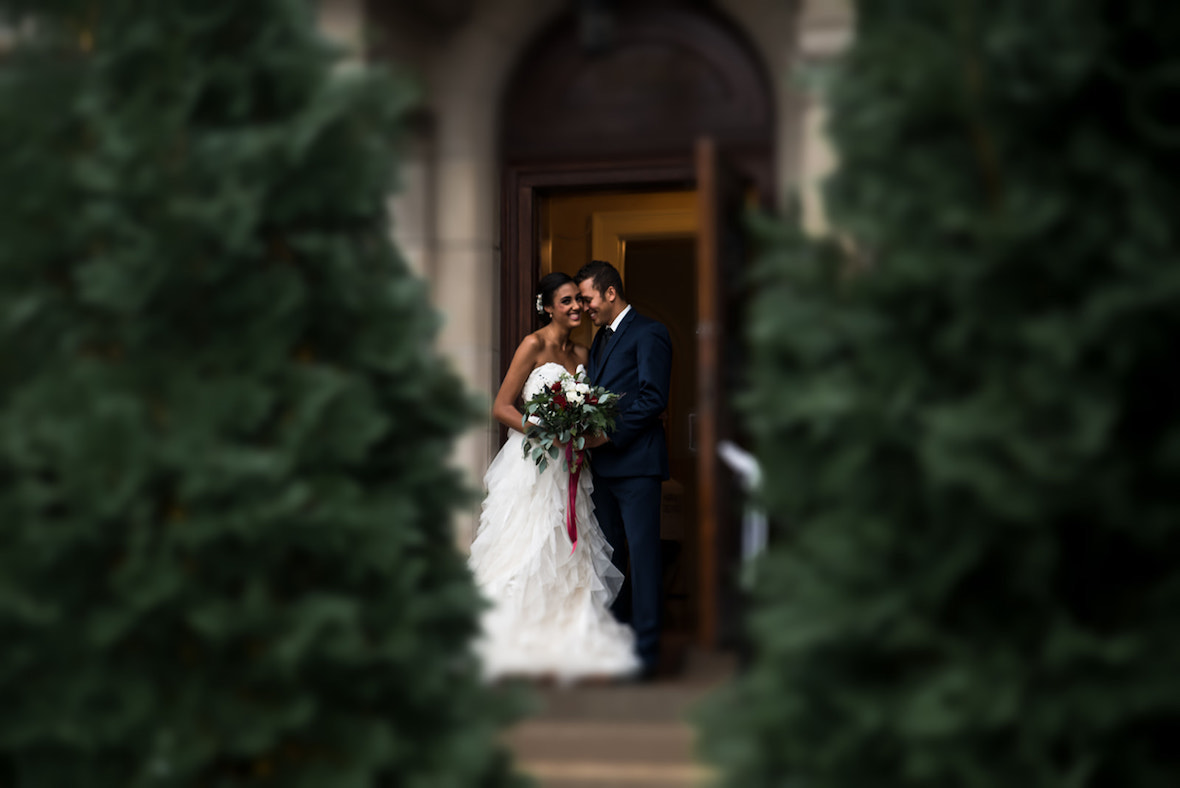 What special touches were used?
Everything was special. Every vendor that brought their creative juices and best work to the table was special. That is the beauty of real-life weddings, everything can be distinct and individual. When you do something with heart and passion you can always make something amazing! Let it be said that every vendor really worked hard to make the concept a reality to them, it was wonderful to work all together and really, was very special.
What was your favorite detail/moment of the day?
Oh, so many! One that I loved and that is so typical when you are in this industry was that on the morning of the shoot, I saw the carpet in the main living room and said, "lets move the carpet", it was a huge carpet and we moved it to reveal gorgeous wood floors that we weren't sure would be available on the shoot day. It was a great moment for both the shoot and hopefully a selling point for the venue. Definitely goes to show, you should always ask and don't ever assume when it comes to weddings!
How was the overall flow of the day?
The flow was great! The Forever Bride crew is always so amazing to work with and the vendors that are a part of Forever Bride are constant professionals who really value the work that they do and the relationships that they are building.
Menus or table numbers may seem like an easy task to DIY, but honestly why add one more item to your to do list? The DIY tasks quickly become little details that take up all of your mental head space. Thus, causing you to feel overwhelmed and ultimately leading to ugly cries in the car or in the bathroom. Don't do that to yourself! Let us help save you money, stress, and time!
Mention Forever Bride to receive 15% off total order (minimum of 4 piece suite) when you book your wedding package with WS Design!
PSA: This is YOUR wedding so do whatever you want! It is 2018, there is no such thing as "too big" or "too much." Our culture screams EXTRA. Do you see that beautiful art piece behind the table? Skape Events can build you a custom piece for your wedding! How sentimental and beautiful is that? That is part of your wedding you can bring into your new home and it will last a lifetime. I mean come on – how cute?!
Hottie tot tottie! Our groom is looking smoking hot in his suit from Bill's Toggery. Navy has never looked so good! Are you still trying to figure out what colors to wear? Go meet with our Suit & Tux vendors and they will guide you in the whole process and make the men in your wedding look absolutely dashing.

Mention Forever Bride at Bill's Toggery and receive a FREE groom's tux + $40 off each tux in wedding party with at least 6 in wedding party. Suit Purchase Special: Groom's suit is half price with purchase of at least 4 other suits in wedding party.
Keep scrolling for another stunning dress from My Darling Bridal! This dress features the longest train we have ever seen! It is timeless and will make you feel like straight up royalty. Prince Harry, where are you?
Receive 10% off Bridal Shoes at My Darling Bridal if you mention Forever Bride!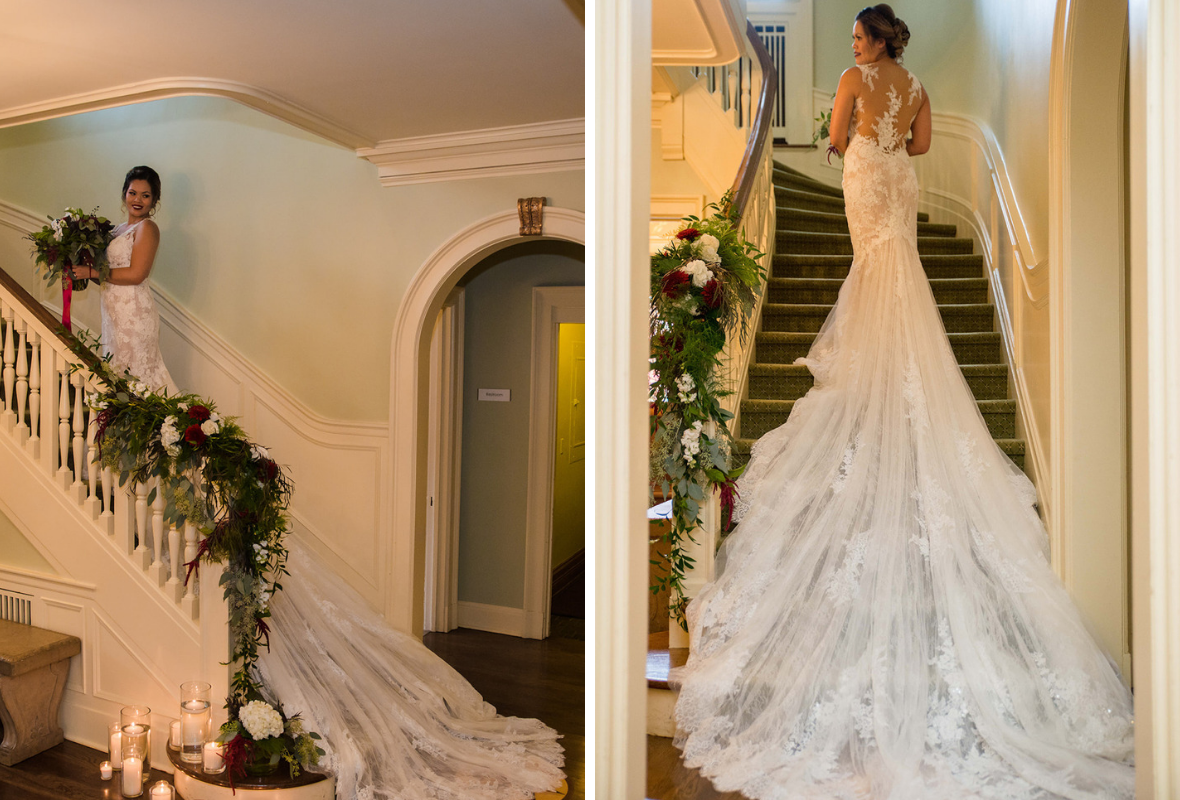 Now, take a second and think about all the little decor pieces that could make your wedding unforgettable and oh so Instagram worthy. It's kind of hard, because who knows what is all out there! Well we have a team of experts at Apres that can do all that for you! Walk through their amazing showroom and see what we are talking about. They can make your dreams come to life. As you scroll, you'll see several little pieces that came from them!
Mention Forever Bride when you contact Après to receive 10% off rentals""in stock items only. Delivery and Installation Excluded.
INK Sweets continually blows all of our expectations out of the water. The owner, Leah, pours her heart and soul into everything she creates and we can agree that the proof is in the pudding – or in this case the cake! She made those flowers! They aren't fake flowers, they are sugar flowers!
What is a wedding without florals?! M Flower Studio creates luscious floral pieces that bring so much life into a room. The owner Meghan, also owns a barn venue! Check it out, The Greenfield Barn.
Receive 15% off your entire wedding flower order when you book your venue at The Greenfield Barn!
It was the perfect day, just like your wedding will be. So don't worry. We've got you covered with everything you need! If you are still looking for a venue, take a look at St Paul College Club! They are centrally located in St Paul, so it is easy to get to but also very private. Every room – even the bathrooms – have beautiful details that will impress you and your guests!
Huge thank you to all of the vendors that were part of this day! We hope you enjoyed the pictures and will reach out to these business. Follow along to more of our adventures, on social media! @foreverbride or join our Facebook page for brides across the country!