Trend Report: Beautiful Backdrops for Your Wedding

Beautiful backdrops are taking over the wedding industry and have reached the top of many brides' wish lists. With our minds constantly on Instagram on Pinterest, the desire to create and capture beautiful images is a high priority for many.
Over here at Forever Bride we are loving this backdrop trend––it is so versatile and is allowing newlyweds to provide their guests with amazing photo opps, which in turn, provides some of the most beautiful images from their special day.
In this month's trend report I'll share why it's trending (duh, I mean that is the purpose of these blog posts"¦), how to incorporate it at your wedding, how it's so versatile, as well as some different types of backdrops!
So sit back with your cup of joe, or your favorite drink of choice, and get ready to be inspired! Cheers.
So why are beautiful backdrops currently trending? Have you ever done something just for the 'gram? I'm sure if I could see you all reading this I'd get several head nods"¦ Chances are you have, whether it's buying a box of doughnuts for a picture on National Doughnut day (& because they're delicious) or getting an expensive latte just for a flat-lay with the marble table in the coffee shop (& then drinking a cold coffee because you couldn't get the right angle the first 50 takes – been there, done that).
Content creation has become a hot topic that is constantly on the minds of many when it comes to the places they chose to eat, sip, and sometimes even shop. We can also thank Pinterest for providing us inspo only a click away!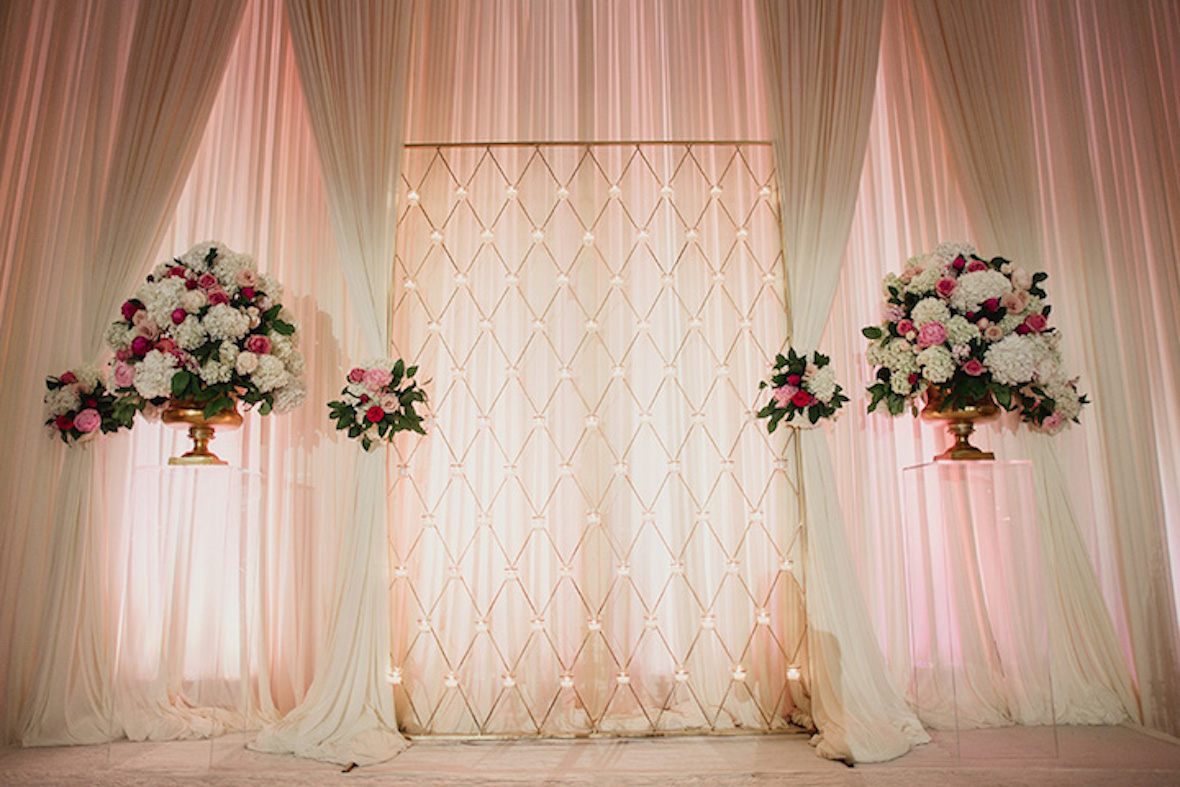 Okay, so now that we all understand why it's trending, thanks Instagram, I want to share with you how you can incorporate it on your big day! Creating a gorgeous background may seem intimidating or like it's too much work, but it's actually much simpler than it look!
For the D.I.Y guru it can be as simple as taking an old bookshelf and filling it with trinkets and florals (check out our Yacht Club Styled Shoot for simple ways to dress up patio chairs and shelves) or dressing up a plain wall with greenery and twinkling lights. Another way we've seen this executed by those master crafters is by hitting up a local home depot and buying some PVC pipe, spray paint, and some fake flowers. You can transform these materials into a gorgeous geometric shaped arch – a perfect back drop for your vows and then totally transportable to your reception space for a photo opp.
Even for those who consider themselves to be a little less "crafty", having a stunning backdrop is totally still an easy and doable option. Put your trust in our fabulous decor rental vendors to deliver your dream wedding set-up with their variety of rentals ranging from vintage chic to rustic boho to elegant. They have something for every style, taste, and Forever Bride!
Another way to create an awesome backdrop would be to ask your florist early on if they've ever done anything before. A lot of florists will have unique ideas or their own creative spin to put on a backdrop. Still looking for a florist for your big day? Make sure you check out our Forever Bride florists and our inside look at one of MN's finest florists, Bachman's!
We've seen stunning greenery hanging installments that double as décor and a photo wall. One of the Forever Brides that blogs for us from time to time is incorporating lyrics from her first dance song, as well as some flowers and greenery, for the focal piece of her reception and the perfect photo opp spot for guests! It's coming to life with the help of her florist and a $100 Etsy purchase. We can't wait to see how it turns out!
Alright, we've covered why they're trending and how to incorporate one on your day, now I want to share how they're so versatile. I already alluded to the main way they're versatile: they can double up as a unique background for when you share your vows and as a photo opp background! I've seen so many brides do this recently and I think it's so cute and budget savvy.
If you aren't getting married in a church you should definitely consider this option! It's such a smart way to stretch your flower, decoration, and ceremony budget. And it's also so fun to have many different types of photos in front of it. I've loved seeing bride and grooms sharing their first kiss as husband and wife in front of the same spot that some brides leave a polaroid out for guests to strike a pose for their guestbook! P.s. we LOVE your first kiss photos! Be sure to tag @forverbride on Instagram in all your wedding pics!
Another way to make a versatile backdrop is by adding a few decorations near or on the walls of your venue. We love how the above photo looks so welcoming and comfy cozy. By using the natural gorgeous brick wall, this bride only had to add a few touches to create a gorgeous ambiance and a photo-worthy section of her reception space. Can't you just picture a bride and her new husband or wife cuddled up on that sofa – sounds like a photographers dream!
Now on to the best part of this blog post, what are the different types of backdrops you could use on your big day? There are two main classifications for most backdrops, hanging and lifestyle.
Hanging Backdrop
Florals, lights, greenery – oh my! With so many gorgeous options, creating a custom hanging backdrop with a variety of stunning textures is a piece of cake.
The first step, is to consider the overall theme of your wedding. You don't want your backdrop to differ from the look, feel, and vibe you're going for throughout your wedding day. You want it to enhance and bring that vision to life! Are you a boho bride seeking botanical greenery or woven dream catchers, an elegant bride searching for simple florals, or a glam bride looking for all the shimmer and lights? There are so many different routes to go when creating a personalized backdrop for your wedding, but the best part of it all is that a hanging backdrop can be created for every type of bride. See our examples below on how to incorporate one of these gorgeous backdrops into your wedding.
Lifestyle Backdrop
Having gorgeous photos from your wedding guests is all about the aesthetic provided to them, and while the hanging backdrops may not be for everyone, a simple lifestyle setup can be! Our vendors have a variety of sofas, chairs, tables, and knick-knacks to choose from when designing your unique space.
Lifestyle backdrops are perfect as they double as a seating space for guests as well. Choosing a lifestyle backdrop provides guests with a desirable home-y feel where they may take pictures with the set-up or simply of the set-up alone.
I hope you ladies are as excited as I am about this trend. I love how versatile, own-able, and creative this trend can be. It's something that is a win-win for both you and your guests – you get awesome photos of your beautiful family and friends in a gorgeous setting and you get your money's worth out of all of the little details that go into planning a wedding! Just remember to stay true to your overall wedding vision and think about ways to use it more than just once in your wedding day.
The last tip I'll leave you with is make sure the space you're hoping guests use as a backdrop is well lit and advertised. Whether it's natural light provided from your venue, or artificial lights illuminating the beauty, make sure that your guests iPhone camera's will take a great shot. I also can't stress this enough, make sure it's clear to guests to stop and strike a pose in front of this location. Whether it's setting up a portable photo booth, signage or word of mouth, make sure people take advantage of it!
If you're not a Forever Bride, Bride yet, take a second to sign-up here and start saving on all of your wedding vendors!