As you guys have hopefully noticed by now, I try and share trend reports every week! I've been thinking about what topics to cover and the ones I keep coming back to are about whether or not something is a trend or fad. Being in the wedding industry, and a married lady myself, friends often reach out wondering if something they saw in the latest bridal magazine or all over Pinterest is here to stay or if it's just a fad.
This week I wanted to share about something that I so wish was around back when I got married, flower crowns! They are definitely here to stay! I love flowers. Any type of flowers, too. Give me roses or orchids or lilies, I love them all! And as much as I love all types of flowers, some work better than others in flower crowns. So I'm going to share my Top 20 favorite flower crowns and a few things to keep in mind if you are thinking about rocking one on your big day!
Be sure to tag us in your flower crown pictures @foreverbride!
First things first, you have to decide what flowers to use! As I said, I love all types of flowers, so for this piece of advice, I had to reach out to the experts. I asked some of the awesome florists we partner with to tell me what flowers they think are the best to wear in a flower crown. Here's what they had to say:
"Ranunculus, freesia, spray roses, fillers, pods, preserved greens, orchids, etc., really any blooms that hold up well out of water! Dried or preserved greens are also fun to use." – Kim of Artemisia Studios. She made that beautiful crown pictured above, plus the ones from our Boho Brunch Styled Shoot, keep scrolling!
"Some of my favorite flowers to use are ranunculus, astilbe, hellebore, thistle, dusty miller, succulents and Italian ruscus. Just to name a few 🙂 Smaller florals work best for longevity and are also helpful to work with while creating the crown." – Brooke from Brooke Floral / Styling / Events.
"Whatever flowers you use, they need to be sturdy, less thirsty flowers for floral crowns. That being said, roses work well, wax flower, most berries, Freesia, miniature carnations, spray roses" – Russell of Wisteria Design. Interested in making your own flower crown or meeting someone who can? Join us at our next Market on Sunday, November 4th! Look at how much fun these ladies had!
Now that you have an idea of what flowers work best, I thought I'd share the flowers that they all recommended to stay away from.
Specifically, don't incorporate tulips, sweet peas, most tender orchids, and lilacs. Mainly, do not use flowers that are too water thirsty. I'm SO glad I asked the professionals on what flowers work best, and what flowers not to use, because I probably would've lead you astray to have flowers that would wilt before your first dance, and nobody wants that!
Another tip I should share if you're planning on jumping on this trend is that there is such a thing as too big. Not only do you not want to be stressed about it falling off or being weighed down by a garden on your head, you also don't want it taking away from other parts of your big day. Like, let see.. Your dress! Or your beautiful face! If you want to see some beautiful flower crowns in different shapes and sizes, check out our Boho Bridal Brunch Styled Shoot! I think they work and look great with the dresses chosen and worn at a bridal shower or bachelorette, but when I think of a bride wearing one of those on her wedding day, I worry it'll become the focal point!
Keep in mind, flower crowns are like any other type of accessory, it's a matter of personal taste! So, if all of the inspirational pins you've added to your floral crown board are large and in charge, go on and rock it, girl! If you like smaller flowers mixed in with greenery, then I think our Untraditional Scandinavian Inspired Shoot has a flower crown (pictured above) that you'll love! I mean the mix of the greenery, the sprinkle of autumn and winter berries, plus the pops of colors in the floral are to die for! If bright colors or florals are a little much for you, there are more simple ways to wear a flower crown. Just check out this Lake Harriet Styled Shoot where the newlywed bride is wearing a simple, yet stand out, baby's breath crown. Definitely one of my favs!
Another way to wear a simple crown is to forgo flowers and have a greenery crown, like this bride. Beyond the simplicity of olive branch leaves or eucalyptus, you'll also be saving money! You know we're all about saving you money here at Forever Bride (sign-up now to save for your big day!), and while it is less expensive to go with just greenery, what should really be the most important factor in choosing greenery vs. flowers, is the tone and theme of your wedding. Do what you like and what works with your overall vision!
Okay, now that I've shared what flowers to incorporate, why one size does not fit all, and how to go with a simple crown, I want to answer what everyone is really wondering about flower crowns, how do they stay and not fall off?! Tip: do not use just plain old bobby pins, use hair pins! They are much better and help keep it in place. Also, most flower crowns can be made with an adjustable back so they can fit any head shape and be tightened when you put it on, you can kind of see what we mean in this Luxe Lavender Boho Styled Shoot. I'd work with your hairstylist to ensure it stays put through your first dance and sits on your head the way you like. Our ladies at Accolades did an amazing job at the Boho Brunch shoot!
One last thing, you may also be asking yourself, so who gets a flower crown? Typically, if you want to wear it, it's just the bride that has one, but if you're loving them as much as I do, why not have more? Some of my favorite ways to incorporate more floral crowns into your wedding day are on flower girls and if you are having a puppy at your wedding. I mean come on, after seeing this, you have to be convinced your pup needs one! Another way I would love to see crowns pulled off is the bridal party in simple greenery crowns and the bride in more decorated crowns. That would be absolutely gorgeous! If you are reading this, and plan on doing that for your wedding, please send us your pictures and tag us (@foreverbride) in them.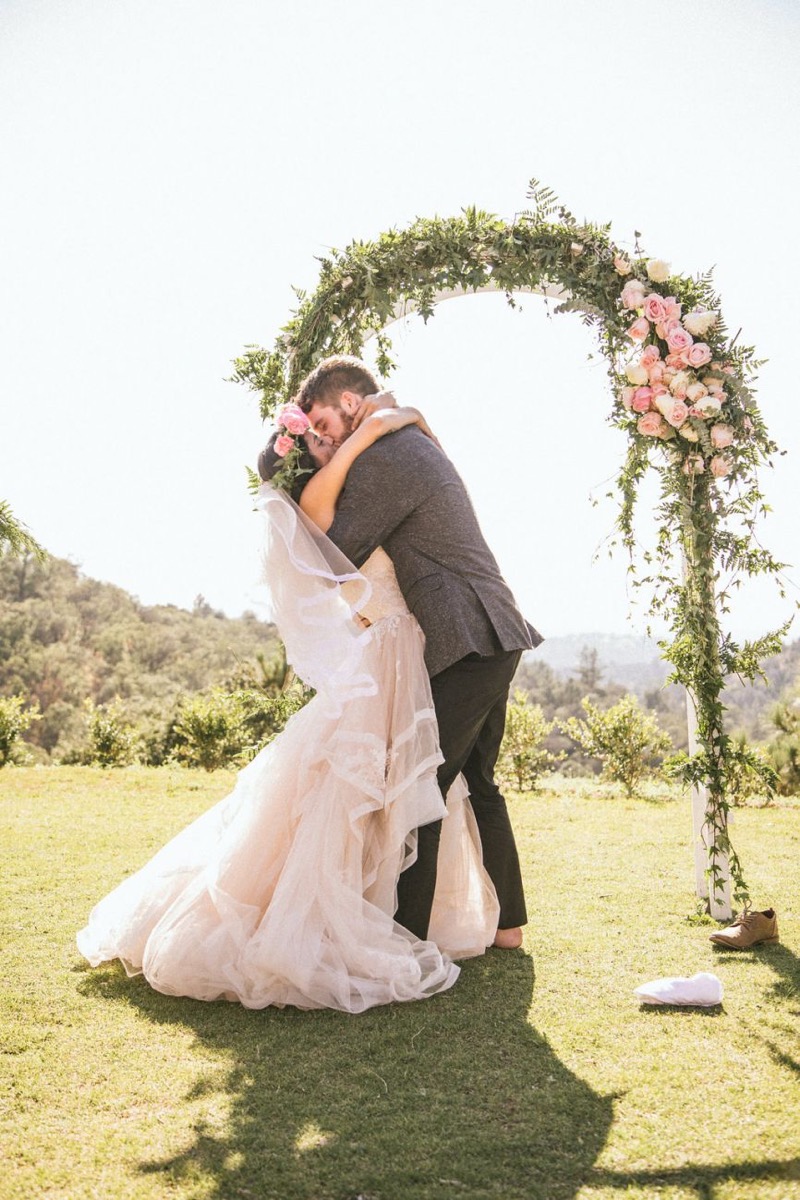 This Romantic + Moody Elopement in the Oregon Mountains kills me!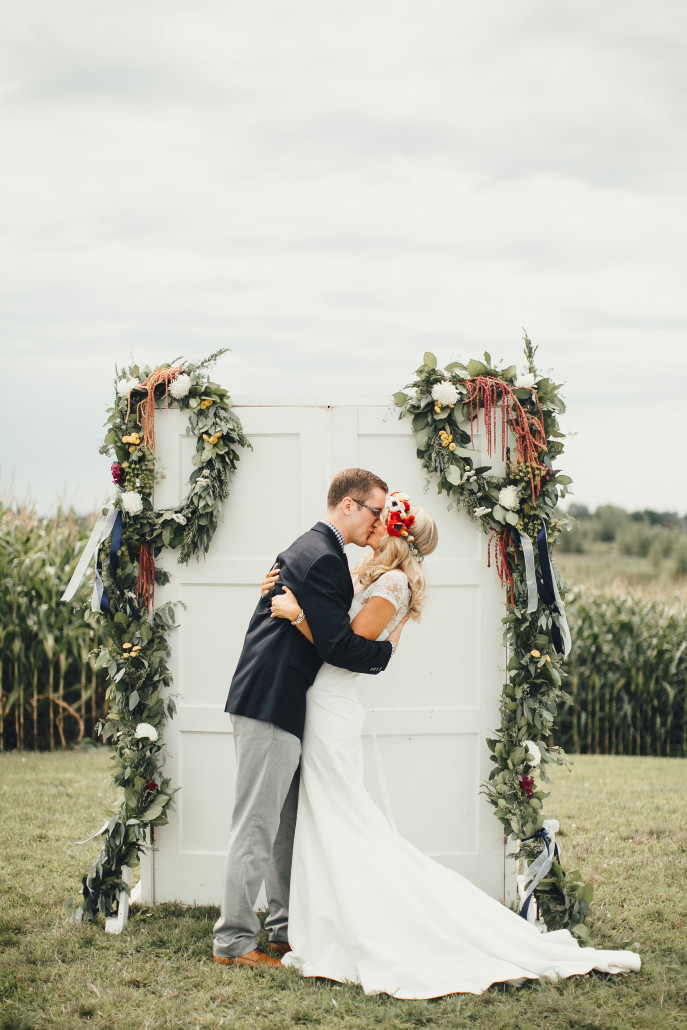 I hope you're 100% convinced that flower crowns are still on trend and that you take advantage of it,
like I would if I was getting married this year! I also hope sharing our Top 20 favorite flower crowns
inspired you and gave you direction on how to work with your florist! Remember, it's great to be
inspired, but don't worry about what others have done, be yourself! Do what YOU like. Express yourself
through what you pick! You can find more pictures on our Pinterest!