Finding the perfect pair of wedding shoes is almost as important as finding the perfect wedding dress. They're like the icing on the cake. Your wedding day look would be incomplete without them! If you haven't found the perfect pair yet, don't worry. We put together a list of our nine favorite wedding shoe styles to get you inspired. Whether you're a Cinderella looking for her glass slippers or a country girl looking for her cowboy boots, we've got you covered. See more great wedding shoe ideas here.
Wedding Shoes to Fall in Love With
1. Sneakers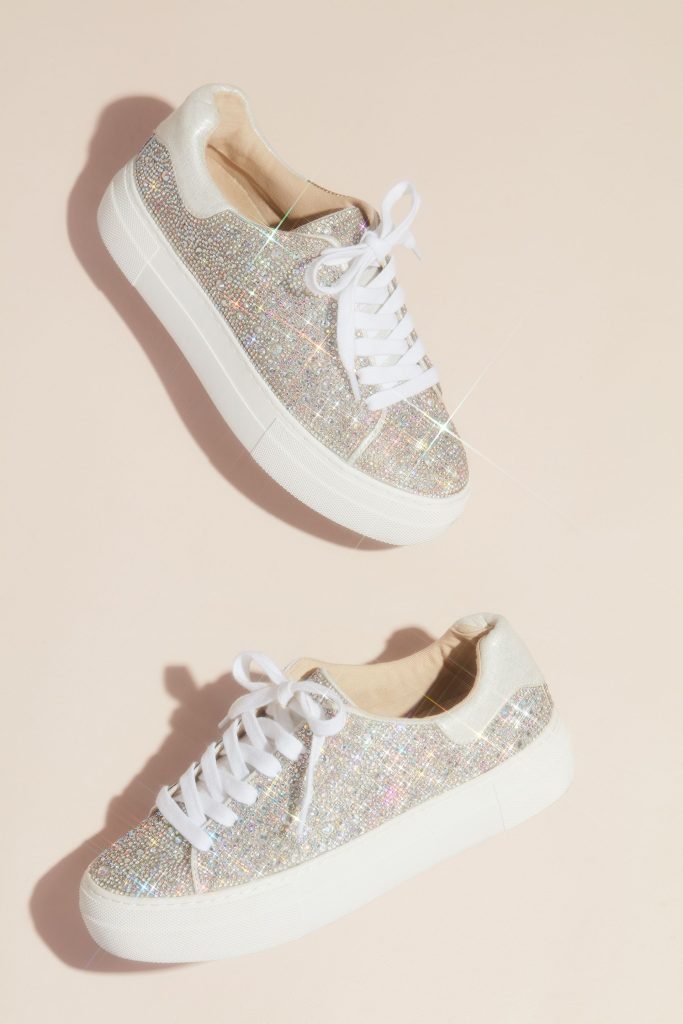 An elegant gown and a pair of sneakers – this modern and chic wedding day look is Cinderella and girl-next-door all in one. We love the idea of sneakers as wedding shoes, especially these Betsey Johnson x David's Bridal sneakers that have plenty of sparkle! They're untraditional, fun, and let's face it – they're way more comfortable than heels!
2. Cowboy Boots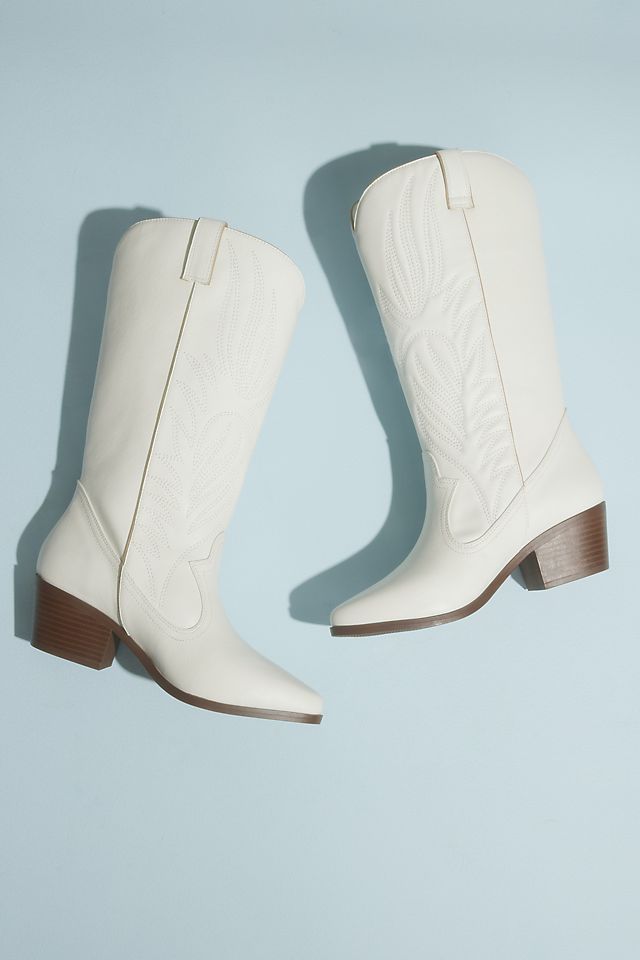 Popular among rustic and country brides, white cowboy boots are a great choice for brides looking to add southern charm to their wedding day look. They're an especially great choice for barn and farm weddings!
3. Slingback Pumps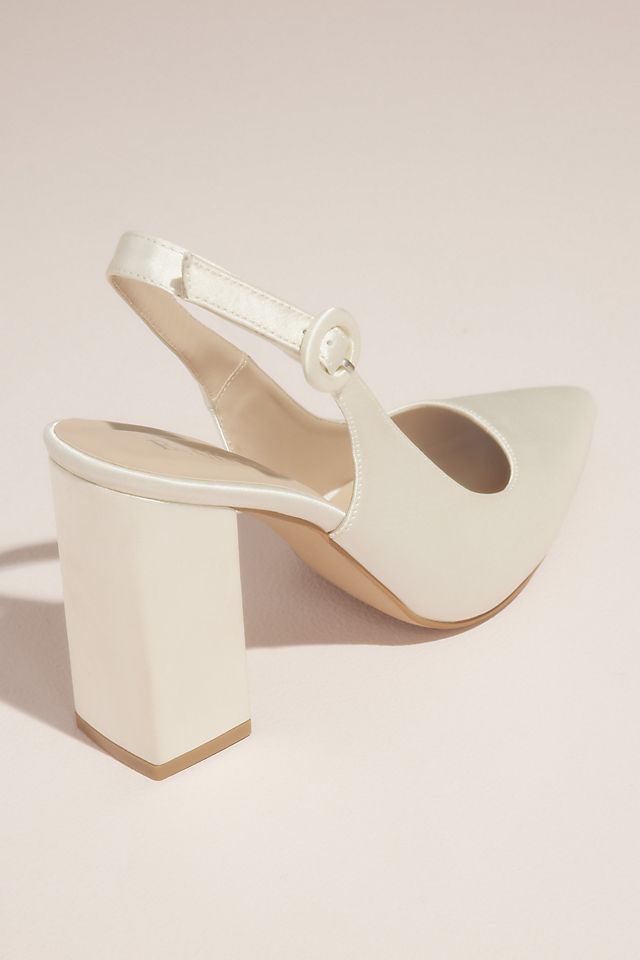 If your bridal style is simple but feminine, consider this pair of satin slingback pumps for your wedding shoes! The pointed toe adds a modern touch to a classic style, and the block heel will give you plenty of support, from your walk down the aisle to hours spent on the dance floor.
4. Bow Heels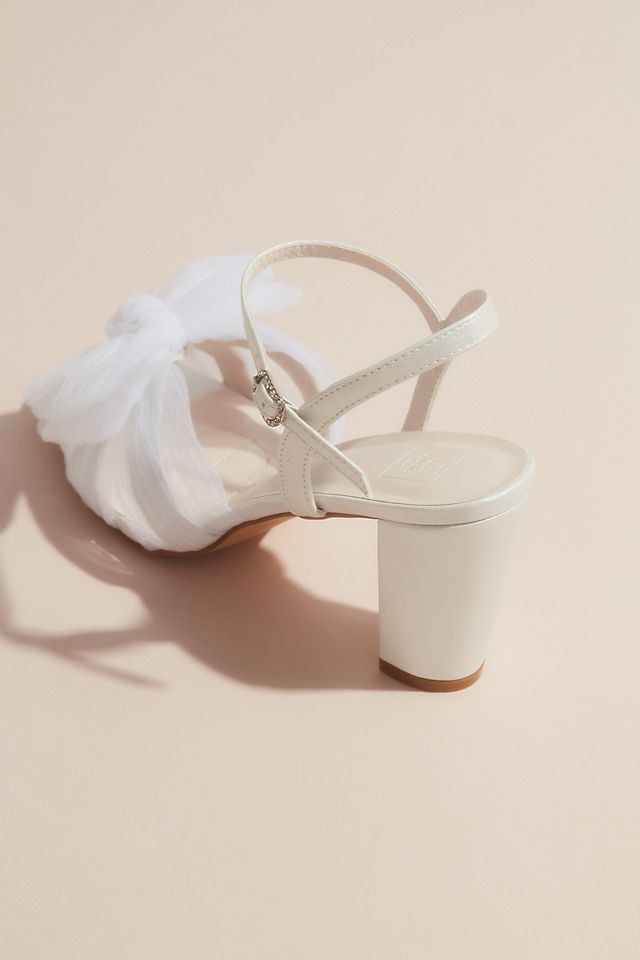 Whimsical, feminine and comfortable: these bridal bow heels have it all! Your guests will be charmed by the pleated, poufy chiffon bow at the toe , and your feet will love the short block heel after hours of dancing!
5. Strappy Heels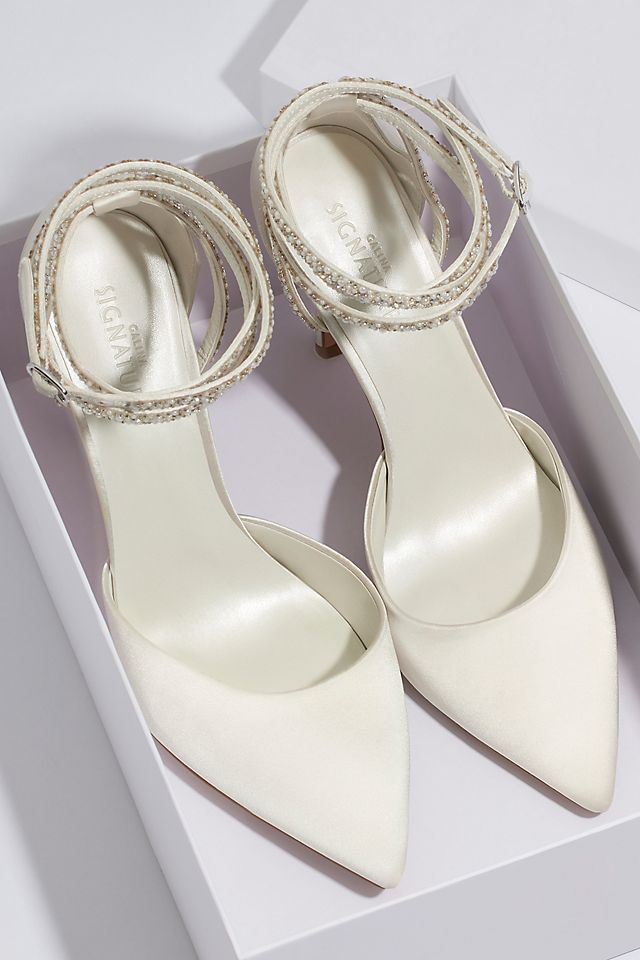 If you have your heart set on heels for your wedding day but find the traditional closed-toe style lacking in interest, then these strappy heels might be the perfect wedding shoes for you! Strappy heels have all of the elegance and class of traditional heels, and they make a statement.
6. Flats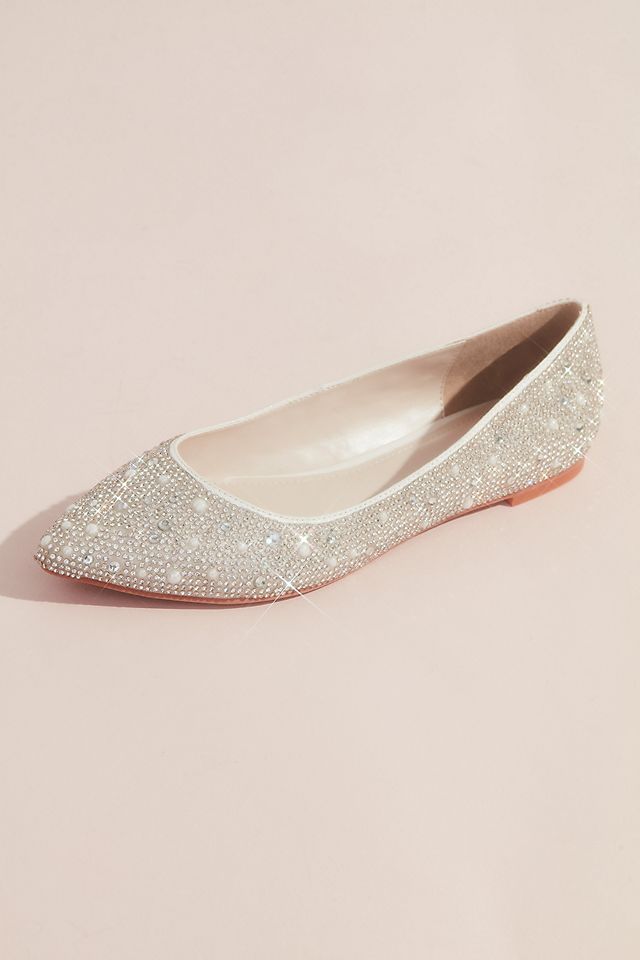 Flats are a great option for wedding shoes. They're pretty and sweet and don't hurt your feet – which means you'll be dancing all night long! The best thing about flats, though, is that there are so many options to choose from! These sparkling bridal flats are perfect for a bride ready to make a statement.
7. Sandals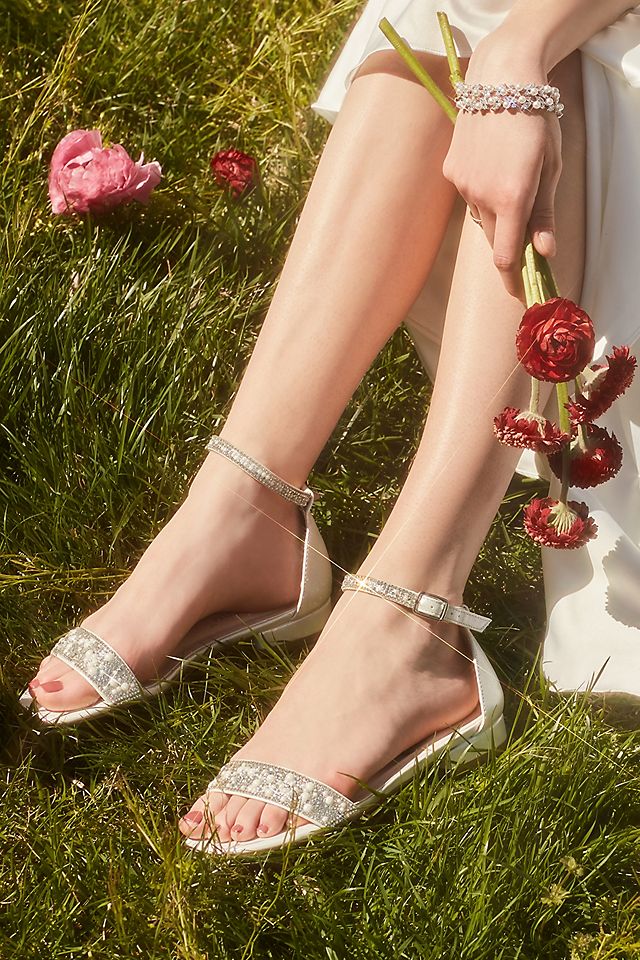 If you're having a summer wedding or beach wedding, sandals are a great option for wedding shoes. Opt for a flat sandal if you want to keep your look casual but still remain cute. Or choose one with a heel for a more elevated look. Whether you go with simple white sandals, a colorful, or sparkly pair like these, you can't go wrong! They're fun, comfortable, and affordable!
8. Platform Heels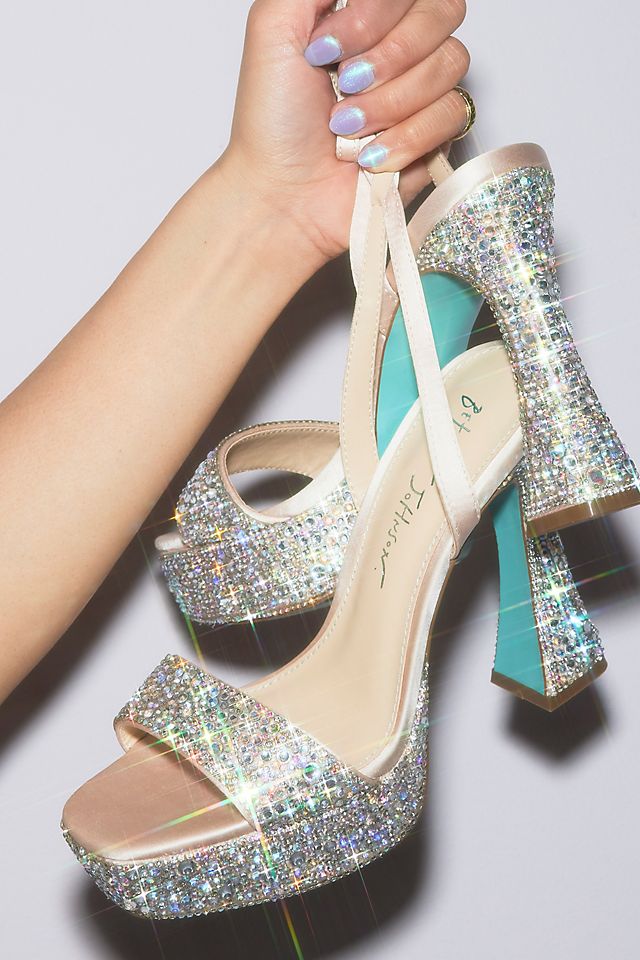 Do away with traditional and go with a pair of platform high heels! Just like these funky and unique platforms, there's a pair for everyone, and we love the way they show off your personality. 
9. Sparkle Pumps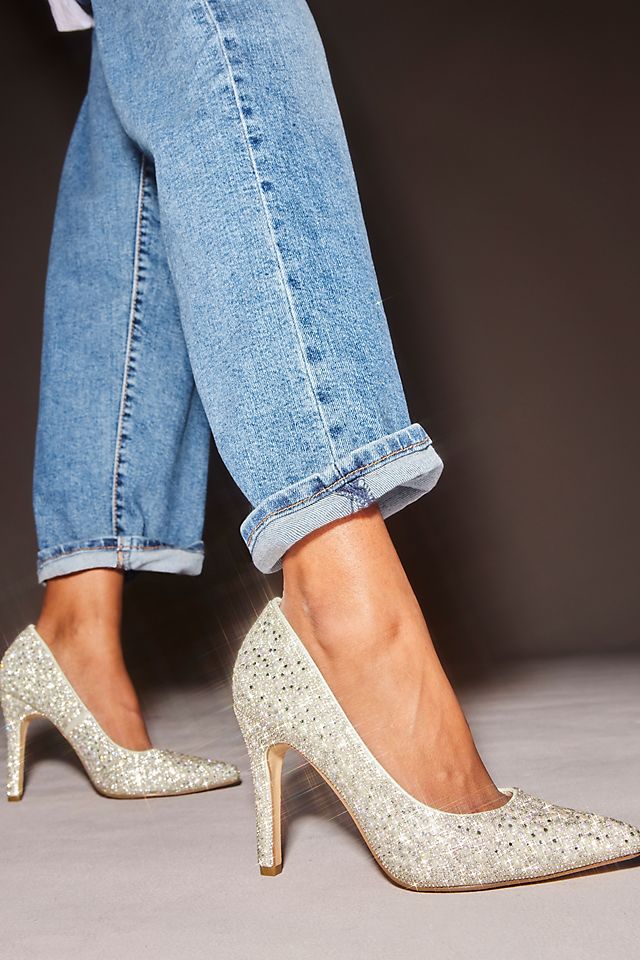 It's hard not to feel like Cinderella when your wedding shoes shimmer and shine. Add some sparkle to your wedding day look with these sparkly wedding heels. Beautiful and timeless, sparkly heels go with every gown and wedding style.
Did one of these shoe styles catch your eye? Head to davidsbridal.com to check out more wedding shoes inspiration! Need help nailing down your wedding day details? Check out Pearl by David's to find the perfect vendors, build your website, set up a registry, and more!