5 Top Wedding Trends To Look Out For This Year
If it felt like everyone you know was getting married in 2022, that's probably because it's true. The hottest wedding trends were couples who had to delay or downsize their celebrations in the past two years finally tying the knot, publicly and in style. What does that matrimonial boom mean for 2023 brides? Well, many are looking for wedding trends in 2023 that will set them apart from all those recent events and make the day uniquely their own. "Many couples are getting a head start on planning their weddings for the 2023 season and they are looking to do things differently from their newly married friends," says Dora Deodhar, founder of Peaches 'n Cream Weddings in Toronto, Canada. "Couples are choosing to do away with tradition and focus on practicality and individuality as they plan their big day, and we are here for it!"
Here are five of the top wedding trends for 2023, as identified by industry professionals. See if one (or more) of these wedding trends can help you plan the day of your dreams, or at least be a jumping-off point for making the day as special as you always imagined it.
1. Unconventional Wedding Parties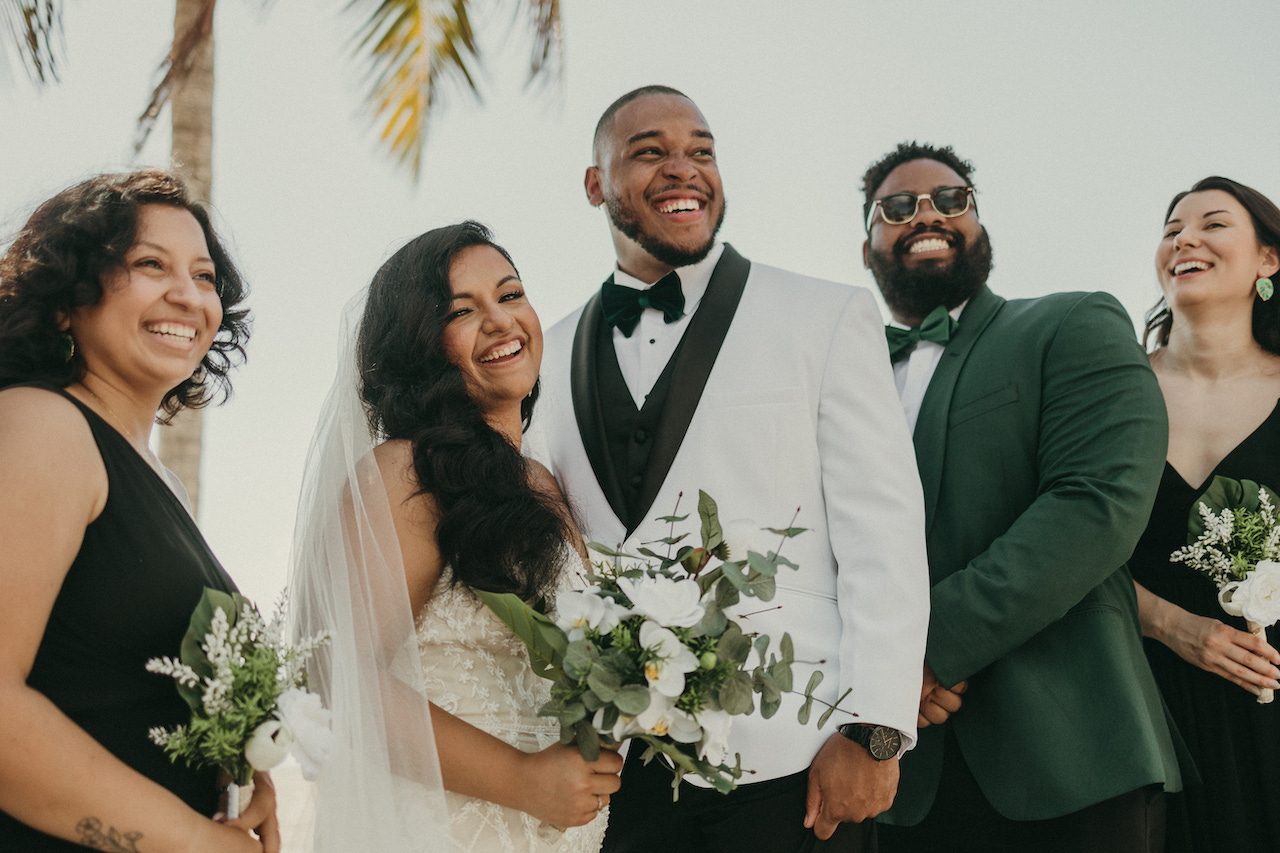 Photo by Solo Mio Photography
If you've been considering breaking tradition when it comes to your wedding party and attendants, you are not alone. A welcome wedding trend in 2023 is embracing flexibility when it comes to who is standing by your side on your big day. Instead of being concerned with matching outfits and having the same number of people on the bride's and groom's sides, modern couples are more interested in having those they love next to them on the most important day of their lives.
To that end, many couples are doing away with traditional gender-segregated, perfectly even groupings of bridesmaids and groomsmen and opting for "bridesmen" and "groomsmaids" so they can include close friends of the opposite gender in their wedding party. Brides and grooms are also fine with uneven numbers of attendants, and fewer of them all together, as smaller, more intimate weddings trend in 2023. Whether you plan on a more traditional wedding party, or one that's less conventional, the most important thing is to select people who are important to you who will support you every step of the way!
2. Reception Outfit Changes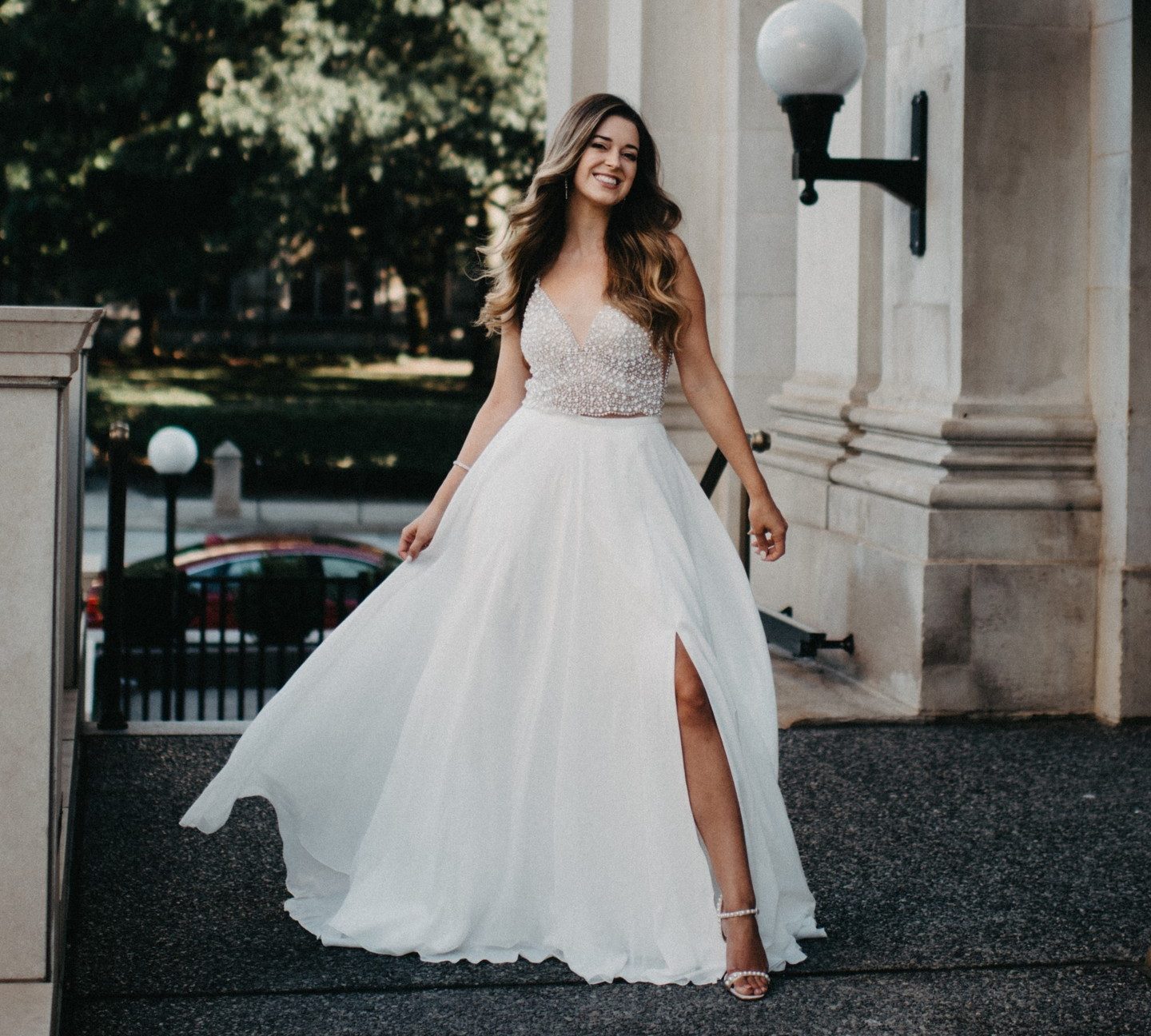 Photo by @gabriellepayne
One of the more fun wedding trends 2023 brings is the post-ceremony outfit change. While brides changing out of their wedding gowns into something simpler for their receptions isn't new, the practice is becoming more prevalent. In some cases, brides changing into multiple outfits has cultural significance, but it can also be simply a matter of practicality or preference. The goal is to express yourself and choose something that reflects your personality, but will keep you comfortable as you dance and party the night away. Some brides even opt for cute white jumpsuits or rompers.
Shoes are another factor to consider when changing outfits. You may want the Mischka Badgley peep toes for the ceremony and forma photographs, but your reception may be the time to pull out your favorite kicks so you can stay vertical into the wee hours of the night.
Also, this wedding trend isn't for ladies only. Some couples have even decided to take it a step further and have the bride and groom change into matching sweatsuits or other comfortable outfits they can dance in. If you are one of the few bold and brave, you can make an even more dramatic change, such as a pre-reception haircut or tattoo that will definitely make your guests do a double-take. Forget the same-day video edit and go for the same-day transformation instead!
3. Having a "First Look"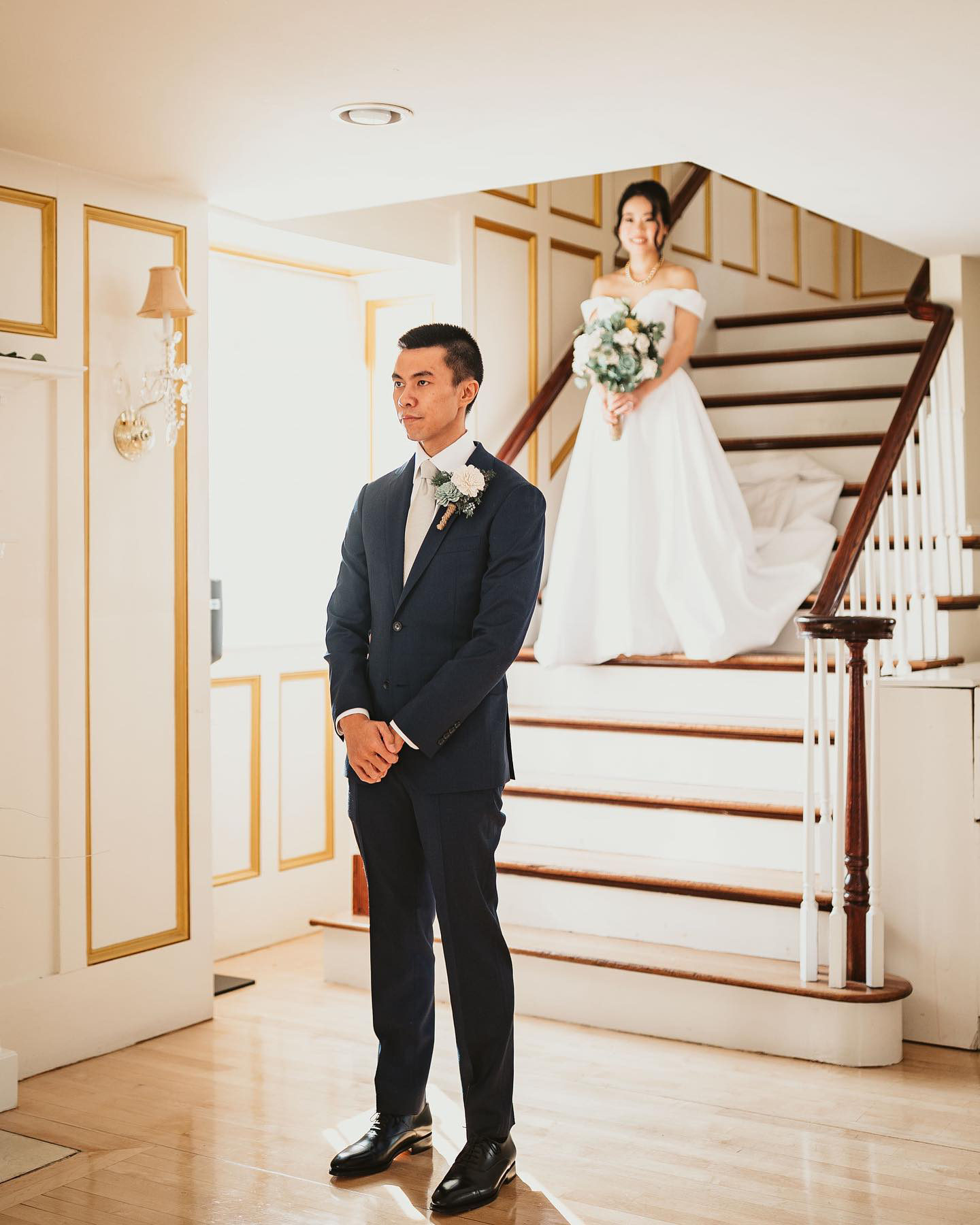 Photo by @yimotion_photography
Having a first look at your wedding, which involves creating a private moment before the ceremony for the bride and groom to see each other and sometimes take photos, isn't exactly new. But it qualifies as one of 2023's wedding trends because it's a practice that is growing in popularity.
While there is something sweet about the tradition of the bride and groom not seeing one another before the ceremony, there are plenty of reasons to consider having a first look on your big day:
A first look allows you to get some of those pre-wedding jitters out of the way early.
You can finish taking photos before the ceremony and spend the cocktail hour actually enjoying drinks and fun with your guests.
You won't feel rushed through a photoshoot after the ceremony, and will be better able to enjoy both the shoot and the festivities without taking a lot of time away from your guests.
No matter how many "unplugged ceremony" signs you put up or how many times you mention it on your invitations or have your officiant ask people to put their phones away, your guests can't help but poke their heads into the aisle to sneak pictures as you are walking up. A first look allows you to have an unobstructed view of your partner when you see them in their wedding attire for the first time.
Arguably the best reason: You get to share your initial reactions and thoughts with one another. Not only do you get to think all of the sweet and loving thoughts about how amazing your partner looks, but you get to tell them that and hear their heart as well. It becomes a sweet and intimate moment between the two of you.
4. Hanging Wedding Flowers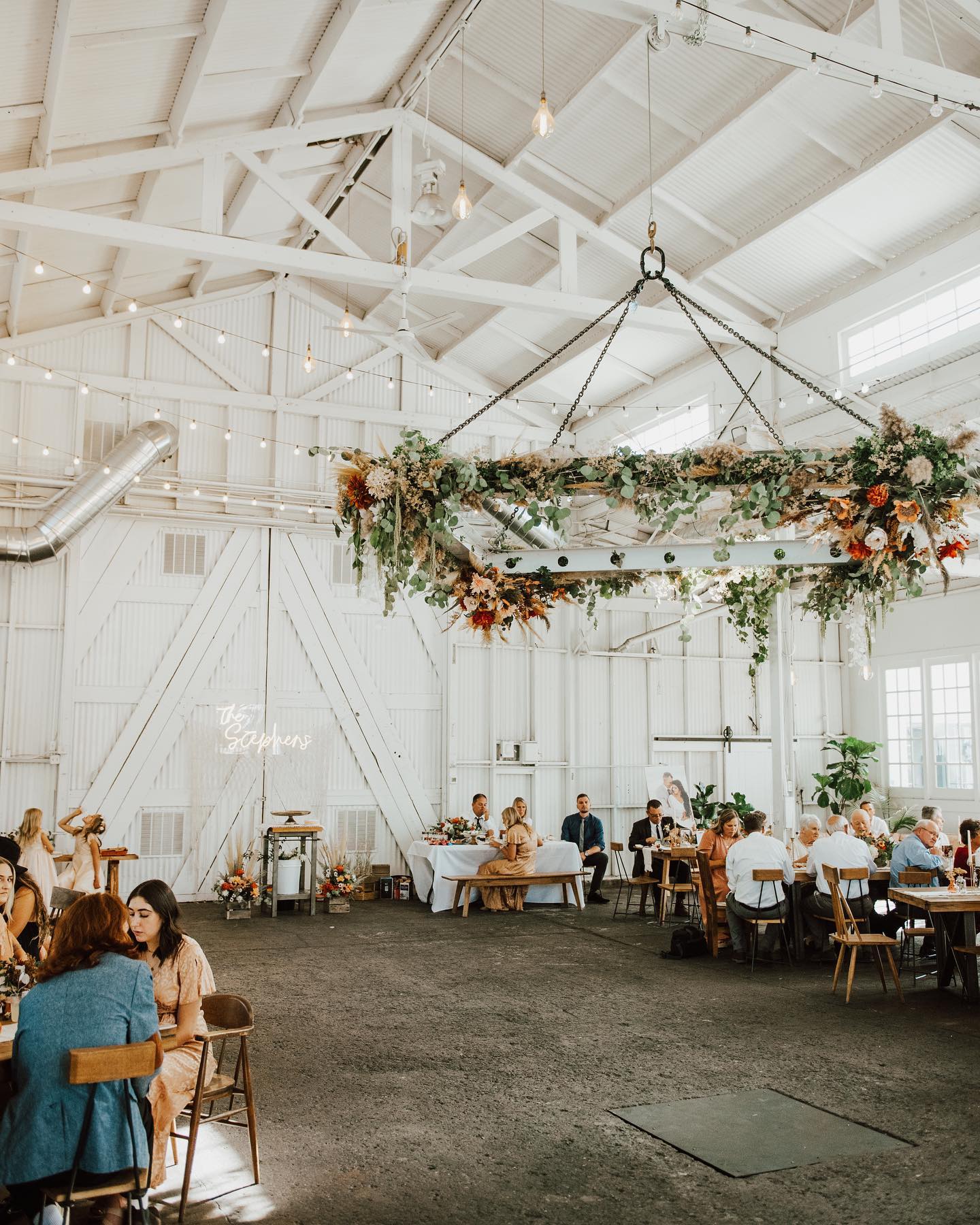 Photo by @sadie.photog
Elaborate wedding flowers are definitely popular, with bud vases being swapped for larger garlands and centerpieces, and floral arches and arbors being used as backdrops and focal points for ceremonies and receptions alike. Even small pew bows and flower petals down the aisle are being replaced with larger aisle markers on pedestals, which can sometimes double as centerpieces (a cost saver if your florist can pull it off).
But one of the most dramatic wedding trends in 2023 involves floral installations that are suspended from the venue's ceiling or lights. Though not every florist or decorator can create a hanging floral installation, those that do are finding themselves booking up quickly as demand for this service grows. Some couples are keeping it simple by using some green vines wrapped around wooden beams, while others prefer large and complex floral arrangements that require days of assembly and incorporate lights of some sort. For an elegant event, chandeliers can be interspersed in a large and full floral arrangement. Bulbs and twinkle lights can be used for a more romantic garden theme. The unexpected element of flowers floating above can bring a distinct wow factor to your reception that you and your guests are sure to love.
5. Audio Guestbooks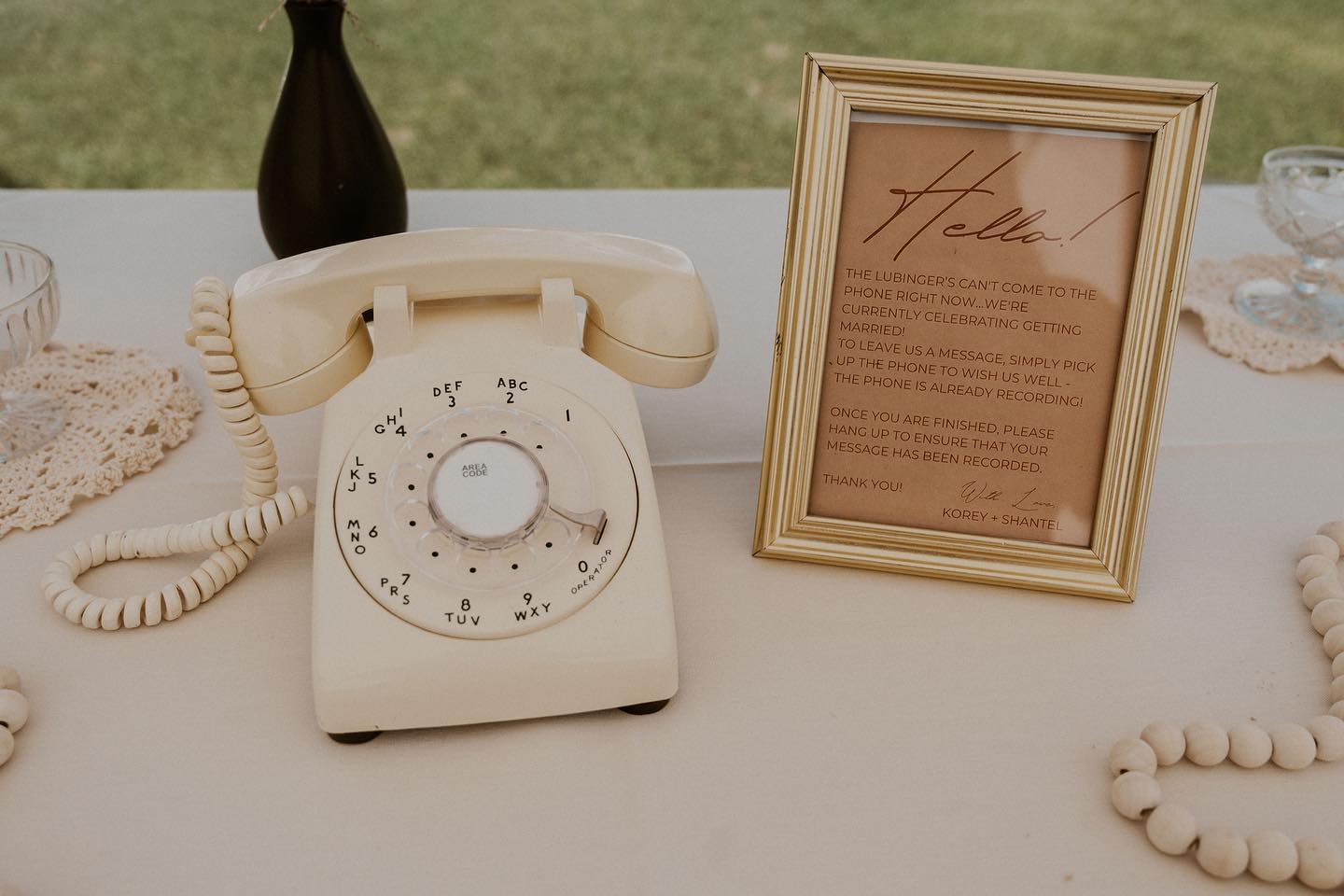 Photo by @thaliacatherynphotography
Guest books, as simple as they seem, have been the subject of a surprisingly high number of wedding trends. Over the years, couples have moved from traditional pen and paper guest books to framed photos and personalized books with engagement photos. They've experimented with signed cutting boards, guitars, hanging artwork, and other creative pieces. For the last five or six years, one of the most popular options couples have chosen is using photobooth strips and Instax photos to create visual guest books by sticking the photos to the book and asking their guests to sign next to their photos.
While many of these guestbook variations will probably still be quite popular, one of the emerging wedding trends in 2023 will be audio guest books. There are a number of companies popping up all over the world that offer audio guest books. Usually, these use a battery-powered device that looks like a vintage rotary phone or payphone. Guests can uses the phone during the wedding to record a message for the couple, and the company will create an mp4 video with all of the messages for the couple to keep. For anyone who likes the sentimental value of hearing your loved ones' voices saying wonderful things about you, this is the guestbook of your dreams. It's different and fun for your guests to use, while providing you with memories that you can access at any time.
Whether you incorporate one or all of these wedding trends, or simply use them as inspiration for ways to make your wedding unique, they are a great starting point for couples who are planning a wedding in 2023. Weddings are based in tradition, but that doesn't mean you can't get creative and find ways to make your big day as special as the love you have for one another.
Click here to get everything you need to plan the perfect nuptials, from creating a vision board and wedding website to finding the perfect local wedding vendors!