Claire and Taylor were married in St. Louis, Missouri – the city where they fell in love – in a beautiful hotel ceremony. She was in a beautiful lace gown, he in a navy suit, and the bridesmaids in fabulous mismatched dresses! With a sunny, picturesque park, the downtown city streets, and the hotel's incredible skyline view, there were no shortage of amazing photo ops.
The reception took place in one of the hotel's stunning ballrooms and featured lavish decor with white, gold, and teal accents. "Our favorite detail of the wedding was the gold heirloom mirror we used to display our seating arrangements," Claire shared. "We hired a calligrapher to create the display, and included a handwritten note at the bottom of the mirror to honor Claire's passed grandmother, who owned the heirloom."
If you're like us and loving the mismatched bridesmaid dresses trend, click here for tips on how to make them flow together nicely!
Take a look at Claire and Taylor's gorgeous wedding St. Louis, and scroll to the bottom for more city weddings!
We're obsessed with the cute pajama sets the girls wore the morning of the wedding – fun floral patterns for the bridesmaids and white, of course, for the bride!
Claire's all-lace gown is stunning on her!
The first time Taylor saw Claire in her wedding dress, such a sweet moment!
Claire had always loved the idea of mismatched bridesmaid dresses, and with varying shades of color and texture, she was able to pull off a beautiful natural palette!
How amazing is this photo?! The couple wanted to incorporate their love for St. Louis into their wedding and these photos do it perfectly!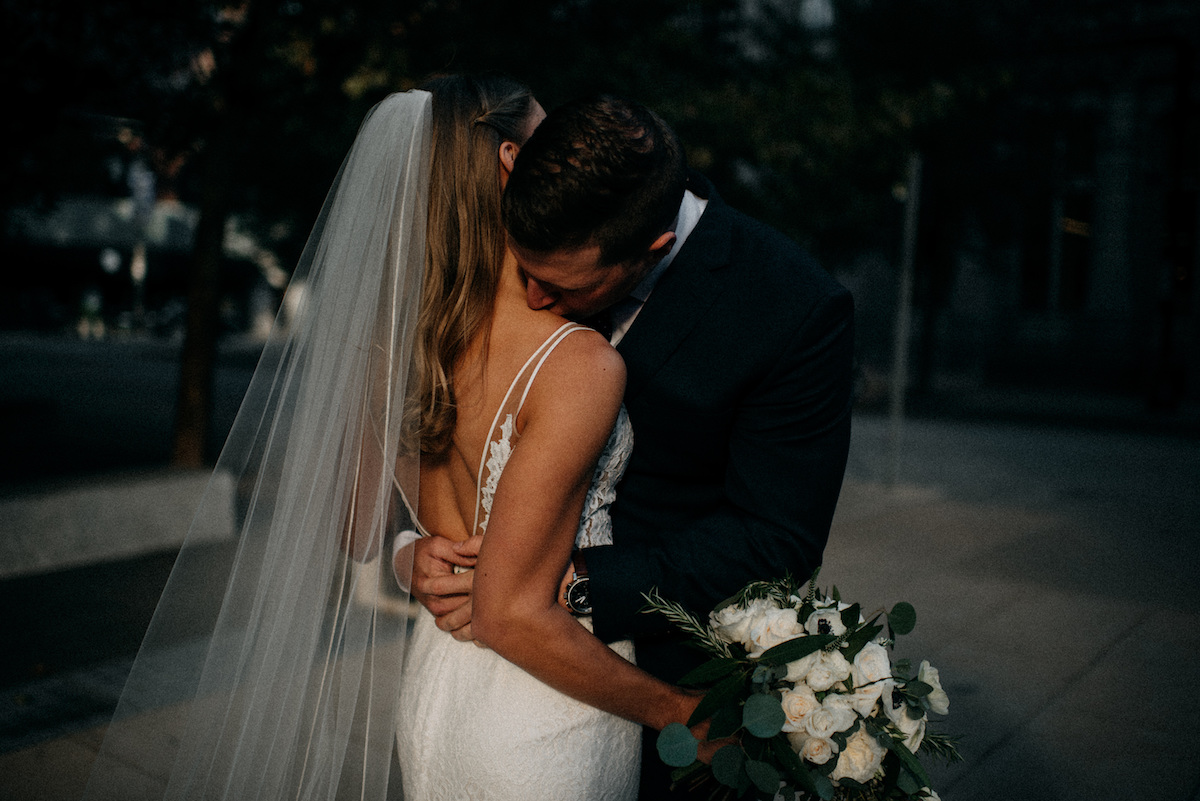 All of the beautiful calligraphy done for this wedding adds perfectly to the polished style.
The white roses on this minimalistic wedding cake give it the perfect amount of elegant detail.
Isn't this reception just a dream?! Somehow cozy and lavish at the same time; we're in love!
Want to see more city weddings? Check out this Elegant Romance in the City Skyline Wedding and this Urban Winter Warehouse Wedding for some incredible Minneapolis views!