If you don't believe in fate, Ashleigh and Adam's story just might change that for you. Ashleigh and Adam met on a flight to Thailand-she was going on a girl's trip and he was going on a boy's trip.Coincidentally, they werestaying in the same hotel the first night and their two groups of friends explored for an entire 3 weeks together. They all became great friends on that trip and Ashleigh and Adam continued that friendship afterwards for many years. Although it took some time of just being friends, they eventually realized that they were meant to be and here they are today… they had a beautiful wedding and are now happily married.
Ashleigh's vision for their big day was lots of color, lots of greenery, andlots of FUN! They achieved just that. With very neutral colors for the bridal party, they added the perfect pops of vibrant colorsin the floral and décor. Also, much of what you will see in these photos, she and her family did themselves! They were very much hands-on and included tons of DIY projects for the ceremony and reception. We definitely think that Ashleigh pulled off her vision quite perfectly to say the least. It turned out absolutely stunning.
Enjoy!
This is how you know you picked the best personal attendant!
Absolutely in love with this!
Ashleigh's bouquet is the definition of perfection.
The moment it finally hits you that your looking at your soon-to-be husband!
She even had pops of color in her hair…LOVE!
These bridesmaid dresses are amazing. Elegant, girly and chic.
Such a cool idea!
We love the pops of orange, red, yellow, purple, pink and blue she put in her décor. So colorful!
Obviously we had to include this cute little fur baby watching the ceremony!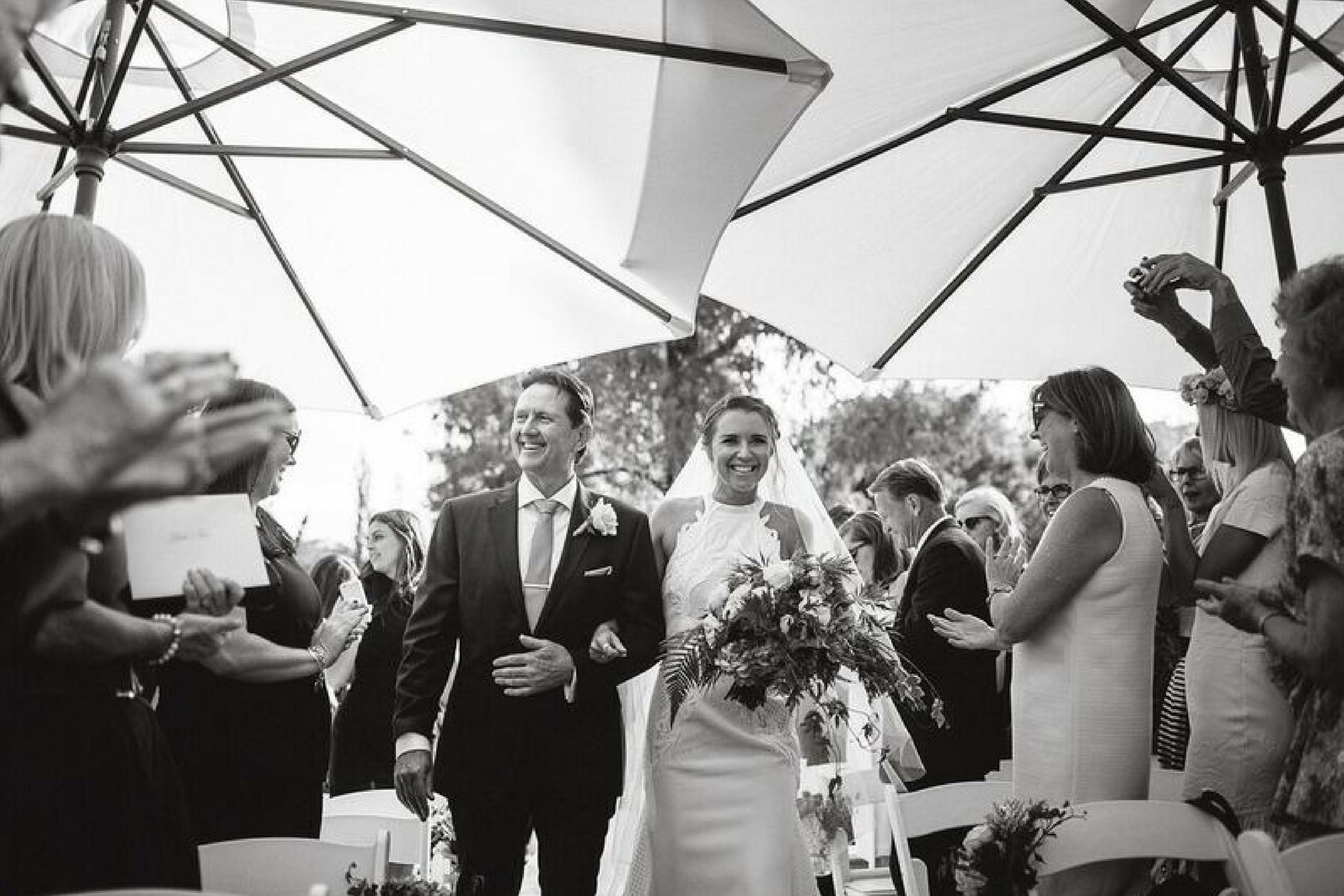 Show your man some extra love by getting his ring at Manly Bands.
One our favorites from their wedding!
We love this shot of her dress. It's so unique. Ashleigh did not want lace & did not want it to be too traditional. So, they had a range of appliques and mesh materials to get more of a modern look for this traditional dress style.
Are you smitten with the idea of DIY-ing your own wedding? We know you'll be finding inspiration from this DIY Wedding in an Airport…seriously, they had their reception in an airport hangar. How unique and original is that?!
The bond these two have is undeniable in these photos…so special.
Curious what Ashleigh and Adam chose for their first dance song?
Okay, okay we'll tell you… Uptown Funk by Bruno Mars. How fun?! Gotta love the couples who aren't afraid to trade in the slow emotional songs for one that represents their personalities to a T. Ashleigh said that the crowd loved the energy and couldn't help but join them half way through!
Love the idea of a DIY wedding?! We've got plenty of ideas and tips for you, just check out some of our DIY blogs!