Inspired by fresh greenery, the cutest animals, and the outdoors––our Naturally Wild Styled Shoot connects traditional with natural in the most captivating yet beautiful way.
From the bride and groom posing with zoo animals to a custom wedding dress, this unique styled shoot throws your imagination and wedding possibilities into something….well, WILD!
We called in only the best wedding professionals to truly bring these ideas to life. And we couldn't be more thrilled with how everything turned out!! Our main photographer, Athena of Empiria Studioscaptured this day beautifully (just wait till you see all the photos!!!) Make sure to mention Forever Bride to Empiria Studios to receive $150 towards a wedding album. Details here!
Let's take a gander at what our dream team created, shall we?
P.S. Feel free to sneakBEHIND-THE-SCENES LOOKof this styled shoot shot by Decora Topp Photography.
First things first, let's talk GLAM! The bride rocked natural makeup with a shimmering glow thanks to our girl, Glam by Sam.
Contact Glam by Sam for their latest Forever Bride deal!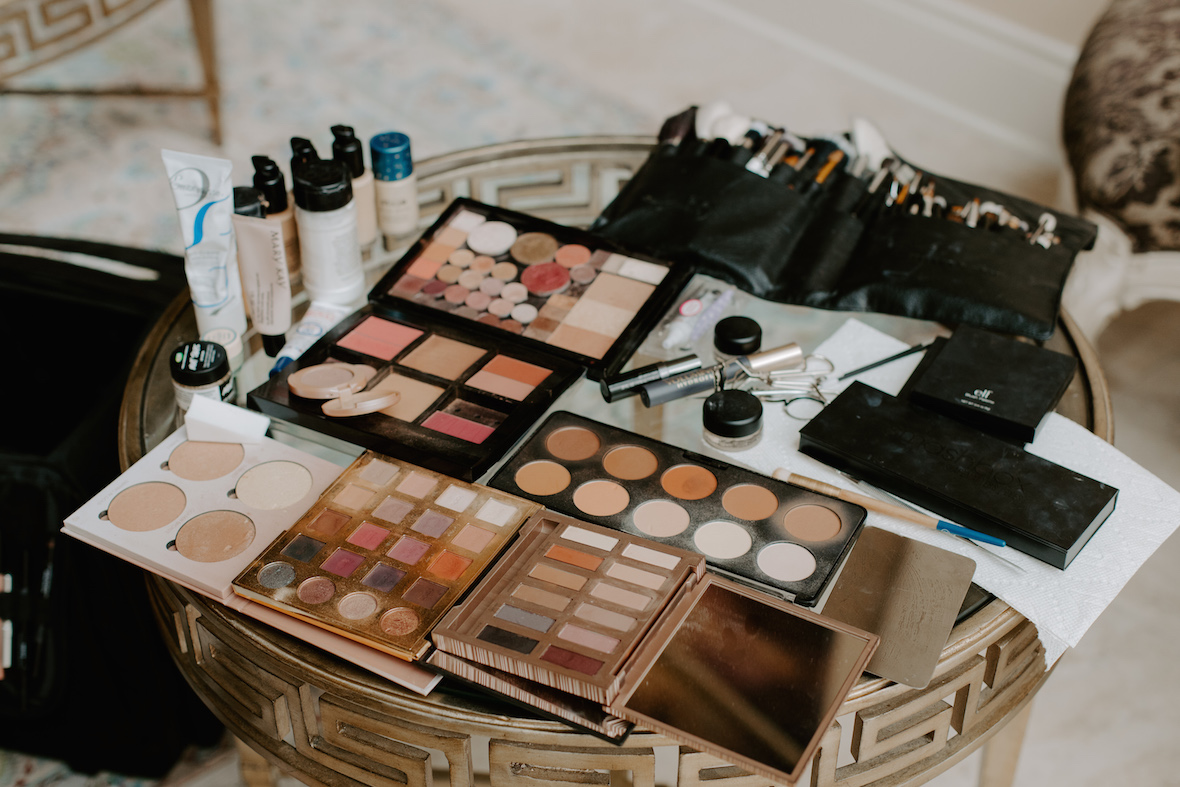 *SWOONING*
Rose gold jewelry has never been more popular and we are here for it! Max's provided this stunning array of jewelry, including the engagement ring… and WOW! Which piece is your favorite?!
Forever Bride Deal: Did you know that Max's has a rewards program? It's true! For every $10 that you spend, you receive 1 reward point. Reward points are intended to be used as dollars off against a future purchase. For wedding couples, that often means a big savings on a wedding band or his band when you buy an engagement ring with them.

Details here.
We are obsessed with how Epitome Papers tied in the natural greenery theme + rose gold in the invitation suite. It hints at what the wedding inspiration is all about!
Forever Bride Deal: Mention that you found Epitome Papers on Forever Bride to receive their look-book filled with tips and tricks for planning invitations on your special day. Plus you will receive 5% off your invitation suite!

Details here.
The natural scenery complemented the bride's custom wedding gown in the most serene way possible. The designer, Mara of Mara Marie Bridal opted for a timeless gown that doesn't compete with the backdrop. Instead, it tells a story of its own.
Contact Mara Marie Bridal for their latest Forever Bride Deal.
P.S. Imagine handing your ideas to a professional wedding gown designer and being sewn into the dress of your dreams! Learn what the custom design process looks like with Mara Marie Bridal here!
The stunning florals were designed by Brooke Conlin Events & Styling. We are drawn in by the texture and natural palette!
Contact Brooke Conlin Events & Styling for their latest Forever Bride Deal!
How dapper does our groom look in his timeless black suit by Savvi Formalwear?!
Contact Savvi Formalwear for their latest Forever Bride Deal!
To pull off the natural look, PALINDROME softly swept the bride's hair into a side ponytail. And I think we can all agree that she looks like a goddess!
Contact PALINDROME for their latest Forever Bride Deal!
The soft white table linens + gorgeous decor were borrowed from Aprés Events Decor & Tent Rental.
Forever Bride Deal: Mention Forever Bride when you contact Après to receive 10% off rentals

Details here.
Lancer Catering made our reception food dreams come true (view more of the BTS photos of the food here) by providing not only tasty food, but aesthetically pleasing meals, too.
Contact Lancer Catering for their latest Forever Bride Deal!
Truffles and chocolate, YUM! Cafe Latte provided the delectable desserts that only made this shoot sweeter!
Contact Cafe Latte for their latest Forever Bride Deal!
Behind-the-scenes of the stunning setup and breathtaking backdrops, the incredibly talented–Availed Wedding & Event Planning––was there planning, designing + coordinating the big production. And my oh my… she did a wonderful job!
Forever Bride Deal: 20% off any package when booking Availed Wedding & Event Planning through Forever Bride.

Details here.
But seriously… how darling is our bride, Madellina & groom, SJ?!
SO SO SWEET!
And of course, this styled shoot couldn't have been created without Como Zoo. Set inside magical gardens, open space, and of course, this fun carousel––thinking outside the box was easy and beautiful to do!
Contact Como Zoo for their latest Forever Bride Deal!
Okay, get ready for the animal cuteness overload…
Cuuuuuuuuute!!
Who else would LOVE to feed giraffes at your wedding? YES PLEASE!
Speaking of zebras, check out this boho farm wedding that also had a zebra!!!
Thank you, thank you to our incredible team of wedding vendors that brought our vision to life.
Inspired for your upcoming wedding? (Us too!!!) We encourage you to check out the vendors who were involved in this Forever Bride styled shoot––they are the highest quality + top vendors that can be wholeheartedly trusted to bring your wedding vision to life.
And remember to mention Forever Bride to receive a discount (you just must be signed up for free here.)
From all of us here at Forever Bride––we hope you have a WILDY BEAUTIFUL time planning your wedding!! XOXO
Check out the incredible video by Studio Veil: